In a case about the public's right to know, where a journalist faces a century in jail, a court agreement silences…everyone.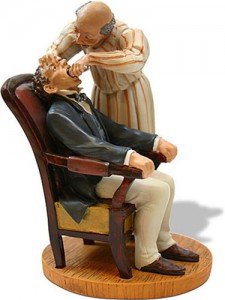 On September 4 in a Dallas courtroom, the prosecution and the defense in the Barrett Brown case agreed to a gag order. It prevents Brown, attorneys for both sides, as well as anyone representing them, from talking to the media about his prosecution.
Brown faces over a century in prison for allegedly sharing a hyperlink, concealing laptops, and threatening an FBI agent. The same Special Agent, Robert Smith, testified in court that Brown controlled a share of the publicity surrounding his case. In an ironic twist, the prosecution argued its concern for Brown's right to a fair trial—and that pro-Brown publicity could rob him of it.
The media-savvy Brown has not been shy about his activities, both before and after his arrest. Beginning in 2007, he created a large persona for himself as a colorful and witty journalist and occasional self-described spokesperson for the hacker collective Anonymous—a banner under which like-minded activists advance internet freedom ideals.
The parties bound by the gag order remain free to talk to the media about matters of public record, such as filings and statements made in open court, and Brown's lawyers can still communicate about finances with Kevin Gallagher of Free Barrett Brown Ltd., who is raising funds for Barrett's defense. But that's it.
An Outspoken Man Sits Mute
The three-hour hearing found Brown in a strikingly atypical role. Known for his loud, gonzo manner—which included publicly labeling himself "Cobra Commander" after a cartoon character and addressing fellow activists by video from bubble baths while drinking wine—Brown could only sit silently behind the defense table in his orange prison garb, stroking his chin and watching the proceedings intently.
Early in the hearing, Special Agent Smith took the stand. Smith, who is nearly as burly as the marshals who led Brown into the courtroom, is the FBI agent Brown allegedly threatened in a series of rambling YouTube videos back in 2012. As Brown looked on, Smith testified on the nature of the publicity surrounding the case and how in his view Brown had "controlled" the media.
Relying on Smith's access to Mansfield city jail visitor logs, jail phone calls, and media publications, the prosecution painted a picture of Brown as manipulating public opinion from behind bars. For example, Smith described Brown cutting a deal with D Magazine to give them an interview if they published a letter from him. The interview itself was never published, though the letter was.
Again and again, Smith described Brown's conversations with Kevin Gallagher, the director of Free Barrett Brown Ltd. He cited the duo's reactions to publicity about Brown—and their plans for getting more publicity. This included working with such journalists as Glenn Greenwald, who broke this year's National Security Agency stories (based on documents leaked by Edward Snowden) that garnered worldwide publicity.
"Some irony in all this"
In a conversation with WhoWhatWhy after the hearing, Gallagher disagreed with the prosecution's characterization of the conversations, saying, "The government twisted Barrett's communications to argue he was manipulating the media. In reality, the media is genuinely interested in him and his case."
It is logical that defenders of Brown would see his interaction with the media as nothing more than an effort to put his best foot forward. But his critics see it as manipulation.
In pushing for the gag agreement, the US attorney's office seemed to signal concern that the broader context of Brown's story could lead jurors to render a "not guilty" verdict—even if they believe he committed the alleged crimes. Such context could include Brown's celebrated work as a determined researcher of misconduct among intelligence and defense contractors. This work could well resonate both with the public and a jury, particularly in the current moment of heightened interest in NSA spying.
It's not uncommon for a judge to instruct a jury to ignore a defendant's extended circumstances. The reality, however, is that a favorable portrayal of Brown as a Robin Hood figure nonetheless could potentially help his case.
In particular, the prosecution expressed concern that the press was discussing matters for which Brown has not yet been charged, such as drug abuse and receiving data hacked by Anonymous. When the defense objected that those matters were not relevant to the charges at hand, the prosecution, as if arguing on behalf of Brown, said such press was highly prejudicial to Brown's defense and was taking away his right to a fair trial. Highlighting the Kafkaesque nature of the proceedings, the defense snapped back that the prosecution itself was bringing attention to the matters by discussing them in open court.
"There does appear to be some irony in all this," said District Judge Sam A. Lindsay.
Whispers, heated whispers
"The government and defense need to play by the same rules," Judge Lindsay admonished.
The two sides then approached the bench, where the counsel engaged in a whispered discussion with Lindsay. The bench conference lasted twenty minutes and was followed by a twenty-minute recess for the prosecution and defense to hash out an agreement on the gag order.
When Charles Swift, Brown's lead attorney, negotiated the order with prosecutor Candina Heath by the defense table, their conversation—almost none of which was initially audible—appeared at first collegial but slowly grew heated.
"That's not what it says!" Swift told Heath at one point, jabbing his finger at the order paper. "The first time Kevin [Gallagher of Free Barrett Brown] writes something, you're going to pull me in on a contempt! Of course you will!"
The recess was followed by another twenty-minute bench conference and another twenty-minute recess, leaving the public straining to hear the whispers. As Heath left the courtroom, WhoWhatWhy asked her if she was pleased with the gag order. "I can't comment," she said. "It would not be appropriate."
Considering the stakes—civil liberties, the right to public discourse and a remarkably long prospective jail sentence for a nonviolent offense—the courtroom audience was notably small. About 15 people attended the hearing, ranging from members of both the establishment and the alternative press to an older couple who drove six hours to attend out of what they characterized as "public concern."
Stratfor to the rescue? Background
Brown, the 32-year old author and activist, is awaiting two jury trials in April and May on three separate indictments, which could land him in prison for 105 years:
–       Threatening a federal law enforcement officer (3 felony counts)
–       Obstruction of justice, concealment of evidence (2 felony counts)
–       Access device fraud, trafficking in stolen identification information, and aggravated identity theft (12 felony counts)
It's those last charges that have raised eyebrows among press freedom advocates who suggest his research was a public service rather than criminal conduct.
To be sure, in his work at ProjectPM, Brown functioned in the role of a journalist, not a hacker, though he did examine emails hacked from the cybersecurity firm HBGary Federal, a military and intelligence contractor.
He had made it his mission to map out the shadowy world of intelligence contracting in the post-9/11 era. Because of that—and his public advocacy for Anonymous—he had been on the federal government's radar for some time.
When the Austin-based private intelligence firm Stratfor was later hacked in December 2011, the hackers defaced Stratfor's website and published credit card information and other data from the firm. Brown copy-and-pasted a link to some of that data to share with other researchers in chat channels. (The hack also yielded a separate cache of memos from Stratfor employees, which WikiLeaks began publishing in February 2012. Both ProjectPM and WhoWhatWhy have researched those memos; see our article on General David Petraeus here and our article on the DEA seeking to kill El Chapo in Mexico here.)
At the September 4 hearing, Agent Smith testified that the link led to credit card information possibly tied to Stratfor subscribers. The government argues this means Brown was engaging in identity theft and trafficking in stolen credit card data. It is these "crimes" that account for the majority of time Brown faces behind bars.
According to the indictment, Brown did this "on or about" December 25, 2011. But Stratfor founder George Friedman said in two statements on the hack that the FBI had given the credit card companies a list of compromised cards in early December 2011. So the credit card companies would surely have protected the accounts before Brown shared the link some weeks later.
In essence, Brown's alleged action may not appreciably differ from that of the prosecutors, who also shared the link by putting it in the indictment.
"I can't comment."
WhoWhatWhy has been following the Brown case for some time. In February, it chronicled his travails; in May it described his heavyweight legal team and what appeared a fishing expedition by a prosecution seeking chargeable offenses. In August it detailed Brown's intriguing connections with the late journalist Michael Hastings, whose mysterious death in a suspicious car accident is also being covered by WhoWhatWhy (read here, here, here, here, and here).
The government took note of WhoWhatWhy's coverage, including articles from the site about Brown in its exhibit list for the hearing, and Agent Smith testified that our report "The Saga of Barrett Brown: Inside Anonymous and the War on Secrecy" discusses Brown's role with Anonymous.
WhoWhatWhy will continue to cover Brown's case—albeit now with limited comment from his newly (and consensually) gagged counsel. Charles Swift, the attorney spearheading Brown's defense, told WhoWhatWhy the gag order met his objective of protecting Brown's right to speak and publish from jail– on matters not relating to his case.
But when we asked why the defense agreed to the order rather than present evidence and arguments to the court in defense of Brown's continued ability to express himself, he told us, "Under the terms of the order, I can't comment."
Republication of materials previously disclosed by WikiLeaks does not constitute endorsement of activities undertaken by any third parties or an endorsement of the accuracy of any materials obtained by such third parties.  WhoWhatWhy has sought to confirm the information based upon available information, but is not responsible for such any third party content.
[box]WhoWhatWhy plans to continue doing this kind of groundbreaking original reporting. You can count on it. But can we count on you? We cannot do our work without your support.
Please click here to donate; it's tax deductible. And it packs a punch.[/box]
GRAPHIC: http://a248.e.akamai.net/origin-cdn.volusion.com/eug3b.7rzsp/v/vspfiles/photos/HD01-2.jpg
http://www.bing.com/images/search?q=daumier+lawyers&qpvt=daumier+lawyers&FORM=IGRE#view=detail&id=F3F7BA31BCF7FC2A5F05B78BBB7E32476F0700B5