VOLUNTEER!  WhoWhatWhy loves our volunteers. Right now, we can use help with photo research/editing, specialty research, fundraising, social media, and more. Please get in touch if interested and tell us about your relevant experience and skills.
Now Live on WhoWhatWhy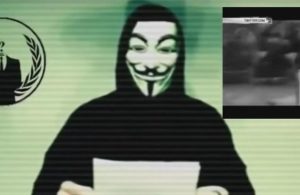 Anonymous — Operation Paris #OpParis.
Photo credit: Anonymous Official / YouTube.
Anonymous Claims Success in ISIS Hack Attack
By Klaus Marre
The hacker collective Anonymous pledged to make ISIS the target of its largest operation ever. Just a few hours into its hack attack, Anonymous now says it is already seeing major results.
PoppyLeaks, Part 2
By Russ Baker
Hey, are we living in the old USSR? It sure looks like it, judging from the way the media has closed ranks around a blatantly false account of George H.W. Bush's life. This bothers us so much that we're going to give you portions of his real biography — free.
PICKS 
PICKS are stories from many sources, selected by our editors or recommended by our readers because they are important, surprising, troubling, enlightening, inspiring, or amusing. They appear on our site and in our daily newsletter. Please send suggested articles, videos, podcasts, etc. to picks@whowhatwhy.org.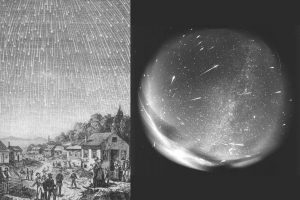 The famous Leonid meteor shower peaks between midnight and dawn on Monday (November 17) and Tuesday (November 18). About these images: (Left) Engraving by Adolf Vollmy based upon an original painting by the Swiss artist Karl Jauslin, that is in turn based on a first-person account of the 1833 Leonid meteor storm by a minister, Joseph Harvey Waggoner on his way from Florida to New Orleans. (Right) 156 bolides were detected on a single (pointed) photographic plate of the all sky fisheye photographic camera during the Leonid meteor shower in 1998 at Modra observatory. The exposure time was 4 hours.
Photo Credit: Adolf Vollmy / Wikimedia, Comenius University / Wikimedia (CC BY-SA 3.0)
Misguided Attempt to Somehow Blame Snowden for Paris (Russ)
Same news outfits that reported terrorists know how to evade surveillance now argue for more surveillance to catch them — and hold Snowden responsible for making us less safe.
Oil Refineries Face Climate-Related Flooding (Russ)
This is an example of the chickens coming home to roost, since of course the fossil fuel industry has been so resistant to addressing the crisis. Now, their own refineries are scrambling to deal with the rising waters.
Paris Attacks Suspect Was Monitored by Western Allies Seeking to Kill Him (Trevin)
Abdelhamid Abaaoud, "suspected of masterminding a foiled plot to behead police officers, had escaped to Syria and was profiled in Islamic State's online magazine mocking European authorities for their failure to catch him."
Sanders Now Spending More on Ads than Clinton (Klaus)
Vermont Sen. Bernie Sanders spent significantly more on ads in Iowa and New Hampshire this week than rival Hillary Clinton. Among Republicans, Super PACs supporting Jeb Bush are spending nearly as much as the other GOP candidates combined.
Egypt Plane Crash: Bomb Brought Jet Down (Trevin)
According to Russia's security service, the crash was caused by a terrorist attack.
WHO Says Antibiotic Resistance Is a Global Health Crisis (Klaus)
World Health Organization chief Margaret Chan said Monday that antibiotic resistance is "reaching dangerously high levels" and that the world is "heading into a post-antibiotic era, in which common infections will once again kill."
Fossil Fuel Subsidies Top $450 Billion Annually (Russ)
That's worldwide, according to a new report. No wonder the industry won't give up on a good thing, no matter how bad the consequences for the planet.
Beirut, Also the Site of Deadly Attacks, Feels Forgotten (Trevin)
The site of deadly double-suicide bombs that killed 43 people the day before the Paris attacks, Beirut received no monuments lit up in its honor with the colors of the Lebanese flag and no presidential speeches touting the defense of "shared values." The worldwide 9/11-like outpouring of sympathy was reserved for Paris.
The Future of Drones: Uncertain, Promising and Pretty Awesome (Ben)
We know that drones are used as delivery services and as internet providers to remote places. However, analysts predict that "drones' ability to capture high-resolution imagery using tech ranging from regular cameras to laser scanners … will spawn a $90 billion industry within a decade."
SIGN UP
Like what you see? Sign up here to subscribe to this newsletter — our daily roundup of stories from around the web that our editors or other readers thought worth reading. You can also sign up for our weekly newsletter, which recaps all of the exclusive WhoWhatWhy pieces of the past seven days.