"Hacktivist journo" Barrett Brown pleaded guilty to reduced charges that drastically lower his potential prison exposure. Here's what happened in case you missed it.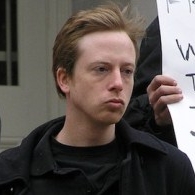 "Hacktivist" journalist Barrett Brown pled guilty to three charges on April 29, after striking an agreement with federal prosecutors that cut the possible prison time he faced from 105 years to eight-and-a-half years. His sentencing is set for Aug. 18. Take a look here for more details on the case, which had been under a gag order.
Take a look here and here and here for WhoWhatWhy's earlier in-depth coverage of this case.
[box] WhoWhatWhy plans to continue doing this kind of groundbreaking original reporting. You can count on us. Can we count on you? What we do is only possible with your support.
Please click here to donate; it's tax deductible. And it packs a punch.[/box]