The New York Times is embarrassingly slow off the mark to investigate the best-selling author it promoted. And its columnists? Read and weep.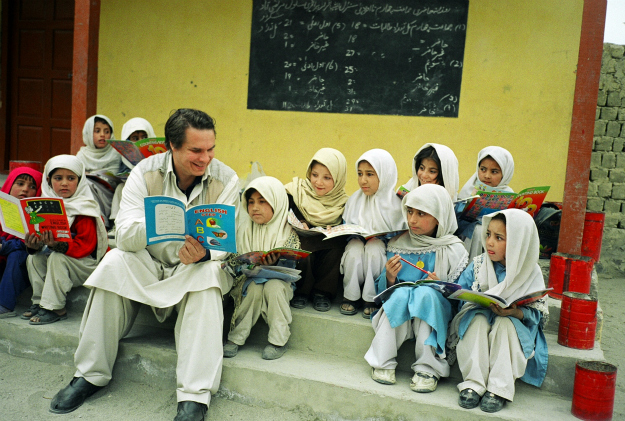 By now, we should have heard much more on the Greg Mortenson scandal from the New York Times, home to two powerful columnists who helped turn Mortenson, his book, and his charity into global success stories. (See our earlier piece on how the New York Times' Thomas Friedman promoted Mortenson.)
Instead, here's the British newspaper Guardian supplementing that big CBS News exposé on  Mortenson, the author of the bestseller Three Cups of Tea, and his charity.:
Greg Mortenson, the author and philanthropist accused of fabricating large parts of his autobiographical writings, is to be sued by the Pakistani tribesmen he claimed kidnapped him.

In his bestselling books about building schools in Pakistan and Afghanistan, one of the most startling stories tells how he was kidnapped by the Taliban and held hostage in Waziristan, the most dangerous part of Pakistan's western tribal border area with Afghanistan. A photograph in one book showed him with a dozen tribesmen, some armed, who were supposedly holding him captive.

However, as with much else in the books, Three Cups of Tea and Stones into Schools, the tale is unravelling, following a US television exposé earlier this week.

Mansur Khan Mahsud, who featured in the photograph, said that Mortenson came to his village of Kot Langer Khel, in the Laddah area of South Waziristan, in July 1996. Mahsud, who is the research director of a thinktank in Islamabad that specialises in the tribal area, said that the Taliban did not appear on the Pakistani side of the border until 2002, following the US-led invasion of Afghanistan.

"Greg Mortenson came with a relative of mine and he was a guest of the village. He stayed for about 10 days. He was living in the village, sightseeing, taking photographs. He had a really good time," said Mahsud, adding that some of the tribesmen carried guns to protect Mortenson.

In Mortenson's account, his hosts from the Mahsud tribe have been turned into the then better-known Wazir tribe, while the location has morphed to Razmak, North Waziristan.

"It's lies from A to Z. There's not one word of truth. If there had been a little exaggeration, that could have been forgiven," said Mahsud. "The way that he's portrayed the Mahsuds, as hash-smoking bandits, is wrong. He's defamed me, my family, my tribe. We are respected people in my area. He's turned us into kidnappers."

Mahsud said that he had decided to file a lawsuit against Mortenson and was in contact with a lawyer in the US.

"I am looking into how to sue him," said Mahsud, who only found out about the story in the book when he was contacted in February this year by a whistle-blower, Jon Krakauer, who was featured in the US investigative show 60 Minutes on CBS News.

The programme raised serious doubts over how many schools Mortenson had actually built in Pakistan and Afghanistan, and even his original story that he vowed to build his first school, for a Pakistani village, after its inhabitants rescued him when he got lost mountaineering. It also questioned the use of the millions in charitable funds he collects each year for the schools.

Mortenson, whose charity is now under investigation by US authorities, has defended his work, admitting to only "some omissions and compressions".
This is certainly damaging stuff. And what are we learning of this from the United States' top news organizations? I did not see the above material reported in major US newspapers, and it was strikingly not in the New York Times, though there was a tepid piece in the Times's Week in Review section by a reporter who had visited one of the schools while on vacation last year, headlined "Two Schools in Afghanistan, One Complicated Situation."
Another New York Times item was a column by Nicholas Kristof, who like Thomas Friedman is in an awkward position because of the way in which he was used to advance Mortenson and the Pentagon's propaganda machine with which Mortenson closely cooperated. Excerpts from this quasi-apologia:
…In person, Greg is modest, passionate and utterly disorganized. Once he showed up half-an-hour late for a speech, clumping along with just one shoe — and then kept his audience spellbound with his tale of building peace through schools.

…I've counted Greg as a friend, had his family over at my house for lunch and extolled him in my column. He gave a blurb for my most recent book, "Half the Sky," and I read his book "Three Cups of Tea" to my daughter.

…I don't know what to make of these accusations. Part of me wishes that all this journalistic energy had been directed instead to ferret out abuses by politicians who allocate government resources to campaign donors rather than to the neediest among us, but that's not a real answer. The critics have raised serious questions that deserve better answers: we need to hold school-builders accountable as well as fat cats.

My inclination is to reserve judgment until we know more…

As we sift the truth of these allegations, let's not allow this uproar to obscure that larger message of the possibility of change. Greg's books may or may not have been fictionalized, but there's nothing imaginary about the way some of his American donors and Afghan villagers were able to put aside their differences and prejudices and cooperate to build schools — and a better world.
Kristof and Friedman, highly interested parties, should not be taking a "let's wait and see" attitude, but jumping in and finding out for themselves—and the rest of us. After all, they're navel-gazers now, but they only got those columns because they were at one time actual reporters. And, like it or not, they, and their paper, are now part of the story.
Image Credit:  (http://ricks.foreignpolicy.com/files/ricks2_55.jpg)