VOLUNTEER!  WhoWhatWhy loves our volunteers. Right now, we can use help with photo research/editing, specialty research, fundraising, social media, and more. Please get in touch if interested and tell us about your relevant experience and skills.
Now Live on WhoWhatWhy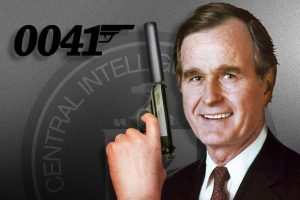 George H.W. Bush as agent 0041.
Photo credit: Adapted by WhoWhatWhy from Library of Congress / Wikimedia, adamsguns.com / Wikimedia, Mono / Wikimedia (CC BY-SA 3.0)
RussRant: The Poppy Coverup Book?
By Russ Baker
A new biography of George H.W. Bush is coming out. By all indications, it fundamentally denies the truth about the man and his life. Perhaps that is why our awful, awful media will embrace it without question.
PICKS 
PICKS are stories from many sources, selected by our editors or recommended by our readers because they are important, surprising, troubling, enlightening, inspiring, or amusing. They appear on our site and in our daily newsletter. Please send suggested articles, videos, podcasts, etc. to picks@whowhatwhy.org.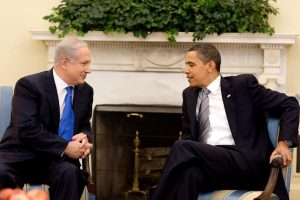 President Barack Obama is meeting with Israeli Prime Minister Benjamin Netanyahu at the White House today. About this photo: President Barack Obama with Israeli Prime Minister Benjamin Netanyahu in the Oval Office (May 18, 2009).
Photo Credit: Pete Souza / The White House / Flickr
TPP: The Most Brazen Corporate Power Grab in History (Russ)
So says Chris Hedges. It is pretty amazing that this controversial agreement is not the subject of more public discussion.
The Little Known Death Squad that Killed US-based Journalists with Impunity (Michael)
PBS documentary links spree of unsolved journalist murders to anti-communist militia that operated in US with high-level government support.
GOP Long Shots Bet it All on An Early Small State (Russ)
Actually a pretty good strategy in such a volatile presidential race for the Christies, Jindals, etc.
FCC Hands Silicon Valley Big Win Over Consumers (Klaus)
The Federal Communications Commission announced that it would not make it more difficult for Internet companies to track what their users do online.
Children Sleeping or Trying To (Gerry)
After looking at these photographs of young Syrian refugees and reading the starkly factual captions, you may not sleep so comfortably.
The Donald's SNL Dud (Russ)
Interesting take on what went wrong on Trump's Saturday Night Live appearance and what it tells us may be wrong with how we handle elections and candidates.
How Does Your State Rank for Integrity? (Trevin)
The Center for Public Integrity has completed its 2015 State Integrity Investigation, using "extensive research to grade the states based on the laws and systems they have in place to deter corruption." No state scored higher than a C, and eleven failed. The resulting interactive chart shows how all 50 states scored in 13 different categories.
Despite Having "Serious Problems" with Uber, Sanders Uses the Service 100% of the Time (Trevin)
The headline says it all, but does he get some credibility points back for being the only candidate to book a Motel 6?
SIGN UP
Like what you see? Sign up here to subscribe to this newsletter — our daily roundup of stories from around the web that our editors or other readers thought worth reading. You can also sign up for our weekly newsletter, which recaps all of the exclusive WhoWhatWhy pieces of the past seven days.