VOLUNTEER!  WhoWhatWhy loves our volunteers. Right now, we can use help with photo research/editing, specialty research, fundraising, social media, and more. Please get in touch if interested and tell us about your relevant experience and skills.
Now Live on WhoWhatWhy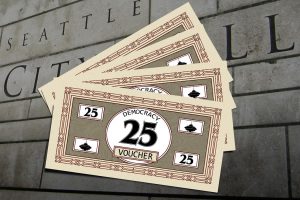 Seattle residents who are registered to vote will receive four $25 "democracy vouchers".
Photo credit: Adapted by WhoWhatWhy from Daniel X. O'Neil / Flickr (CC BY 2.0), James Puckett / Flickr (CC BY 2.0).
Seattle's Plan to Save American Democracy — It Could Affect You
By Klaus Marre
A bold campaign finance reform plan in the state of Washington aims to wrest power away from wealthy donors and return it to the people. Will it work and can it serve as a model for the rest of the country?
PICKS 
PICKS are stories from many sources, selected by our editors or recommended by our readers because they are important, surprising, troubling, enlightening, inspiring, or amusing. They appear on our site and in our daily newsletter. Please send suggested articles, videos, podcasts, etc. to picks@whowhatwhy.org.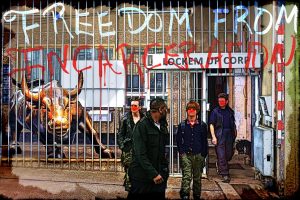 President Barack Obama granted commutations of sentence to 46 individuals. The commutations take place today.
Photo Credit: Adapted by WhoWhatWhy from Paul Williams / Fickr (CC BY 2.0),Sam valadi / Fickr (CC BY 2.0), Yuya Tamai / Fickr (CC BY 2.0) and Max Moreau / Fickr (CC BY 2.0).
Belgian Court Tells Facebook to Stop Tracking Non-Users (Klaus)
Facebook has 48 hours to stop its practice of tracking people in Belgium who do not have Facebook accounts. If the social network does not comply, it will be fined $270,000 per day. Facebook has said it will appeal the ruling.
Investigation Finds World's Largest Coal Company Misled Public On Climate Change (Trevin)
But it looks like the only legal trouble Peabody Energy might experience is due to lying to investors, not the public.
Damning Doping Report Could Lead to Russia Getting Banned from 2016 Olympics (Klaus)
A report by the World Anti-Doping Agency that said Russia is operating a widespread doping program could lead to the expulsion of the country from the 2016 Olympics.
The Republicans' Manufactured Media War (Trevin)
Their "conspiracies about the media being 'anti-business, pro-big government, anti-family and anti-religion' and working to 'promote a socialist agenda' are clearly delusional."
The Hard Power of Soft Drinks (Trevin)
The timing may be right to get Big Soda to use its supreme marketing skill and resources to "help public health campaigns" rather than to subvert them.
Migrant Crisis Leads to Shortage of Beds at IKEA (Kristina)
"IKEA is running out of beds in Sweden and Germany because the migrant crisis has created a huge spike in demand."
Goat Flatulence Forces Jet Landing (Russ)
That's what happens when you fly a large contingent of those bearded, horny beasts.
SIGN UP
Like what you see? Sign up here to subscribe to this newsletter — our daily roundup of stories from around the web that our editors or other readers thought worth reading. You can also sign up for our weekly newsletter, which recaps all of the exclusive WhoWhatWhy pieces of the past seven days.