VOLUNTEER!  Call for Image Finders/Editors: Do you have experience with sourcing and editing photos? We need volunteers to help with this. 
Now Live on WhoWhatWhy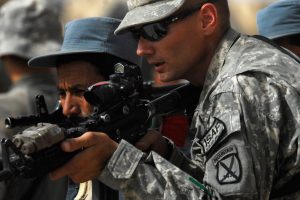 US Army Sargent and Afghan National Police officer during training at Chahar Dara, Afghanistan, on Aug. 28, 2010.
Photo credit: US Navy / Wikimedia (Public Domain)
Afghan Troop Deadline Extended Again: Guess Why?
By Russ Baker
For the umpteenth time, a plan to "get out of Afghanistan" is being thwarted by the Pentagon. What do the generals know that the rest of us don't.
PICKS 
If you want to recommend articles, videos, podcasts, etc, please send them to picks@whowhatwhy.org.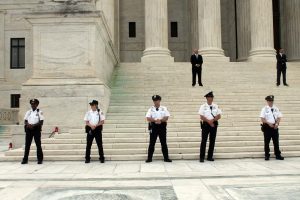 The Supreme Court of the United States begins its 2015–2016 term today. Cases to be decided will affect affirmative action, representative government, union funding, the death penalty and more. This photo was taken during a Marriage Equality Decision Day Rally in front of the US Supreme Court by Elvert Barnes Protest Photography.
Photo credit: Elvert Barnes / Flickr (CC BY-SA 2.0)
Oct 5
Saudi Objections Halt UN Inquiry Into Saudi Actions in Yemen War (Russ)
In a U-turn at the United Nations Human Rights Council, Western governments dropped plans Wednesday for an international inquiry into human rights violations by all parties in the war in Yemen that has killed thousands of civilians in the last six months.
"The Netherlands withdrew the draft of a resolution it had prepared with support from a group of mainly Western countries that instructed the United Nations high commissioner for human rights to send experts to Yemen to investigate the conduct of the war.
"… But in the face of stiff resistance from Saudi Arabia and its coalition partners, and to the dismay of human rights groups, Western governments have accepted a resolution based on a Saudi text that lacks any reference to an independent, international inquiry."
Excerpt From David Brock's Book Questioning BenghaziGate (Russ)
Brock claims the attacks on Hillary are based on inaccurate information and historical context.
Wyoming Made It Illegal to Take a Photo of a Polluted Stream — Now They're Being Sued for It (Trevin)
Wyomingites who don't want cow fecal matter in their public streams are sh#t outta luck thanks to a new law known as Senate File 12, or the Data Trespass Law. It's now illegal to "collect data on public or private open land with the intention of sharing that data with the state or federal government."
"Proponents of the law say that it strengthens Wyoming's trespass laws and gives property owners more power to dictate what happens on their land. Critics of the law, however, liken it to a slew of 'ag-gag' laws that have passed around the country in recent years, aimed at silencing whistleblowers who expose malpractice within the agriculture industry. Wyoming's law, they contend, makes it illegal for citizen scientists or concerned residents to expose contamination of streams by the ranching industry, which represents a considerable economic and political force in the state."
Jeb Bush Response to Oregon Mass Shootings: "Stuff Happens" — While His Team Digs It Up (Russ)
That's apparently his idea of getting tough with problems: shrugging. Obamarebuked him for that. Meantime, Jeb's "opposition research" people have been busy digging up dirt on his opponents. Hey, isn't that supposed to be the job of journalists? LOL. Anyway, this is something the Bush family overall should have some experience with.
Coke Spends Lavishly on Pediatricians and Dietitians (Russ)
"The extent of the financial ties between Coke and the Academy of Pediatrics was revealed last week when the company released a detailed list of nearly $120 million in grants, large and small, given to medical, health and community organizations since 2010. Not only has Coke's philanthropy earned it praise from influential medical groups, the soda grants appear to have, in some cases, won the company allies in anti-soda initiatives, wielded influence over health recommendations about soft drinks, and shifted scientific focus away from soda as a factor in the causes of obesity.
"The list of Coke donations was released after the company's chief executive, Muhtar Kent, promised to be transparent about its partnerships in the health community. The move was prompted by criticism that the company has paid for scientific research that plays down the role of Coke products in the spread of obesity …"
Website Lets You See Actual Campaign Fundraiser Invitations (Russ)
Got $2,700 you can part with and want to meet Jeb, or Hillary? Here's where to go.
Spoiled Tourists Give Grand Canyon, Machu Picchu and Angkor Wat One-Star Reviews (Klaus)
"Nothing special" (Grand Canyon), "Lame and boring" (Niagara Falls), "Worst experience ever" (Statue of Liberty), "A pathetic place to visit" (Taj Mahal), "A very unpleasant museum experience (The Louvre), "The food here absolutely sucks" (Machu Picchu) and "Welcome to Scambodia" (Angkor Wat). Those are just a few of the one-star reviews travelers on TripAdvisor have given some of the great landmarks of the world.
READER PICKS
Bipartisan Alliance Vows to Slow Virginia's School to Prison Pipeline  (Andrew B)
Good news in Virginia — but will other states follow
MINDSCAPE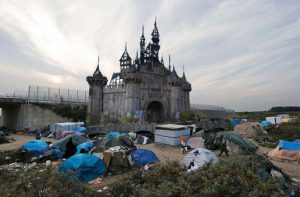 (Photo by Banksy: Dismaland's dilapidated castle surrounded by tents. New shelters to come)
Street Artist Turns His Creative Theme Park "Dismaland" Into Refugee Shelter(Russ)
"Pieces from Banksy's Dismaland "bemusement park" — an art installation that has drawn viewers to its decrepit castle and Cinderella wreckage — will soon be used to create a shelter for migrants and refugees.
The street artist announced Monday that the installation in seaside Weston-super-Mare in England is being dismantled. Materials from its structures will be used to build shelters near Calais, France, in a camp called "the jungle."
SIGN UP
Like what you see? Sign up here to subscribe to this newsletter — our daily roundup of stories from around the web that our editors or other readers thought worth reading. You can also sign up for our weekly newsletter, which recaps all of the exclusive WhoWhatWhy pieces of the past seven days.