VOLUNTEER!  Call for Image Finders/Editors: Do you have experience with sourcing and editing photos? We need volunteers to help with this. 
Now Live on WhoWhatWhy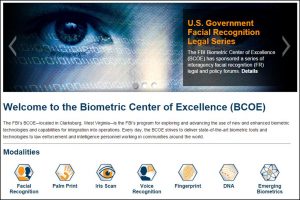 Screen shot of the FBI's Biometric Center of Excellence main web page.
Photo credit: BCOE / FBI.GOV
The FBI Wants YOUR Face and Fingerprints
By Klaus Marre
The FBI will be developing software to enable its agents to collect fingerprints and pictures of anyone they encounter. This personal material could then be compared to the Bureau's massive biometrics database. What could possibly go wrong with this?
PICKS 
If you want to recommend articles, videos, podcasts, etc, please send them to picks@whowhatwhy.org.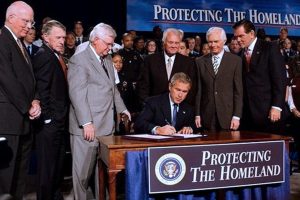 President George W. Bush signed an Executive Order Establishing Office of Homeland Security on October 8, 2001. This photo depicts President Bush signing the Homeland Security Appropriations Act of 2004 at the Department of Homeland Security (DHS) in Washington, DC, Wednesday, Oct. 1, 2003.
Photo credit: Tina Hager / White House / Wikimedia
Top 25 Most Censored Stories of 2014–2015 (Trevin)
Did you know that between 2002 and 2013, at least 908 people were killed globally because of their environmental advocacy? Or that half of our planet's wealth is owned by the "1 percent?" How about the fact that pesticide companies spent millions of dollars on their PR response to declining bee populations? All this and more can be found in Project Censored's shocking annual Top 25 Most Censored Stories.
Hillary Takes Clintonesque Position in Maybe Opposing TPP Accord (Russ)
Was for it, now expressing qualified doubts even though it has been revised and in some ways better addresses a few of the many concerns that existed when she initially backed it. A tricky move for her, could look blatantly political — especially since the name Clinton is closely associated with support for global trade agreements that big business like (NAFTA etc.) By comparison, in the 90s, Bernie Sanders declared that Bill Clinton's trade policies "represent the interests of corporate America and are virtually indistinguishable from the views of George Bush and Newt Gingrich."
Trouble Brewing? Armed Anti-Muslim Activists Plan Mosque Protests In 20 Cities This Week (Russ)
The whole thing might fizzle, but in the current environment, reasons to watch this.
Oregon Community's Responses to Gun Slaughter? More Guns (Russ)
Plenty of people in Roseburg, OR, which is reeling from the slaughter at their local community college, have an answer to the problem: they want guns, too.
Florida House Committee Approves Open Carry Law (Klaus)
The measure of a Florida Republican that would once again allow gun owners to openly carry their weapons in the state passed a vote in the Florida House Criminal Justice Committee. Rep. Matt Gaetz, the sponsor of the legislation, said it would allow citizens to be "armed with their own liberty." In a state full of elderly people, this could get "interesting."
FIFA Suspends Everybody (Klaus)
Two activities can be found anywhere in the world: Soccer and corruption. The old men who run the sport have managed to impressively combine the two into a single thing. Finally, it seems as though everybody is fed up with them. In addition to criminal investigations in the US and Switzerland, the sport's governing body FIFA is finally acting. It suspended the three most powerful men in the sport for 90 days, including President Sepp Blatter.
Putin: "Publish A World Map And Mark All The U.S. Military Bases On It. You Will See The Difference Between Russia And The US" (Trevin)
The full transcript of Corriere della Sera's interview with Vladimir Putin.
Afghanistan's Killing Fields: Behind the Empire's Lies (Trevin)
"Everything you need to know about the Afghanistan war in just seven minutes."
Washington, Not Open to People Power, At Least Embraces Poop Power (Russ)
DC Power company becomes first utility in North America to use a Norwegian system that turns human waste into electricity. Who says innovation is unwelcome in Washington? Flush, baby, flush.
SIGN UP
Like what you see? Sign up here to subscribe to this newsletter — our daily roundup of stories from around the web that our editors or other readers thought worth reading. You can also sign up for our weekly newsletter, which recaps all of the exclusive WhoWhatWhy pieces of the past seven days.