Warming temperatures are melting mountain glaciers worldwide, threatening lives and livelihoods. Climbers are witnessing the damage firsthand.
This story is part of Covering Climate Now, a global journalism collaboration strengthening coverage of the climate story.
In April, mountaineers began tackling Everest for the first time since the pandemic began, but climate change in the Himalayas and other mountain ranges around the globe is making climbing more dangerous. It's also wreaking havoc with water supplies and the ability of local residents to earn a living and stay in their homes. 
Mountains may seem like a small fraction of the global landscape, but studies have indicated that warming occurs faster at high altitudes than at sea level, so observations from mountains around the globe provide critical information about the rate and effects of climate change.
"In 10 more years the glaciers on Kilimanjaro could be gone. We can see it in the mountains. The mountains are telling us." — Ian Taylor
Recent reports from experts have been sobering:
In a 2019 study, researchers from Columbia University and the University of Utah examined ice loss between 1975-2000 and 2000-2016 in 650 of the largest glaciers along a 2,000-kilometer (1,200-mile) transect of the Himalayas. They found that the rate of loss in 2000-2016 was twice as rapid as in the earlier time frame and noted that "acceleration of ice loss observed in both the Himalayas and Europe over the past 40 years coincides with a distinct warming trend beginning in the latter part of the 20th century, followed by the consistently warmest temperatures through the early 21st century in both regions."
According to a 2019 report from the International Centre for Integrated Mountain Development (ICIMOD), comprising the eight governments in the Hindu Kush Himalaya region spanning China, Nepal, and Afghanistan, even if the world meets its Paris Agreement target of a maximum temperature rise of 1.5 degrees Celsius by 2100, the Hindu Kush Himalayas will warm by 1.8 degrees Celsius, plus or minus 0.4 degrees. That would result in the loss of a third of Himalayan glaciers by the end of the century. 
A study published in the journal Nature last April concluded that glaciers worldwide, except those in Greenland and Antarctica, lost an average of approximately 267 billion tons of ice per year. It also noted an acceleration in the rate of ice loss. Glaciers lost 227 billion tons of ice per year between 2000-2004, which increased to 298 billion tons per year after 2015. The researchers confirmed that some of the hardest-hit glaciers were in Alaska, Iceland, the Alps, and the Himalayas. 
Climbers are feeling the effects right now. As temperatures warm and ice approaches its melting point, avalanches and glacier breaks become more common. In 2014 a column of glacial ice on Mount Everest gave way, killing 16 climbers. Just last February, Indian paramilitary and police officers had to mount a search-and-rescue operation for survivors after a glacier suddenly broke apart in the Uttarakhand countryside in northern India, at the base of the Himalayas. Seventy people died and more than 130 went missing. 
In a survey of climbers conducted by the American Alpine Club (AAC) in 2019, 64 percent of respondents said they've witnessed changes in the mountains they climb or ski that are due to climate change. Further, 78 percent believe climate change will make outdoor activities there more dangerous. 
Unfortunately, those climbers are right, according to a 2018 study by Jacques Mourey, a geography and geomorphology researcher at the EDYTEM Laboratory of Environment Dynamics and Territories of the Mountain at the Université Savoie Mont Blanc. It found that glacial melting and the warming of permafrost (the "glue" that, when cold, holds glaciers together) in high alpine environments are making mountaineering harder. Mourey examined climbing itineraries in the Alps' Mont Blanc massif during a 40-year period and found that, of the 95 routes studied, 93 have been damaged by warming. Three no longer exist; 26 are no longer climbable. The cause, said AAC climate policy manager Taylor Luneau, is "rockfall pulling sections off the mountain or glaciers receding so much they had to put in metal ladders" to aid climbers.
Ian Taylor, who leads treks around the world and has climbed Island Peak, which is five miles from Everest, 20 times, has seen drastic changes firsthand. The route he usually takes up Island Peak was fully covered in ice and snow until about 10 years ago, he told WhoWhatWhy. Since then, every year he's climbed it has been more dangerous than the last, with increasing risk of rockfall and less ice cover. 
Timing Himalayan climbs has also become more challenging. The usual monthlong window of optimal conditions — after the harsh winter and before the monsoon season, when peaks are clear and visible — is narrowing. An essential part of planning (and permitting) climbs in the area involves looking at weather reports from past seasons, but with increasingly erratic weather forecasting has become harder. Taylor has stopped running major treks up Everest because he doesn't want to risk the lives of the sherpas who accompany him. 
Clearly, climbers watch climate change from a front-row seat. "We can tell just from being [near the glaciers]," Taylor said. "In 10 more years the glaciers on Kilimanjaro could be gone. We can see it in the mountains. The mountains are telling us." 
In fact, glaciers are a critical focus of the climate conversation. "Glaciers are a visual signal," said Miriam Jackson, coordinator of ICIMOD's Cryosphere Initiative, which studies snow, ice, and permafrost. Carbon dioxide is invisible, and even temperature increases aren't an obvious indicator of climate change. Some people may try to refute climate change by pointing to snowstorms in Texas, but, Jackson said, "Global warming is about looking at the average; it's not constant." Warming is especially severe in the Arctic and at high elevations. The continental US has had less warming than the global average. 
In addition to the Himalayas and Alps, mountains in South America are facing accelerated melting. There, warming has been joined by another threat — wildfires. Normally, sunlight bounces off gleaming white glaciers. In South America, though, "Wildfire ash is floating through the air and being deposited on glaciers, such as in Peru's Cordillera Blanca," Luneau explained. "The result is that black, sooty glaciers do not bounce sunlight back but instead absorb it," accelerating melting under the soot. 
Glaciers on Tanzania's Mount Kilimanjaro are also shrinking: Photos Taylor took of the peak in 2007 look completely different from those in 2020, with glaciers nearly halved in size. 
The Rocky Mountains have not escaped the ravages of climate change. Scientists at the  University of Colorado found that the range's Arikaree Glacier, likely more than a thousand years old, has been thinning by about 1 meter (39 inches) per year for the past 15 years and may disappear completely in 25 years. Lead author Mark Williams and other scientists have warned that glaciers in Glacier National Park are shrinking. And Luneau has noticed a similar loss of glacial ice from volcanoes in the Pacific Northwest.
If glaciers disappear, so does a reliable supply of water. Boulder, CO, draws water from Niwot Ridge, home to Arikaree Glacier, and Denver relies in part on flows from high-mountain snowfields to supply nearly 1.3 million residents in the metro and downstream area, according to University of Colorado scientists. Similarly, the Hindu Kush Himalayan region provides 2 billion people with water. Taylor expressed concern for "the people of the land, the Sherpa people from Tibet and Nepal [and] people who live around the base of Kilimanjaro." According to ICIMOD, even people living far downstream from the Himalayas rely day-to-day on their glaciers for irrigation, food supply, and hydropower. 
Tourism suffers due to glacial melt, as do local residents who depend on tourist dollars. For most sherpas, guiding is their only job. According to the Nepal Mountaineering Association, 80 percent of residents near the base of Everest depend on mountain tourism for their livelihood. In 2018 revenue from tourism in Nepal amounted to $700 million. For mountain guides in the US, warmer temperatures mean shorter winters, shorter climbing seasons, and less work. This is especially troubling for small rural towns whose economies depend on mountaineering. Luneau points to towns in the rural northeast, as well as those known for climbing opportunities, such as Ouray, CO, which calls itself "the Switzerland of America" and boasts the world's first ice-climbing park.
Glacial melt also contributes to a global rise in sea levels. According to Jackson, half of the increase is due to the warming of glaciers that are smaller than those in the ice sheets of Antarctica or Greenland.  
Finally, the flash floods and shattered ice that come from melting glaciers cause climate migration. Wealthier individuals may be able to move elsewhere, and wealthier countries may adapt, but the same cannot be said for subsistence farmers in developing areas like Nepal. 
The Himalayas are a spiritual sanctuary — figuratively for ambitious climbers and literally for Hindu locals — but that role is under threat. "Climate change is affecting [the world]," Taylor observed, "and eventually will stop us from doing what we do in the way we do it."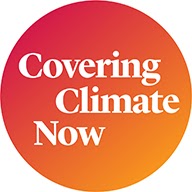 ---
Related front page panorama photo credit: Adapted by WhoWhatWhy from Papa Lima Whiskey 2 / Wikimedia (CC BY-SA 2.0).