Boston Marathon Bombing suspect Dzhokhar Tsarnaev's defense is trying to get his death penalty trial moved again. This time, they've asked an appeals court to overrule the presiding judge's obstinate objections to taking the trial out of Boston. Lara Turner explains.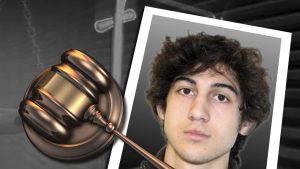 Citing deep, lingering emotions, close associations with victims or investigators and extensive bias exhibited on juror questionnaires, attorneys for Boston Marathon bombing suspect Dzkhokhar Tsarnaev have once again asked an appellate court to grant a change of venue.
They've also requested U.S. District Court Judge George A. O'Toole Jr. stop jury selection until the First Court of Appeals rules on their motion–their second appeal in six weeks. It argues, in part, that:
"Maintaining the trial in this District in the face of the ongoing questioning of the impartiality and fairness of the jury selection can only further erode any appearance of impartiality in these proceedings and cause irreparable harm to public confidence in the integrity of the judicial system. Voir dire should cease and a change of venue should be ordered before further damage is done."
The judge has been adamant that the trial stay in Boston, and has pushed ahead with the individual questioning of jurors, known as voir dire. The attorneys last week filed a third motion asking O'Toole to change the venue, even though he's denied the first two.
That third request to the judge cited the fact that 68 percent of prospective jurors in Boston already believe Tsarnaev is guilty. The appeals court ordered O'Toole to rule on that motion before 5 p.m. on Feb. 5.
From the start, O'Toole has said he is confident he can find a fair and impartial jury in the city traumatized by the bombing. Accordingly, he's denied two previous defense motions to move the trial out of Boston. However, O'Toole, who originally planned to question 40 potential jurors each day, has only questioned 129 candidates over 10 days, averaging barely 13 a day. Court has been routinely interrupted by snowstorms.
In the motion requesting change of venue, Tsarnaev's attorneys cited narrative responses by potential jurors that were heavily redacted. They concluded that the emotional connections the jurors reported leave little doubt that a jury empaneled in Boston will "inevitably carry with them a perceived obligation…to convict and sentence the defendant to the most severe punishment available."
In this case, that's death.