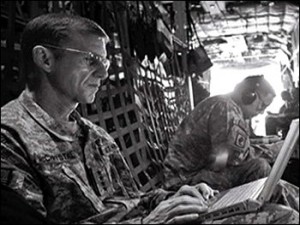 It is impossible to overestimate the significance of leaks from the military to the media, particularly to Bob Woodward and his paper, the Washington Post. Quite a few of these have dogged President Obama and forced his hand since he took office (for more on the subject, see this, this and this.)
Now comes yet another leak to the Post, this time en masse, that should not be taken at face value. That is, it is not the purported news being conveyed, but the very fact that it is being conveyed, the nature of the sources conveying it, and the intended result. The article begins like this:
An intense military campaign aimed at crippling the Taliban has so far failed to inflict more than fleeting setbacks on the insurgency or put meaningful pressure on its leaders to seek peace, according to U.S. military and intelligence officials citing the latest assessments of the war in Afghanistan…. Officials spoke on the condition of anonymity because they are not authorized to discuss the matter publicly.
Few will stop to wonder that most basic of things: Why would these officials be telling the Post this? Would they really just, on their own, talk about such things, despite the inherent danger in doing so, were it truly unauthorized internally?
A few paragraphs later, if we're still paying careful attention, we get the meat:
The Obama administration's plan to conduct a strategic review of the war in December has touched off maneuvering between U.S. military leaders seeking support for extending the American troop buildup and skeptics looking for arguments to wind down the nation's role.
Thus, the story is not necessarily what was in the lead paragraph, namely the purported news that the offensive is not immediately bearing fruit. It is that there is a power struggle going on at high levels in Washington that will determine whether or not the U.S. stays in Afghanistan indefinitely.
…Among the troubling findings is that Taliban commanders who are captured or killed are often replaced in a matter of days. Insurgent groups that have ceded territory in Kandahar and elsewhere seem content to melt away temporarily, leaving behind operatives to carry out assassinations or to intimidate villagers while waiting for an opportunity to return.

U.S. officials said Taliban operatives have adopted a refrain that reflects their focus on President Obama's intent to start withdrawing troops in the middle of next year. Attributing the words to Taliban leader Mohammad Omar, officials said, operatives tell one another, "The end is near."
The chilling implication, similar to that in Vietnam so many years ago, is that the US simply must commit to the long haul or risk the worst. It is a preemptive strike against Obama's upcoming strategic review. Namely, why bother to hear what Obama has to say, when it has already been said?
And it raises this question: if an elected president is truly in control, then why are "US military and intelligence officials" going around doing their own thing?
Image Credit:  (http://www.washingtonpost.com/wp-dyn/content/article/2010/06/23/AR2010062305371.html)