All of the attention this year has been focused on Donald Trump and Hillary Clinton but the vice-presidential debate is the one worth watching.
Prediction: When Mike Pence and Tim Kaine square off in the vice-presidential debate Tuesday night, something truly remarkable will happen: Two politicians will get together and talk about what the next president of the United States of America wants to do while in office — without hurling insults at each other.
What would be considered normal in every other election cycle is extraordinary in 2016. Unfortunately, the debate will not draw nearly the same audience as the Clinton-Trump slugfests.
"The vice-presidential candidates absolutely deserve more attention and scrutiny," Doug Heye, a Republican strategist and former communications director for the Republican National Committee, told WhoWhatWhy. "But the reality is that Hillary Clinton and Donald Trump are both so polarizing and command so much media attention that it's difficult for the vice-presidential candidates to do anything to get noticed."
The odds alone should make people watch the debate. More than 20% of all US presidents were replaced by their VPs after either dying in office or, in the case of Richard Nixon, resigning. In light of the advanced age of both candidates — Trump would be the oldest person to take office while Clinton would be the second oldest — there is a legitimate chance that Kaine or Pence would have to step in.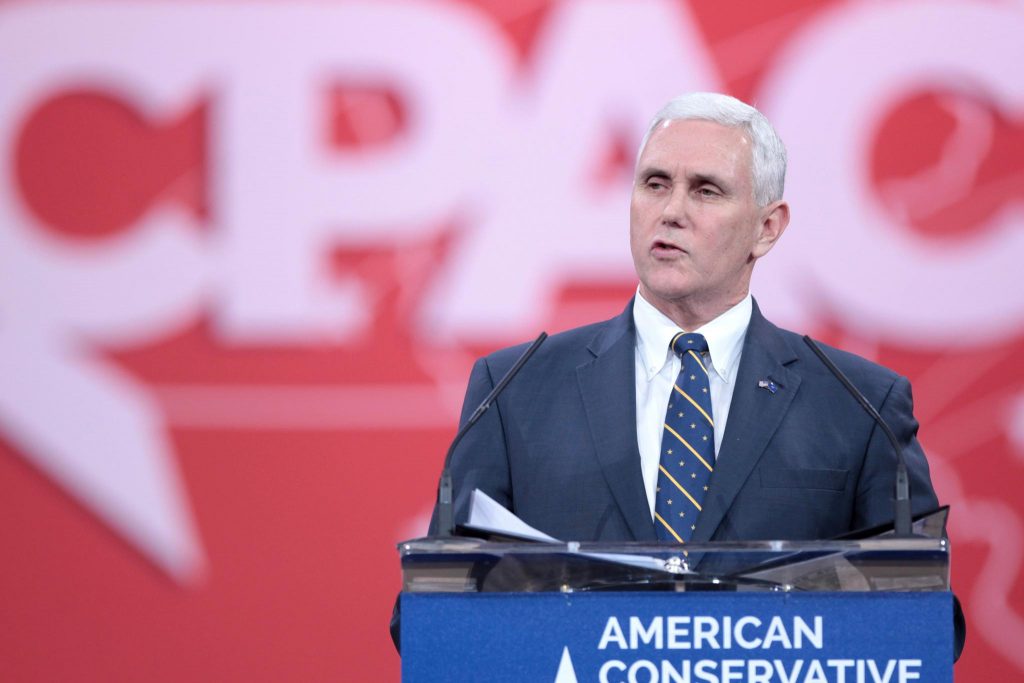 Mike Pence speaking at the 2015 Conservative Political Action Conference (CPAC).
Photo credit: Gage Skidmore / Flickr (CC BY-SA 2.0)
In Pence's case, he could play an extraordinarily large role in the Trump administration right away.
"During Trump's [vice-presidential] search, he seemed to indicate that the basic job of the [vice president] would be to run the government, because if elected, Trump would be too busy on his campaign to make America great again," Stanford professor and Pulitzer Prize winner Jack Rakove told WhoWhatWhy.
Sources close to John Kasich said in July that Trump's son tried to convince the Ohio governor to join the ticket by offering him to be in charge of both domestic and foreign policy.
If Trump wins and the same offer applies to Pence, he would be among the most powerful vice presidents in history and the debate will give many voters a first chance to see him in action.
The Indiana governor and six-term congressman is a staunch social conservative and early Tea Party supporter. His selection as Trump's running mate was widely seen as a nod to appease the right-wing base of the GOP.
Even though he was a member of the House Republican leadership, Pence's one big moment in the national spotlight came after he left Congress. In 2015, he signed Indiana's "religious freedom" bill into law. The legislation, which was supposed to protect Indiana businesses from punishment for discrimination on religious grounds, caused an uproar and Pence was forced to sign an amended version of the law, which specifically stated that it could not be used to discriminate against gay people.
This may be the only debate where women's reproductive rights are discussed. Pence is a strong advocate for extreme restrictions on abortions,while Kaine, a Catholic, has been strongly pro-choice.
Pence recently came under fire for not pardoning Keith Cooper, a man who spent a decade in prison for a crime he did not commit. Though he was released when new evidence in the case emerged, and an Indiana parole board recommended unanimously that he should be pardoned and the felony convictions wiped from his record, Pence failed to act.
On the Democratic side, Rakove said Kaine is worth watching as a potential presidential candidate of the future.
"In Kaine's case, I think we could expect that he would operate much as recent [vice presidents] have done, at least since Mondale, being active members of the executive," Rakove noted. "But the real incentive to watch Kaine would be, whether Hillary wins or loses, there is a good chance to would move to the top of the Democratic 'bench,' which in a post-Obama, post-Clinton(s) era is thin."
Kaine, who currently represents Virginia in the Senate and previously served as the commonwealth's governor, is viewed as more socially conservative than Clinton — in large part due his personal opposition to abortion. However, the practicing Catholic has been given a perfect score by Planned Parenthood.
Possibly to deflect from Pence's pardon issue, the Republican National Committee on Monday launched an ad targeting Kaine for being soft on the issue of the death penalty.
Although the vice-presidential nominees are expected to  have to defend not only their own records but also those of Trump and Clinton, the main reason to watch their debate is simply that it will likely be the one that offers the most substance.
While the first duel between the nominees might have been good television, it was more style than substance. The vice-presidential debate, however, will likely skip the theatrics and focus on policy and the potential direction of the country following the election — a focus that has been in short supply this campaign season.
---
Related front page panorama photo credit: Adopted by WhoWhatWhy from Hillary Clinton and Tim Kaine (Disney | ABC Television Group / Flickr – CC BY-ND 2.0) and Donald Trump and Mike Pence (Disney | ABC Television Group / Flickr – CC BY-ND 2.0)