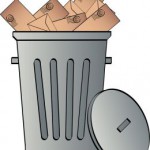 Presumably, you care not a whit about the internal policies of the New York Public Library, particularly when it comes to how they treat the donated papers of writers and public figures. But there's a reason this matters to all of us: preserving the research, notes, thoughts and history of significant thinkers and doers has inherent value to our civilization, as a critical research resource, and as a glimpse into people and processes that otherwise would vanish forever.
Recently, we heard from Paul Brodeur, a retired longtime New Yorker writer who thinks he is being wronged by Library officials. And figures he is almost certainly not alone.
In 1992, Brodeur donated all of his papers to the NYPL, under the impression he would leave his entire collection of work in a single place for scholars and other researchers. As he wrote in an essay for the Authors Guild Bulletin,
Among the papers were those connected to my investigations of the asbestos health hazard and its cover-up by the asbestos industry; the health risks posed by flesh-eating enzymes that had been introduced into household detergents; the depletion of the earth's ozone layer by man-made chemicals; the dangers of exposure to microwave radiation; the ills caused by exposure to electromagnetic fields emitted by power lines, and the land claims of the Native People of New England…..
Imagine his shock on hearing from the library, 18 years later, that they had finally finished "processing" his papers and were planning to cull them, separating the imagined wheat from the chaff. Imagine his shock at being told, unceremoniously, that he had 30 days to collect whatever the library was jettisoning, and if he didn't, they would just dump the stuff.
The library administration has its side, and there are issues of storage space and relevancy. We'll leave it to you to decide for yourself. You can read Brodeur's full take on this HERE. Then, if inclined, come back and share your comments.
Image Credit:  (s1.hubimg.com)