China recently kicked out a foreign reporter for…well, probably for trying to do her job. Here's a side-splittingly funny bad translation of a press conference where another reporter tries to get answers, and a government spokesman does the Funky Chicken.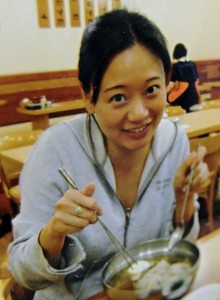 We were going to share with you the details of a really extraordinary Chinese press conference. In it, a government official is asked about the expulsion of Al Jazeera English's sole Beijing reporter, Melissa Chan. We were going to share it, but then we couldn't.
We'll come back to that. But first: Why was Chan expelled? Here's what Reuters tells us:
In an Al Jazeera blog in March, Chan described an exchange with national security officers who intervened in an interview she was conducting with a university professor over a new criminal procedure law.
"I hope readers can get a sense of how interactions frequently work between foreign journalists and security forces, even when it's not about human rights, and when it's about something as mundane as the introduction of a new law," Chan wrote. "The men insisted on speaking to each of us alone, in a separate room."
Okay, so, what happened when another reporter asked for an explanation of the expulsion?
We were going to share that exchange with you because…well, because you just gotta see this government spokesman's incredible dance around the substance of the matter. White House press secretaries would be amazed and impressed at his blocking ability.
We were going to share it with you, but then the place we saw it, the website for the Voice of America, had since removed every trace of it. Keep in mind that's the Voice of AMERICA not the Voice of CHINA.
Fortunately, however, a vigorous effort has uncovered another transcript…sort of. The translation seems a little hinky, to put it mildly. Perhaps Google Translate is trying to score points with the Chinese. Either way, we suggest a cocktail or two before you read it.
Here it is, the (poorly-translated) Great Stonewall of China:
Q: we only wish to know whether exclusion of Melissa Chan should be seen as a warning to other reporters handling in China?
Hong Lei: "I have only answered applicable questions. On a emanate of unfamiliar reporters a policies and moves are easy to see. We will continue to yield preference for unfamiliar reporters stating in China and we acquire unfamiliar reporters to news in China. At a same time we need to highlight that unfamiliar reporters should reside by Chinese laws and regulations, as good as veteran ethics of reporters while stating in China."
Q: Under what resources will Al Jazeera be given press certification and visas for a new reporter?
Hong Lei: "The Beijing bend of Al Jazeera is still functioning normally."
Q: So if there is a new match for Al Jazeera will we give them a visa?
Hong Lei: "We will routine applicable procession in suitability with laws and regulations."
Q: Can we tell us who done a preference to repudiate Ms. Chan, was it a Foreign Ministry or another department?
Hong Lei: "We understanding with applicable matter in suitability with law."
Q: Can we give us any specifics on since Melissa Chan was diminished from a nation since there is a lot of difficulty here and unless you're some-more specific about it it's really formidable for us to get a design of accurately what's going on.
Hong Lei: "I have already answered this question."
Q: we consider a categorical courtesy of a reporters is that a Chinese government, we use a emanate of visa as a approach to bury journalists' work in China. Is this a fashion of how a Ministry of Foreign Affairs will act in a future?
Hong Lei: "I have stressed that China welcomes unfamiliar reporters to news in China and we have also supposing preference to unfamiliar reporters in stating objectively in China. we consider we have been in China for several years and are really transparent about this. At a same time we wish to highlight that unfamiliar reporters should reside by Chinese laws and regulations while stating in China."
Q: What could a Chinese supervision contend if a Chinese publisher was diminished from a unfamiliar country?
Hong Lei: "I wish to indicate out that a Chinese supervision will follow particularly applicable regulations in traffic with unfamiliar journalists."
Q: Chinese laws and regulations are created down, so even if we don't know that ones Melissa is indicted of violating we know what they say. No where as we know is a Chinese government's source of journalistic ethics created down. How can we decider either a function is unchanging with Chinese source of publisher ethics, and can we offer us superintendence as to what that source looks like?
Hong Lei: "I consider a policies and laws per unfamiliar reporters is really clear. In your work and exchanges with us we have briefed we on applicable Chinese laws and regulations that is also a basement for your work in China. With courtesy to applicable emanate we consider applicable media and reporters are transparent about that."

Q: What would a Chinese supervision contend to accusations that it is censoring unfamiliar media with a exclusion of Melissa Chan?
Hong Lei: "I have forked out China follows applicable laws and regulations in traffic with applicable journalists. we consider applicable media and reporters are really transparent about what kind of roles and regulations they have broken."
Q: Where can we see those regulations since we are carrying some problem in anticipating that law and law was broken. So where can we check a law if we wish to see some series or essay was damaged according to Chinese law?
Hong Lei: "I consider have answered a applicable question."
GRAPHIC: http://cache.daylife.com/imageserve/01fPcH5aHT9fZ/x610.jpg