Heart-rending accounts of Syrians suffering at the hands of their government make powerful storytelling. But they hide the big-picture: a trumped-up opportunity for the West and its Arab allies to remove yet another "inconvenient" regime.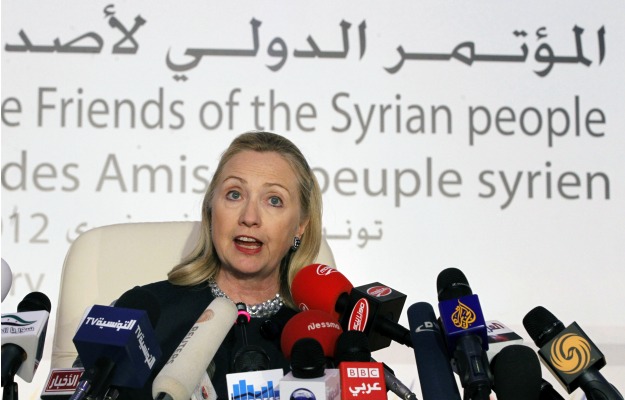 We get major-media reports from Syria with increasing frequency. What's wrong with these reports are that they are generally devoid of power analysis.
This recent New York Times article, for example, headlined "Neighbors Said to Be at Violent Odds in Syrian Crackdown," is based almost solely on accounts of refugees interviewed in Lebanon. Here's the lead paragraph:
Sunni Muslims who have fled Syria described a government crackdown that is more pervasive and more sectarian than previously understood, with civilians affiliated with President Bashar al-Assad's minority religious sect shooting at their onetime neighbors as the military presses what many Sunnis see as a campaign to force them to flee their homes and villages in some sections of the country.
In other words, ethnic cleansing, perhaps a precursor to the kinds of large-scale horrors we saw in  Rwanda and Yugoslavia. The inevitable conclusion is that any decent person would support international efforts to stop this. Based on past history, in Libya, in Iraq, and elsewhere, that would evolve quickly into military intervention. In fact, on Sunday, the pace quickened. In a meeting Sunday in Istanbul, the US and allies began actively moving toward direct intervention. Arab nations agreed to pay $100 million to rebels and the Obama administration to send them communications equipment.
Yet, the Syria coverage tends to focus only on the misery, not the cause: an uprising intended to overthrow a government and a ruling class. If indeed the Syrian government is arming one group in the country, that is because the government is besieged—and those being armed are members of the same minority sect as the ruling Assad clan. Syria managed for decades without internecine warfare. It is the uprising itself that has massively exacerbated animosity and fear between religious groups.
But the Times's account offers virtually no analysis of the background to the conflict. Instead, we get awkward, rudimentary disclaimers, in case the reporting turns out to be way off-base:
It is hard to evaluate all of the refugees' claims because in the Syrian conflict, the longest and bloodiest of the Arab revolts, each side blames the other for sectarian division.
That's a highly misleading statement because it elides the central issue: who is promoting the revolt, and why? The most authoritative and self-confident of the sources quoted tend to be military officers and officials defecting from the government. Their comments should not be taken simply as independent testimony, since they are, de facto, part of an organized rebel effort to justify the coming Western intervention on their side.
Because the conflict in Syria coincided with the wave of uprisings in other Arab countries—the so-called Arab Spring—does it necessarily follow that the nature of the Syrian conflict is identical with the revolutions in Tunisia, Egypt, Libya, etc.? Although the media, by and large have failed to note any real differences, they are enormous. Tunisia and Egypt were largely authentic, domestic uprisings, reflecting broad dissent, and came about with no foreign military intervention. Libya was a cynical attempt by foreign powers to ride long-simmering tribal animosities and foster a purportedly domestic uprising that was actually planned, managed and staffed covertly by those outside countries' militaries and intelligence services. See this article we published on that subject.
Clearly, proper media coverage would focus on the history of Syria, the proximal cause of the uprising, the legitimacy or lack thereof of the authorities, the agendas of the various rebel factions. We need to know why, if that country has long been ruled by a minority, only now are we seeing serious anti-government agitation. In short, we need geopolitical context. And we need to ask why some advocates of open revolution are characterized as victims, as in this case, while other rebels elsewhere—in, say, France or Saudi Arabia—are characterized as terrorists?
Besides, while aspirations to greater freedom are right and proper, not all the people trying to overthrow odious regimes are necessarily pure-minded freedom fighters. And the result after the fall is often not what was promised.
As important is that we look at our own system objectively. In the United States, for example, we pay homage to democracy every four years, but isn't our political system, like that of these Middle Eastern countries, increasingly dominated by a fairly small number of very rich people? The average American  has very little understanding of what is really going on, or why—either in their own country or in their name in distant lands—and tends to respond to propaganda, much of it funded by this same small circle of interests.
But if enough Americans really got the picture, concluded the system was rigged, and began taking to the streets, we know that the authorities would, just like the Syrians, the Saudis, and so on, clamp down with force. Oh, wait: that's already happened, all over the country, in myriad ways. We could start, for example, with the aggressive response to various Occupy encampments.
As for why the West is suddenly so passionate about human rights in this particular country, while almost totally ignoring the issue in other places, like Saudi Arabia, Bahrain and the United Arab Emirates, some possible explanations immediately come to mind.
With American troops pulling out of Iraq just as foreign oil companies step up their production, it is of paramount importance to have a military presence nearby to protect those investments. And what country is right next door?
The very fact that Syria does not harbor major oil reserves is exactly what allows the "humanitarian" argument to prevail unchallenged. It is what allows news organizations to act as if no business or strategic concerns are in play. Importantly, Syria has been a longtime ally of Iran, and therefore removing it has been part of the larger plan to weaken the Tehran regime's regional influence. And because Syria adjoins the strategically crucial Israel, Lebanon and Turkey—it is a dream hub for bases.
Long before Sunday's meeting in Istanbul, we had constant hints that the leading NATO countries, along with key allies such as the Saudis (closely tied to the Syrian Sunni opposition), were deeply involved in priming the pump behind this uprising. To continue to pretend, as the media has now done for many months, that this is simply a one-sided tragedy to be ameliorated through eventual military action (which if recent history is any guide will only lead to much more human misery)—well, is that anything less than journalistic malpractice?
The media's job is not just to send in correspondents to get heartrending firsthand or eyewitness accounts of violence. Certainly, old-fashioned war reporting serves a useful purpose, and generates emotionally powerful storytelling. But rendered without the big picture—namely, what is happening and why—war reporting can turn into propaganda for more, not less, war. Thus, the media plays perfectly into the hands of those seeking a trumped-up opportunity for the West and its Arab allies to remove yet another "inconvenient" regime.
GRAPHIC: http://walt.foreignpolicy.com/files/clinton_syria.jpg