This year is the 50th anniversary of JFK's death. His life—and the story behind his death—are as relevant as ever. This documentary explores theories about the assassination—and is full of surprises.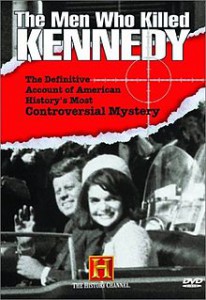 The Men Who Killed Kennedy is a documentary in nine episodes that reviews the evidence behind the assassination of President John F. Kennedy. Drawing on research by experts and scholars, the film details serious flaws in the official narrative as laid out by the Warren Commission, and investigates the multitude of evidence that there was in fact a conspiracy to kill the president on that fateful November day.
The Men Who Killed Kennedy began in 1988 as a two-episode documentary that, along with several later installments, was well received until 2003 – when the final segment appeared, containing the charge that Lyndon Johnson was directly implicated in the assassination. Two former presidents, LBJ's widow, and intrepid journalist and former Johnson aide Bill Moyers threatened legal action against The History Channel's parent company, Arts & Entertainment (A&E). As a result, The History Channel aired a 2004 panel discussion in which the final three episodes of the series were deemed not credible, a finding that eventually led A&E to withdraw the entire documentary from syndication.
Click below to watch video:
GRAPHIC: http://upload.wikimedia.org/wikipedia/en/thumb/a/ab/The_Men_Who_Killed_Kennedy_(DVD_cover).jpg/220px-The_Men_Who_Killed_Kennedy_(DVD_cover).jpg