The world's most expensive ghost town—just what is going on here? Very, very strange doings down New Mexico way.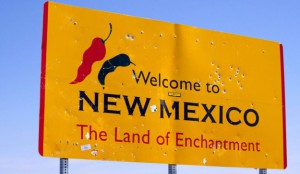 A few weeks ago, the Santa Fe New Mexican ran an interesting little story about a Washington DC-based "technology" company's plans to build an uninhabited town called The Center. This instant ghost town will be located on state-owned land in the Albuquerque-Santa Fe corridor, or perhaps further south near Las Cruces and the borders with Mexico and El Paso. The Center will allow scientists to test "everything from renewable energy innovations to intelligent traffic systems, next-generation wireless networks and smart-grid cybersecurity systems"
Really?  We just have a few questions. A whole town, complete with houses, streetlights and, we'd assume, faux municipal buildings—but no people—for $200 million? Just to learn things like how well a solar panel interfaces with a thermostat? We notice the buried mention of "federal labs and military installations to test their innovations," supposedly of green technology. Color us skeptic.
New Mexico is no stranger to federal labs and military installations, of course; it's the home of Sandia National Laboratory and that other secret city, Los Alamos—home of the nuclear bomb at Los Alamos National Laboratory—not to mention three Air Force bases and the White Sands Missile Range. Pegasus Global Holdings, the company offering this exciting opportunity to cash-strapped New Mexico, has two very different websites, offering considerable confusion about the nature of their business. Surely a hefty tax break was included in this "first of its kind" project. With an 18-month negotiation process leading up to the announcement—and a new governor only in office since January—this was apparently a gift to the state by former Governor Bill Richardson, although Republican Gov. Susana Martinez is in full support mode.
We're not the only people asking these questions: some New Mexicans have questioned the Santa Fe paper about this article in letters to the editor, but so far there has been no local reporting at all following what was essentially a published—and suitably glowing— press release. Area 51, anybody?
Graphic:  http://techmagz.info/wp-content/uploads/2011/09/5a6b2__landofenchantment-625×364.jpg