The Texas Lege's failure to restrain incentivized energy-demanding bitcoin mining in Texas means the industry will continue to expand alongside record-setting grid strain.
Listen To This Story
All is not well in rural Corsicana, Texas. The city and surrounding county have fallen into a state of disrepair, according to local resident Jackie Sawicky.
"Our roads are terrible, this week we were having brownouts, and as of this minute, my water is out," Sawicky told Deceleration. "Our infrastructure is absolutely on the brink of failure … and what are they doing? They're going to bring in the world's largest bitcoin mine."
A recent report from the American Society of Civil Engineers supports Sawicky's observations, grading Texas overall with barely passing marks for the state of its roadways, wastewater systems, and levees and dams.
Concerned about social and environmental impacts, Sawicky founded the Texas Coalition Against Bitcoin Mining and launched an online petition warning about noise pollution, rising water and energy costs, and more. At the time of this writing, it has garnered 1,180 signatures from residents opposing what is expected to be the state's largest bitcoin mine to date.
"We do not want the increase in environmental temperature in the immediate vicinity of the factory-that-produces-nothing," the petition reads.
Faced with escalating extreme weather due to climate change, Texas needs to upgrade infrastructure and transition away from fossil fuel use. The urgency of this need was felt keenly in 2021 when winter storm Uri cut power to millions across Texas for days on end and claimed hundreds of lives. Yet efforts intended to make the state more energy efficient withered during the last session of the Texas Legislature as lobbyists for environmental and traditional energy interests spent much of the session playing defense against bills seeking to kill renewable power and directing billions of dollars of tax revenue toward new, unnecessary gas-fueled power plants (See: "Garbage In, Garbage Out").
As the state struggles to keep up with the energy demands driven by rapid population growth and rising temperatures, bitcoin mining continues to add further demand to the system, encouraged along by elected Republican leadership.
Power Use
According to a report by the Energy Reliability Council of Texas (ERCOT), the state's electric grid manager, crypto mining consumed more than 3,300 Gigawatt/hours of Texas grid energy in 2022, more than double the amount used 2021. 
Bitcoin's total energy consumption in Texas is only increasing. Further mining projects amounting to 39 gigawatts in demand are proposed by 2027, with at least 2.5 gigawatts already approved and 6 gigawatts more that have met planning requirements. 
The daily energy demand for all of Texas is currently about 80 gigawatts.
If only the bitcoin projects that have already met planning requirements are approved, mining for digital currencies could increase energy demand on the grid by 10 percent within four years.  
A statement released by the grid manager said, "ERCOT will not allow the interconnection of load that would be expected to result in any violation of reliability criteria."
As opposed to other energy-intensive industries, none of these projects offer tangible value to most Texas residents.
Riot Platforms (formerly Riot Blockchain), is the company planning to bring an industrial bitcoin mine to Corsicana, potentially "the first one gigawatt load ever approved by ERCOT." Riot already operates a 450-megawatt facility near Rockdale, Texas, reportedly the largest single bitcoin mine in North America. One megawatt of electricity powers about 200 Texas homes during periods of peak demand, according to ERCOT. So Riot's new gigawatt plant, at peak capacity, could consume as much power as 200,000 Texas homes.
 Riot failed to respond to requests for comment from Deceleration.
To "mine" bitcoin, computers solve complex math equations (up to trillions per second) to identify a series of numbers that validates the next block on the blockchain. A miner is rewarded for solving the block with bitcoin currency. Due to the ever-increasing difficulty of solving these equations, the amount of energy required to power the network has exploded to exorbitant levels.
The Cambridge Bitcoin Electricity Consumption Index (CBECI) monitors bitcoin's global  electricity demand. At time of writing, it estimates that the global bitcoin network is using 144 terra-watt hours (TWh) annually. To put that number in perspective, gold mining is estimated to use 131 TWh worldwide and data centers were estimated to use 200 TWh as of 2018. The CBECI's estimates that the bitcoin network currently pollutes more than the country of Austria, about 71.5 million tons of CO2 per year.
The New York Times found that the two bitcoin mines in Rockdale consume more energy than all of the homes in a 40-mile radius. 
Bitcoin advocates highlight projects powered by renewable energy, such as one of Marathon Digital Holding's mines near McCamey, Texas, which draws power from a wind farm. But many mining projects draw electricity directly from the grid, a mix of power sources that averages out to include roughly 60 percent of electrons derived from combusting coal and gas; still others are directly attached to fossil fuel power plants. Before constructing the mine in McCamey, Marathon cut a deal with a coal plant that was due to close and kept it operating for months longer.
Beside energy, water is also a crucial resource for crypto mining. It's needed to cool the computers, and in a hot Texas summer that can amount to millions of gallons per day. Navarro Mills Lake, which is to be the primary source for Riot's planned facility, was in stage one drought this January and stressed in recent years.
"Last year, a record number of cattle ranchers had to sell their herds early because the drought was so bad that it was spiking the cost of hay and they couldn't afford to feed their cattle," Sawicky said.  
Corsicana residents will also be subjected to the unending drone of thousands of mining computers buzzing. The sound of one mine built in a rural town has been described as "a small jet that never leaves."
'Freedom Money'
Pierre Rochard, vice president of research at Riot Platforms, told members of the Texas Senate Committee on Business and Commerce that bitcoin brings jobs to Texas, and called bitcoin "freedom money."
Lee Bratcher, president of the bitcoin lobbying group Texas Blockchain Council, said in the same hearing that bitcoin miners in Texas employ around 2,000 ongoing employees, and have employed around 20,000 contractors. Out of nearly 15 million workers in Texas, those are not big numbers. Once bitcoin mining centers are built, they require a very slim workforce to maintain. Bratcher also declined to comment for this article.
ERCOT classifies bitcoin mines as "large flexible loads," because they draw a lot of power and are able to power down or reduce their energy use quickly. Bigger bitcoin mines typically have a curtailment clause in their energy contracts with ERCOT, meaning they agree to power down during moments of emergency energy demand. 
Bitcoin miners have a business incentive to power down when demand spikes and energy prices go up, but by participating in "responsive reserve service" with ERCOT, miners collect energy credits for energy they don't use. 
Riot, for instance, reported $9.5 million in energy credits from the state last July for powering down during a heatwave, and a total of $27.3 million in energy credit payouts that year, according to a recent earnings report.
Recently, the proposed Texas Senate Bill 1751, sponsored by state senators Kolkhorst, Campbell, and Nichols aimed to stop bitcoin miners from gaining ERCOT energy credits. The bill passed the Senate, but failed to make it to the voting floor of the House.
The bill's sponsors said it was not a punitive measure, but meant to eliminate unnecessary incentives for a rapidly growing industry. Bitcoin miners celebrated the death of what they called the "anti-mining" bill when they learned it would not make it to the Governor's desk. 
Can Bitcoin Be Tamed?
The too often ignored reality of mitigating climate change is that humankind needs to reduce energy and resource use overall. To merely swap today's fossil power for a renewable grid would lead to further constraints and environmentally devastating impacts. The challenge is in maintaining good living standards while reducing energy demand. Doing so requires rethinking virtually every aspect of society, including "low-energy housing, widespread public transport, and diets low in animal-based foods," one recent assessment found. It's safe to say that bitcoin's terawatts don't fit within the proposed framework.
Even for those who believe in the importance of alternatives to fiat currency, there are options besides bitcoin with a significantly lower energy impact. The second most popular cryptocurrency, Ethereum, cut network greenhouse gas emissions 99 percent last year by switching from a proof-of-work algorithm to proof-of-stake. Proof-of-stake is an alternative model for maintaining a cryptocurrency that doesn't require mining.
Take a bird's-eye view of our #Bitcoin mining operations in McCamey, TX. This is one of the four quadrants that make up the site. In total, there are over 60,000 miners at the site, working together to secure the Bitcoin network. pic.twitter.com/jIUZrRCbYv

— Marathon Digital Holdings (NASDAQ: MARA) (@MarathonDH) April 25, 2023
Energy and water commitments now being captured by bitcoin could edge out alternative projects more capable of helping Texas navigate the energy transition, like green hydrogen fuel production, in the years ahead. 
"Electrolyzers … store energy in the form of hydrogen that can then be used for other applications, such as transport, industrial uses, or more simply to reuse it for power plants," Olivier Beaufils, Market Lead for ERCOT at Aurora Energy Research, told Deceleration.
"A lot of these hydrogen projects are still in early stages," Beaufils said, noting that competition with other users hasn't manifested yet. "Now three to five years ahead, that might be a different story." 
Charlie Schumacher, Marathon's corporate communications VP, said that bitcoin miners help rural renewables stay profitable and "soak up" electricity that may not reach users otherwise. But Adrian Shelley, Texas director of the advocacy organization Public Citizen, contends that bitcoin mining is not a viable solution to transmission issues.
"You may have a glut of wind energy over here that, within a couple of years, ERCOT sees and invests in transmission that brings more of it to people where it's needed," Shelley said. "But if you mine bitcoin, ERCOT will never see that constraint, and is never going to make the investment."
Molly White, who has a Harvard University fellowship to research crypto and publishes a blog called Web3 is Going Just Great, cautions against taking pro-bitcoin claims at face value.
"Bitcoin miners' claims are pretty nakedly self-serving," White told Deceleration. She added that the more computers mine bitcoin, the more difficult mining becomes, increasing power use for the network overall. "So even [miners] using so-called waste energy from renewables are still contributing to the overall energy footprint of Bitcoin … much of which is not renewable."
How ERCOT and political leaders prioritize these projects will have a tremendous impact on the state's energy grid. 
But for now, a pro-bitcoin lobby has gained influence in Texas. Governor Gregory Abbott has previously hosted the Texas Blockchain Council at the governor's mansion, and Senator Ted Cruz has openly supported the currency. Also, former interim president and CEO of ERCOT, Brad Jones, became the first member of Riot's advisory board this year.
Texas's 88th legislative session confirmed that the state's bitcoin mining industry will continue to be propped up by incentives. Three bills that passed are being celebrated by bitcoin miners, including HB 591 which will introduce tax incentives for powering crypto mining with flared gas. 
In adding further tax incentives, and failing to cut existing ones, the state legislature appears to have sent a clear signal that Texas is open for bitcoin business, and the expanding peak energy demands that it entails.
While bitcoin miners continue to profit from access to cheap energy and tax breaks, residents of communities across Texas will continue to experience increasing energy bills and the continued risk of power outages in yet another summer of record-breaking energy demands.
"When I go grocery shopping, I ask people, 'Have you heard about the bitcoin mine?'" said Jackie Sawicky. "I have talked to hundreds of people in Corsicana and Navarro County, and I can count on both hands the people who have shown positive favor."
For the residents of Corsicana, it looks like a very noisy, thirsty, and power-hungry neighbor is coming to town.
This story by Paul Krantz was originally published by Deceleration and is part of Covering Climate Now, a global journalism collaboration strengthening coverage of the climate story.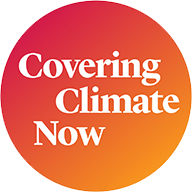 ---