Although Indigenous issues were highlighted across the COP27 agenda, countries began to compromise in the final days with a lot of topics still not concluded, say Indigenous negotiators.
Listen To This Story
This year's UN climate conference saw the highest participation of Indigenous peoples to date, with more than 300 delegates from around the world calling for agreements to explicitly include a human rights approach.
Although Indigenous issues were ambitiously mainstreamed across agenda items at the start of the conference, countries began to compromise in the final days when there were a lot of topics still not concluded, say Indigenous negotiators.
Agreements on the rules around carbon offset markets included limited language on recognizing the rights of Indigenous peoples and the need to consult communities on the use of land.
Indigenous delegates warmly welcomed the creation of a loss and damage fund which they say will greatly help Indigenous communities already impacted by climate change.
This year's UN climate conference, known as COP27, ended on November 20 in Egypt with what has seen the highest participation of Indigenous peoples, more than 300 delegates. The participation of Indigenous peoples and their role in addressing and responding to climate change has increased over the years.
"We are here for the recognition of our Indigenous knowledge and our values as part of the climate discourse and climate solution," said Pasang Dolma Sherpa, executive director of the Center for Indigenous Peoples' Research and Development (CIPRED). Pasang took part in climate negotiations as a member of the Indigenous Caucus, which represents Indigenous peoples at climate conferences.
This year's delegates took part in the conference's negotiations to ensure that discussions and agreements over the big topics, such as carbon offset markets, were in line with a human rights approach. However, despite many of the promising words by high-level representatives and the historic breakthrough to create a loss and damage fund, by the end of the conference, Indigenous delegates worry that much of this year's discussions on rights have been performative. Few of the issues delegates brought to the table were answered.
"Indigenous people being in the mouths of the decision makers doesn't guarantee that your issues … are going to be in the negotiation text," Pasang told Mongabay.
The IPCC's sixth assessment report — a report by the UN's climate advisory body — seems to have influenced negotiators to start thinking about the importance of Indigenous peoples, said Pasang. Many attendees, such as US President Joe Biden, openly acknowledged the importance of Indigenous peoples in mitigating and adapting to climate change.
At first, Indigenous rights were mainstreamed across all COP27's agenda items, Kera Sherwood-O'Regan, another member of the Indigenous Caucus, told Mongabay. Many countries very ambitiously advocated for human rights and the rights of Indigenous peoples.
Yet as the negotiation process went on, she said, and especially in the final days when there were a lot of agenda items still not concluded, countries began to compromise. Indigenous issues did not gain the same attention as they did at COP26.
In last year's cover text, which listed the series of decisions agreed upon at the conference, Indigenous peoples were mentioned eight times. This year, they were only mentioned twice in the cover text.
Last year's conference saw $1.7 billion pledged to support Indigenous land rights in what is seen as key to slowing down deforestation. Indigenous territories are estimated to contain 36 percent of the world's remaining intact forests, which are vital for absorbing carbon and fighting the climate crisis.
Climate Finance and Article 6
A telling sign of the direction negotiations were going to go came one day into the climate conference. A newly published report tracking the progress of the $1.7 billion pledge to Indigenous communities found that only 19 percent of those funds have been distributed — and only 7 percent went directly to Indigenous and community organizations.
"The most important thing that has happened from the announcement of the $1.7 billion is that we now realize where the problems are," said Levi Sucre from the Bribri people of Costa Rica, co-chair of the Global Alliance of Territorial Communities (GAST) and coordinator of the Mesoamerican Alliance of People and Forests.
The Indigenous Caucus called for an independent, Indigenous-led global funding mechanism to support climate and biodiversity action and launched 10 guiding principles for its design.
The conference saw some increases in funding for Indigenous groups, such as $7.2 million from the French government for Indigenous-led conservation in the Amazon. A $25 million initiative by Conservation International and the Global Environment Facility was also announced to support Indigenous and local stewardship of over 7.5 million hectares (18.5 million acres).
Discussions around rules of carbon offset markets and emission reductions in Articles 6.2 and 6.4 of the Paris Agreement also animated Indigenous delegates at the conference.
Carbon offset markets allow companies or governments to invest in environmental projects (usually designed to reduce future emissions) as a counterweight to their industrial activities that emit carbon.
Leaders such as Sucre are concerned that the rush to create carbon markets opens the possibility of companies and governments using Indigenous lands and barring access to resources to create the carbon removal projects, especially on traditional lands that have not yet been formally recognized.
"What we would like is for Article 6 to directly oblige countries to take part in consultation processes, inclusion processes, establish mechanisms for dialogue, and to respect the rights of Indigenous peoples," said Sucre. "But that hasn't happened."
Indigenous delegates said they wanted stronger language in the final text that underlines the need for a human rights approach. However, in the end, this was limited and suggestive, they said.
Speaking on behalf of Indigenous peoples' organizations at the closing plenary, Indigenous youth leader, Skw'akw'as Sunshine Dunstan-Moore, said that it was especially evident that Article 6 had a "rushed conclusion removing many safeguards and references to rights, thus failing to uphold parties' existing commitments under other agreements such as UNDRIP, and leaving our communities at risk of carbon colonialism that further encroaches on our territories and ecosystems."
The Indigenous Caucus also tried to advance grievance mechanisms in the Article, which were not included in the final text. These mechanisms would allow Indigenous peoples to raise concerns about the implementation of Article 6, aiming to identify problems at an early stage, before they escalate.
To try to make up for a lack of standards around the use of Indigenous lands, a collection of civil society organizations launched a Lands Rights Standard to provide best practices for recognizing and respecting IPLC land and resource rights in landscape restoration, management, conservation, climate action, and development projects and programs.
Breakthroughs and Disappointments
"We have spoken to various governments to say that Indigenous peoples [are] no longer talking about the effects of climate change soon arriving," said Sucre. "The effects are already here."
Sucre cited examples in Mesoamerica, like in Panama, where approximately 28,000 Guna Indigenous people will need to be relocated from the coast in a few years due to rising sea levels. Events like these, as well as other climate change impacts that affect infrastructure and livelihoods, that can't be adapted to are known as loss and damage.
The recent flooding in Pakistan — which affected an estimated 33 million people and caused economic losses of $15.2 billion — further spurred the establishment of a loss and damage fund after calls for the fund were continuously delayed for 30 years. Delegates see this as one of the most significant outcomes of COP27 to help Global South countries and communities recover from damage caused by climate change.
The fund will draw on contributions from developed countries (responsible for most global emissions) and other private and public sources, such as international financial institutions, with an option for other major economies to join at a later stage.
"Generally speaking, most Indigenous peoples were really happy to see that the loss and damage fund got across the line," said Sherwood-O'Regan of the Indigenous Caucus.
"But I think there has been quite a bit of concern that if we have this loss and damage fund, we will not see our rights safeguarded across other agenda items, and we're not seeing parties agree to be ambitious enough to even meet that 1.5-degree target."
With negotiations ending two days past due, many Indigenous leaders, who often don't have a lot of funding and resources to take time away from their communities, had to leave before negotiations on Article 6 and loss and damage concluded, said Sherwood-O'Regan.
"I think we need to acknowledge the leadership of many parties within the Global South, but also within Indigenous and frontline communities who have fought for that and enabled that [loss and damage] fund and even enabled the language of loss and damage to enter into this UNFCCC space," said Sherwood-O'Regan.
"But I think there is still a bit of a feeling of disappointment that we saw a bit of backsliding on human rights, the rights of Indigenous peoples, and the rights of persons with disabilities across other areas of the text."
This story by Dimitri Selibas was originally published by Mongabay and is part of Covering Climate Now, a global journalism collaboration strengthening coverage of the climate story.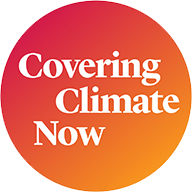 ---