Ongoing protests have hit Cape Town decrying the arrival of a Russian ship en route to Antarctica, accused of prospecting the climate-stressed Southern Ocean. The peaceful rallies have provoked far-reaching reactions.
Listen To This Story
Sweeping across dark, blustery skies on Saturday, January 28, a rainbow framed Cape Town's foggy seaboard end to end — but when a tug fleet motored out to meet a Russian ship on the horizon, the light display vanished in the mist.
By 9 a.m., the Akademik Alexander Karpinsky and her controversial airguns had docked in the shadow of Table Mountain to refuel, after sailing from her St. Petersburg homeport since Christmas Day. 
The target of several land and ocean protests since Friday, January 27, after Our Burning Planet first reported on her arrival, the 40-year-old lady of the sea has since made headlines around the world. 
But here she seemed neglected against the dark, ashen Atlantic — as though at least 25 years of apparent airgun prospecting in a globally important marine sanctuary had sapped her. Now she would also have to contend with South African seismic protesters — incensed by her annual Antarctic oil and gas surveys, led via Cape Town since at least the late 1990s; her noisy airguns; and the South African government's "flourishing" relations with Russia. 
Covered by local and international media since they emerged in Cape Town at the end of January, the protests are likely the first demonstrations against oil and gas seismic surveys in Antarctica's Southern Ocean since a 1998 mining ban entered into force. 
They also follow a series of Our Burning Planet investigations that shows the Karpinsky's Antarctic activities have not been deterred by the mining ban. 
Following additional investigations into underwater noise in Antarctica, recent days may also mark another seminal moment: these are likely the first protests against the impacts of academic airguns used by a number of Antarctic states in the Southern Ocean. The protests have further exposed the frustrations of those South Africans whose court action has suspended Shell's seismic oil and gas tests off the Wild Coast.  
Groups who protested peacefully at the V&A Waterfront, and other harbor areas, have included volunteers from Extinction Rebellion, Greenpeace, the Green Connection, the Ukrainian Association of South Africa, and private citizens. 
'Russia Is Mal, but Our Government Is Maller'
The Karpinsky would be sailing south as part of the 68th annual Russian Antarctic Expedition, "to carry out complex geological and geophysical studies in the Davis and Mawson Seas" off the East Antarctic ice shelf, according to the ship's owners: the Polar Marine Geosurvey Expedition (PMGE). 
Antarctic scientific research — including oceanography, biology and meteorology — would also be conducted on a sister polar research vessel, the Akademik Fedorov, which transited through Cape Town mid-December. 
But PMGE — subsidiary of the Kremlin's mineral explorer, RosGeo — had in a December-issued annual report also revealed remarkably brazen intentions for the Karpinsky's imminent summer expedition.  
Published in Russian, the report reveals that the subsidiary's research goals are "decreed" by the Kremlin. Tellingly, they include "the creation of an information base for the assessment and scientific forecast of the mineral raw-material potential of the Antarctic."  
For Caron Hopkins, who described herself as a homeless resident living at Cape Town harbor since 1997, the news seemed too much to bear.
"No man, all this is just so f**ked up," Hopkins said, as she passed the Sunday protesters marching from the museum precinct to the Waterfront clock tower. 
"Everything in South Africa is messed up as it is. Why would our government want to invite Russia here? It's so not on. It's dom [stupid]. Russia is wrong, what they're doing to Ukraine. It's very much wrong. And for our government to encourage Russia still to come here, I mean… shaking hands and… why?" Hopkins asked, standing less than 1.5 km (~1 mile) from the Karpinsky's berthing position in the larger container dock. "Russia is a mal [crazy] country, but our government is maller [crazier]. We want peace. So, what is this Russian ship doing in our seawater?"
Hopkins was not taking part in the Sunday protests, but she pointed to William Sweetlove's outsized penguin sculpture — with a plastic bottle strapped to its back — on the other side of the canal. In her pocket, she carried a penguin keyring. 
"And what about all the animals… no heart, hey," she said as Sweetlove's petrified penguin — erected to raise awareness of ocean plastics — loomed over tourists lip-reading placards. "Heartless — but [Russia's] president is heartless, so I would not expect anything else of him. He doesn't even think about his own country, why would he think about animals? As for our own government, they'll mos do anything for money."
In recent weeks, the Russian cargo vessel Lady R has reportedly offloaded arms at Simon's Town naval base in the dead of night. Subsequently, Russian Foreign Minister Sergey Lavrov's controversial official visit to Pretoria took place just days before the Karpinsky's arrival. And, next month, South Africa's defense force is planning maritime exercises with Russia and China which would coincide with the first anniversary of Russia's invasion of Ukraine on Febuary 24.
'Everybody's Doing It'
Antarctica and the surrounding Southern Ocean are devoted to peaceful and scientific ideals under the 1959 Antarctic Treaty, which Russia, South Africa and 53 other states have signed. According to the environmental laws of the Antarctic Treaty System (ATS) — the greater suite of agreements — mineral resource activities are prohibited. 
The freedom of scientific investigation, a concept not defined by the ATS, is allowed, but Antarctic governance experts warn that the Karpinsky's activities closely resemble the early stages of commercial prospecting. 
In detailed comments to Our Burning Planet, RosGeo's PMGE subsidiary has repeatedly insisted that the Karpinsky's work was dedicated to legal scientific research.
The subsidiary's geological and geophysical surveys were "no different from the work conducted by other members" signed up to Antarctica's environmental laws, according to PMGE Managing Director Pavel Lunev. 
In 2022, Lunev told us, the subsidiary had also probed "the glacial processes, dynamics and evolution of the ice sheet and the stages of Antarctic glaciation" and "the nature and foundation of the Earth's crust."  
During the Sunday, January 29 protests, two Russian-speaking bystanders dressed in smart-casual slacks and open-necked shirts approached the protesters and repeated some of Lunev's arguments. After speaking with the two men, a protester said they worked on the Karpinsky and were heading to the Southern Ocean to gather climate data. 
"They said they do research and supply their research stations in Antarctica. In past years, their ship had supplied other international stations," said Viktoriia Kordiumova, a Ukrainian protester living in Cape Town. Kordiumova claimed to have spoken to the men, and said they seemed visibly frustrated. 
"South Africa has a moral duty on behalf of its own citizens, Africa and the whole world to not enable this kind of activity in an area that is very ecologically sensitive," said Greenpeace campaigner Elaine Nills. https://t.co/o51UnFWBy6

— The Moscow Times (@MoscowTimes) January 29, 2023
The men insisted, said Kordiumova, that "in Russia, nobody wants this war, and they personally want this to be over. That they are just doing their job, that they have families to feed and support."
"And when I said that we were protesting against Antarctic exploration, against blasting there, they said that everyone is doing it."
Our Burning Planet was unable to verify the men's identities. When asked for formal comment, they declined. 
'Real Possible Prospecting' of Antarctic Minerals
Leading up to Antarctica's 1998 mining ban, most of the ATS's 12 founding signatories were, in fact, associated with mineral resource research — including Japan, Norway, apartheid South Africa, the US and, indeed, the Soviet Union.
Peer-reviewed German science notes that at least 13 other Antarctic states have deployed airguns for varied scientific research, including monitoring volcanoes and gathering data for UN climate reports. 
As Our Burning Planet previously reported, airguns used by Germany — which has also led important climate research on the country's flagship Polarstern icebreaker — have produced at least 60,000 km (37,282 miles) of seismic profiles. 
Russia, however, has pulsed noise across well in excess of 100,000 km (62,137 miles) of sensitive Antarctic seabed every 10 seconds, spanning a 4.5 million square km (~1.7 million square miles) Southern Ocean block — an area larger than the EU.
In an interview, a senior Russian scientist previously told Our Burning Planet that, since the ban, scientists from different countries had published reports on Antarctica's mineral resources.
Professor German Leitchenkov, Antarctic geoscience head at Russia's Research Institute of Geology and Mineral Resources of the World Ocean, said he had reviewed a Chinese paper, which claimed there was "real possible prospecting on land" of "mineral resources on the Antarctic continent." 
Leitchenkov is an accomplished geoscientist, and said he also worried about Antarctic environments. 
Exploration de l'Antarctique : pourquoi un navire russe inquiète les militants du climat sud-africains https://t.co/4kMTL0W8JU pic.twitter.com/w5XlhcmoWZ

— Sud Ouest (@sudouest) January 29, 2023
Equal to 15 Years of Global Oil Consumption
As for claims that the Karpinsky is gathering innocent data, PMGE's company reports also detail glaciological investigations and other forms of legal research. These include geophysical studies of polar environments — thus, partially confirming Lunev's explanation.
Yet, the subsidiary also has a contract with the UN seabed authority to explore the central Atlantic for polymetallic sulphides. 
And, in February 2020, as the human planet plunged into a global shutdown, RosGeo issued a bombshell statement out of the Karpinsky in Cape Town harbor. This claimed to have found 500 billion barrels of oil and gas beneath the Southern Ocean — which accounts for 50 percent of global ocean warming since 2005. 
Multiple Russian state sources, in fact, claim there are supermassive oil fields of 500 billion barrels, or 70 billion tons, simmering beneath the Southern Ocean. That would equate to about 15 years of global oil consumption.
This concerns the academic community — Antarctica's mining ban does not expire. But it can be renegotiated from 2048 with new conditions that could lift constraints. 
Other environmental concerns include new peer-reviewed scientific papers warning of the painful and possibly deadly effects of airgun noise on marine life, such as critically endangered blue whales and krill, the base of the ocean food web.
Scientists have flagged the propellers and rumbling engines of ship-based Antarctic tourism as another significant noise source, but the International Association of Antarctica Tour Operators insists it already has tools "to support environmentally responsible travel."  
The piercing echosounders of fishing vessels were an under-addressed concern, the ATS's fisheries body has suggested in a previous formal response — while stressing that all fishing activities under the Commission for the Conservation of Antarctic Marine Living Resources operated under permits. 
South African authorities are yet to respond to repeated sets of questions sent by Our Burning Planet since October 2021, but protesting green groups said they were planning to hand demands to authorities. 
Russian Antarctic vessel docks in South Africa as green groups protest https://t.co/2yArXRcYAw pic.twitter.com/0I41P67hJN

— Reuters (@Reuters) January 28, 2023
According to Extinction Rebellion and Greenpeace volunteers, they have thus far demanded that "authorities establish the moral, legal and scientific basis for the Akademik Alexander Karpinsky's current expedition to the Antarctic."
They have also called on "the South African government to refuse permission to any ship from any country to berth in South African ports en route to the Antarctic, unless it can present proof to port authorities that it is engaged in bona fide scientific research as defined by Antarctic treaties, and that it has neither the intention nor the technologies to prospect for fossil fuel reserves."
At the time of WhoWhatWhy's publication, the Karpinsky had left the port at Cape Town harbor. The ship is scheduled to arrive in Antarctica at the end of February.
This story by Tiara Walters was originally published by Daily Maverick and is part of Covering Climate Now, a global journalism collaboration strengthening coverage of the climate story.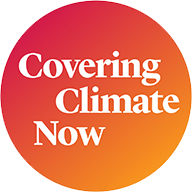 ---