America's newest arrivals bring degrees, job skills, and fluency in English, a new study shows.
Border Security! Build the Wall! Halt the Illegal Flow! During  his presidential campaign and since he has been office, Donald Trump has been raising the blood pressure of his base with claims that America faces a massive onslaught of immigrants bringing crime, drugs, disease, and higher levels of poverty to the US.
The debate over immigration has only gotten hotter in recent weeks, with the president's planned 5 percent tariff on Mexican exports set to start June 10 unless the US's southern neighbor cracks down on illegal migration across its borders.
But while Trump and his base want to curb immigration, a new study on immigration patterns suggests their notions of the newest arrivals are highly inaccurate.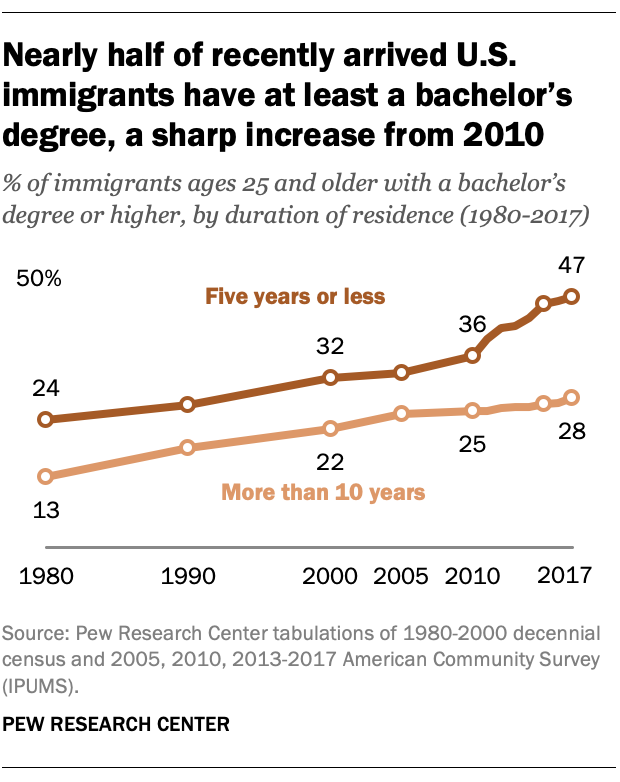 An Educated Group of Newcomers
Counter to the stereotype that immigrants flocking to the US have minimal education, the study found that the immigrants who have arrived in the past five years are highly educated, with advanced degrees, job skills, fluency in English, and an eagerness to find professional work. In fact, nearly 50 percent of the short-term immigrants ages 25 and up come to the US with a bachelor's degree or more, compared to just 28 percent of those immigrants who have lived in the country for the past decade or more and 32 percent of native-born Americans.
Newly arriving immigrants do not just arrive in the US with university degrees but increasingly with English skills. Forty-five percent of those who came here in the past 5 years reported that they either speak only English at home, or are fluent in English. That's up from 38 percent in 2010.
Lower Employment Rates Overall
At the same time, a college degree and English proficiency haven't always delivered the American Dream, at least not in the way of gainful employment.
The newcomers, the study notes, tend to have higher unemployment rates than longer-term immigrants. Their unemployment rate is 7.1 percent, well above the 3.9 percent rate for immigrants who have lived in the country for a decade or more. This marks a contrast with native-born residents, since Americans with more education tend to have lower unemployment rates.
The Pew Research Center did note that immigrants in both categories have seen significant declines in unemployment rates over the past eight years.
Not on the Dole
While some Americans believe immigrants often end up relying on US public assistance, Pew found that this is not likely: The earnings of newly arrived immigrants are on the rise. The newcomers, the study found, have annual personal earnings that averaged about $24,000 in 2017 — indicating that, while some may struggle to find work, they are not necessarily mired in poverty. Immigrants who have been in the country longer earn an average of about $32,000 a year.
Pew noted that the newest arrivals — better educated, fluent in English, and with job skills and earnings potential — may be exactly the kind of foreign-born newcomers that Americans are ready to welcome. A recent Pew survey found that US adults support encouraging highly skilled people to immigrate and work in this country.
Where Are These Immigrants Coming From?
While Trump seems to favor white immigrants from countries like Norway, these well-educated newcomers are much more likely to arrive from Latin America (38 percent) and Asia (35 percent).
The share of immigrants from Asia has increased in recent years, while the percentage of those arriving from Latin America has dropped sharply. In 2010, 48 percent of immigrants came from Latin America, compared to just 30 percent from Asia.
The new study confirms other research. As WhoWhatWhy has reported previously, most immigrants are hard-working adults who pay taxes and contribute in a variety of ways. According to the Migration Policy Institute and the Center for American Entrepreneurship, immigrants are responsible for half of all Silicon Valley technical startups, and nearly half of the 500 largest companies in the US were founded by immigrants or their children.
And immigrants with medical degrees are urgently needed. There is an alarming shortage of doctors in the US, especially primary care doctors. According to a senior fellow at the Council on Foreign Relations, by the year 2025 the US is expected to be 125,000 doctors short.
It is unlikely that you will hear any of this at a Trump rally or on Fox News, but the reality is that, contrary to the president's assertion that the country "is full," immigrants do not just contribute to life in the US but may be the key to the country's economy and healthcare system in the future.
---
Related front page panorama photo credit: Adapted by WhoWhatWhy from Taymaz Valley / Flickr (CC BY 2.0).