As President Obama mulls sending weaponry to the post-coup government in Ukraine, what's driving America's hard line against Russia? The bottom line. Christian Stork investigates.
There's a familiar ring to the U.S. calls to arm Ukraine's post-coup government. That's because the same big-money players who stand to benefit from belligerent relations with Russia haven't forgotten a favorite Cold War tune.
President Obama has said that he won't rule out arming Ukraine if a recent truce, which has all but evaporated, fails like its predecessor. His comments echoed the advice of a report issued a week prior by three prominent U.S. think tanks: the Brookings Institute, the Chicago Council on Global Affairs and the Atlantic Council. The report advocated sending $1 billion worth of "defensive" military assistance to Kiev's pro-Western government.
If followed, those recommendations would bring the U.S. and Russia the closest to conflict since the heyday of the Cold War. Russia has said that it would "respond asymmetrically against Washington or its allies on other fronts" if the U.S. supplies weapons to Kiev.
The powers with the most skin in the game—France, Germany, Russia and Ukraine—struck a deal on Feb. 12, which outlines the terms for a ceasefire between Kiev and the pro-Russian, breakaway provinces in eastern Ukraine. It envisages a withdrawal of heavy weaponry followed by local elections and constitutional reform by the end of 2015, granting more autonomy to the eastern regions.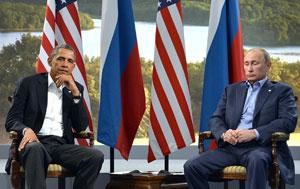 But not all is quiet on the eastern front. The truce appears to be headed the route of a nearly identical compromise in September, which broke down immediately afterward.
Moscow's national security interests are clear. Washington's are less so, unless you look at the bottom lines of defense contractors.
As for those in the K Street elite pushing Uncle Sam to confront the bear, it isn't hard to see what they have to gain. Just take a look below at the blow-by-blow history of their Beltway-bandit benefactors:
No Reds Means Seeing Red
Following the end of the Cold War, defense cuts had presented bottom-line problems for America's military producers. The weapons dealers were told that they had to massively restructure or go bust.
Luckily, carrots were offered. Norm Augustine, a former undersecretary of the Army, advised Defense Secretary William Perry to cover the costs of the industry mergers. Augustine was then the CEO of Martin Marietta — soon to become the head of Lockheed Martin, thanks to the subsidies.
Augustine was also chairman of a Pentagon advisory council on arms-export policy. In that capacity, he was able to secure yet more subsidy guarantees for NATO-compatible weapons sales to former Warsaw Pact countries.
But in order to buy the types of expensive weapons that would stabilize the industry's books, those countries had to enter into an alliance with the U.S. And some members of Congress were still wary of shelling out money to expand a military alliance that had, on its face, no rationale to exist.
Enter the NATO Expansion Squad
Enter the U.S. Committee to Expand NATO. Formed in 1996, the Committee wined and dined elected officials to secure their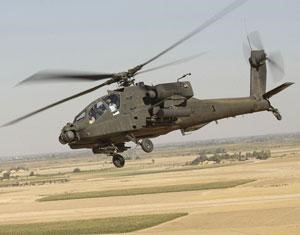 support for NATO enlargement. Meanwhile, Lockheed buttressed its efforts by spending $1.58 million in federal contributions for the 1996 campaign cycle.
The Committee's founder and neocon chairman, Bruce Jackson, was so principled in his desire to see freedom around the globe that he didn't even take a salary. He didn't have to; he was a vice president at Lockheed Martin.
By Clinton's second term, everyone was on board. Ron Asmus, a former RAND Corporation analyst and the "intellectual progenitor" of NATO expansion (who would later co-chair the Committee to Expand NATO), ended what was left of the policy debate in the State Department. He worked with Clinton's diplomatic point man on Eastern Europe, Strobe Talbott.
Poland, Hungary and the Czech Republic were all in NATO come 1999. The Baltic States would soon follow. By 2003, those initial inductees had arranged deals to buy just short of $5 billion in fighter jets from Lockheed.
Bruce Jackson began running a new outfit in 2002. It was called the Committee for the Liberation of Iraq.
(36 F-16s are currently slated for delivery to Iraq at an estimated $3 billion.)
Rivers of Cash
Brookings is Washington's oldest think tank. For most of its existence, its research was funded by a large endowment and no-strings-attached grants. But all of that changed when Strobe Talbott took the reins.
Strobe Talbott, President
• Talbott sought to bolster Brookings' coffers with aggressive corporate fundraising. He took it from annual revenues of $32 million in 2003 to $100 million by 2013. Though always corporate-friendly, Brookings has become little more than a pay-to-play research hub under Talbott's reign.
• Among the many corporate donors to Brookings are Boeing, General Dynamics, Raytheon, Northrup Grumman, Lockheed Martin and cyber-defense contractor Booz Allen Hamilton.
David M. Rubenstein, Co-Chairman of Board of Trustees
• Rubenstein is co-founder and co-CEO at the Carlyle Group, a massive private equity firm. Among the companies in which Carlyle has a controlling stake in is Booz Allen Hamilton — a military and intelligence IT firm that is currently active in Ukraine.
• Booz, which both sells to and operates within the U.S. military and intelligence apparatus, counts four former Carlyle executives among its directors. Ronald Sanders, a vice president at Booz, serves on the faculty of Brookings.
Atlanticists
The Atlantic Council was formed in 1961 as a "consolidation of the U.S. citizen groups supporting" NATO, according to its website.
Stephen Hadley, Director
• A former national security advisor for George W. Bush, Hadley doubles as a director for Raytheon. He was also the driving force behind the creation of the U.S. Committee on NATO, on whose board he sat, and the Committee for the Liberation of Iraq.
• Prior to joining the Bush White House, Hadley was a lawyer for Shea & Gardner, whose clients included Lockheed Martin.
James Cartwright, Director
• A retired general and former vice chair of the Joint Chiefs of Staff, James Cartwright has an active work life. He's "an advisor to defense and intelligence contractor TASC, defense consulting firm Accenture, and Enlightenment Capital, a private equity firm with defense investments," according to the Public Accountability Initiative. He's also on the board of Raytheon, which earned him $124,000 in 2012.
Other notables include:
• Nicholas Burns – former diplomat and current senior counselor at The Cohen Group, which advises Lockheed Martin, among other defense companies
• James A. Baker III – Bush 41 Secretary of State and partner at law firm Baker Botts. Clients include a slew of defense companies
• Thomas R. Pickering – former senior vice president for Boeing
Chi-town Chickenhawks
Founded in 1922, the Chicago Council on Global Affairs has since served as the premier voice of Midwest business leaders in American foreign policy. Jeb Bush recently made his "I am my own man" speech, outlining his foreign policy priorities, to the council:
Lester Crown, Chairman
• The chair of Henry Crown & Co., the investment firm that handles the fortune started by his father, Henry Crown. Henry put the "dynamic" in General Dynamics, helping to turn it into the world's largest weapons manufacturer by the time Lester became its chairman in 1986. The defense behemoth remains the single largest source of the family's treasure; they're currently the 35th richest clan in America. General Dynamics produces all of the equipment types proposed for transfer to Ukraine in the think-tank report.
• A co-author of the report, Daalder is a former diplomat and staffer on Clinton's National Security Council. He later served on the Hart-Rudman Commission from 1998-2001. It was chartered by Defense Secretary William Cohen—later to become a Lockheed consultant—and tasked with outlining the major shifts in national security strategy for the 21st century. Among its commissioners was none other than Norm Augustine.
The commission concluded that the Department of Defense and intelligence community should drastically reduce their infrastructure costs by outsourcing and privatizing key functions, especially in the field of information technology.
The main beneficiaries have been America's major defense contractors: Raytheon, Lockheed Martin, Northrup Grumman, Boeing, Booz Allen Hamilton and Lester Crown's outfit, General Dynamics.
General Dynamics' revenue tripled between 2000 and 2010 as it acquired at least 11 smaller firms that specialized in exactly the sort of services recommended for outsourcing. Roughly one-third of GD's overall revenue in 2013, the same year that Daalder was appointed president of the Council by Crown, came from its Information Systems and Technology division.
So even without a Cold War Bear to fuel spending, the re-imagining of that old foe is oiling the revolving door between the government and defense contractors.
---
Image Credits: 
Obama and Putin – ShadowNinja1080/Wikimedia, Earth From Space The Visible Earth/Nasa, Petro Poroshenko and Angela Merkel – Marc Müller/Wikimedia, Francois Hollande – Siren-Com/Wikimedia, Raytheon Missile – David Monniaux/Wikimedia, Tomahawk Block IV cruise missile – U.S. Navy/Wikimedia, Lockheed C-130 Hercules F16 – Carlos Menendez San Juan/Wikimedia, Trident II missile – US Navy/Wikimedia, F-22 Raptor – U. S. Air Force/Wikimedia, B-2 Spirit strategic bomber – U.S. Air Force/Wikimedia, U.S. Navy guided missile destroyer USS Cole – U.S. Navy/Wikimedia, LGM-118 Peacekeeper – U.S. Air Force/Wikimedia, Boeing AH-64 Apache – U.S. Army/Wikimedia, Boeing F/A-18E/F Super Hornet – U.S. Navy/Wikimedia, M1 Abrams – DOD/Wikimedia, Ronald Sanders – Partnership for Public Service/Flickr, Mike McConnell – DNI/Wikimedia, Strobe Talbott Presidential Press and Information Office/Wikimedia, David M. Rubenstein – World Economic Forum/Wikimedia, Norm Augustine – NASA/Wikimedia, Stephen Hadley – POTUS/Wikimedia, James Cartwright – Cherie Cullen/Wikimedia , R. Nicholas Burns – U.S. Embassy Colombo/Wikimedia , Thomas R. Pickering – Miller Center/Flickr, NATO Logo – NATO/Wikimedia