Is the heir apparent boss of one of the world's most dangerous drug cartels…our friend?
How do you replace an El Chapo? Insert an El Mayo. The thing about arresting a drug lord is, it rarely makes any difference.
If, as expected, Ismael "El Mayo" Zambada-Garcia replaces Joaquin "El Chapo" Guzmán Loera—the kingpin arrested February 22, as head of Sinaloa—the close relationship between the U.S. government and the most powerful drug trafficking organization in the world seems likely to continue.
This relationship was revealed during the trial of El Mayo's son, Sinaloa logistics coordinator Jesus Vicente Zambada-Niebla. Court documents show that, by the U.S. government's own admission, a lawyer for the cartel served as an intermediary between the Drug Enforcement Administration (DEA) and Sinaloa leadership. For nearly ten years, that lawyer, Humberto Loya-Castro, provided the DEA with information the defense characterizes as intelligence on rival cartels.
The arrangement, according to the defense, gave the cartel's leaders immunity and free rein "to continue their narcotics trafficking business in the United States and Mexico without interference." Other evidence reported by WhoWhatWhy and Narco News lends credence to the possibility that such a deal was in fact reached.
Drug kingpins tend to become unpredictable troublemakers, and El Chapo's arrest may have been a way to get a more cooperative El Mayo in power. El Mayo tried to arrange a deal with the DEA in January 2009. That's when Loya-Castro told the agency El Mayo wanted his son to cooperate with them to work off his pending drug charges.
Indeed, the son, Zambada-Niebla, may take a settlement in the coming days, according to a recent Proceso report. He "agreed to produce information in order to avoid a potential life sentence," the article stated in Spanish. In other words, Business as usual—intelligence on rival cartels for DEA, unimpeded smuggling for Sinaloa—may continue.
We asked one of the attorneys defending Zambada-Niebla, Fernando X. Gaxiola, for his perspective. He couldn't comment on his client's case directly, but his remarks on the drug war support the picture of a tangled DEA-Sinaloa relationship emerging from investigative journalists.
A Foothold in Latin America for U.S. Interests
Cooperation "is a policy that the U.S. has outlined, and that they used previously in Colombia," Gaxiola told us. "Which is to eliminate all the smaller groups, concentrate all the power in one place, and then go back and hit that one place."
He is right that such a policy would be nothing new. During the latter half of the twentieth century, the U.S. strategy in Colombia was one of counterinsurgency. The U.S. advanced favored players among the rivalrous local cartels and paramilitaries who would be conducive to its interests. For instance, the U.S. gave covert aid to anti-Communist guerrillas protecting the Medellín cartel's coca fields from the radical leftist FARC militia—which resisted U.S. oil companies.
Once Medellín became the dominant player, its leader, Pablo Escobar, apparently ceased to be useful, and was shot to death in 1993 by Colombian police assisted by the DEA, the CIA, and the Joint Special Operations Command (JSOC).
Cocaine smuggling into the U.S. was not noticeably affected, for though Medellín collapsed, the Cali cartel gained strength in its wake. But the counterinsurgency efforts paid off: Colombia is now a foothold for U.S. interests in Latin America.
Operation Fast and Furious
The U.S. may be taking on Mexico as it did Colombia, for Sinaloa appears to have been a recipient of covert aid. In Operation Fast and Furious, the Bureau of Alcohol, Tobacco and Firearms (ATF) allowed more than two thousand AK-47-style rifles and even 50-caliber guns, via illegal sales, to slip into Sinaloa territory.
Gaxiola told WhoWhatWhy he believes the ATF conducted Operation Fast and Furious in order to arm the cartel. "If you're selling guns in Arizona, and they're gonna go south," Gaxiola said, "the first place they go is to Sinaloa. Doesn't take a genius. If you want to send them to the cartel Gulf, you send them through Laredo; if you want to send them to Juárez, you send them through El Paso. They want to fortify the Sinaloa cartel to take out all the other cartels."
In the past three years, U.S. military leaders have been publicly considering a counterinsurgency, a divide-and-conquer strategy for Mexico. They include General David Petraeus, as indicated by his comments in Small Wars Journal, and top leaders of the Northern Command as reported by the New York Times.
"The military is trying to take what it did in Afghanistan and do the same in Mexico," one of the high-ranking officers, steeped in counterterrorism, told the Times, as they all pored over intelligence about Mexican drug cartels.
What is the Mexican government getting out of all this? President Enrique Peña Nieto's efforts to woo money into his country—especially for sectors such as oil and gas and tourism—depend on making investors believe he has a handle on the drug war violence, which has shattered the country and led to more than 80,000 dead since 2006.
"The country's out of control," Gaxiola said. "Mexico is a country that is ungovernable in very big geographic sectors: Michoacán, Guerrero, Tamaulipas, Veracruz, parts of Sinaloa. And in other parts of the country, they're now governed by thugs. Peña Nieto absolutely looks like a fool."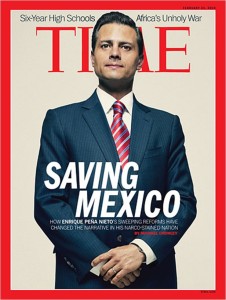 "An arranged thing to show Peña Nieto is in control"
That may be why El Chapo was arrested now (the question WhoWhatWhy recently asked). Indeed, the kingpin's arrest came just days after TIME Magazine put Peña Nieto on its cover with the headline: "Saving Mexico." His government paid Time-Warner a few months prior for a 14-page advertorial promoting the country as a tourist destination and hyping the president's reform agenda.
"The political scene right now is that Peña Nieto is victorious, nobody's looking at anything," Gaxiola said. "The Mexican economy is in a dive, the country's going to hell, and TIME Magazine tells the world Peña is saving México."
The Mexican president's need for a "win" was urgent. As WhoWhatWhy previously reported, using WikiLeaks documents, the U.S. apparently knew where El Chapo was on any given day, at least since mid-2010. Gaxiola agreed the authorities likely were aware of the kingpin's whereabouts, and said, "They had no interest in arresting him before. When he was more useful arrested than free, then they arrested him."
Hector Berrellez, a retired supervisory DEA agent and once the agency's lead investigator for Mexico, told Narco News that El Chapo's capture was no daring predawn raid, but "an arranged thing" to show Peña Nieto is in control of the chaotic country.
"Chapo was protected by Mexican federal agents and military, by the Mexican government," Berrellez said. "He was making Peña Nieto look bad, and so the government decided to withdraw his security detail."
So many former agents are disputing the official version of the arrest that the DEA issued a statement disowning their views.
"If the Mexican people knew…"
Besides the boost for Peña Nieto, Gaxiola racked El Chapo's arrest up to DEA and Department of Justice "lust for Mexican blood" and greed.
"Their budget continues to grow thanks to the so-called 'spectacular arrests.' What is spectacular? They caught one guy, come on. Nothing happened. Nothing changed."
That the three Sinaloa drug lords had warm relationships with each other, and thus probably shared an understanding about cooperation with the U.S., also suggests nothing will change.
In a rare, 2010 interview with the Mexican newsweekly Proceso, El Mayo referred to El Chapo and his son affectionately, calling each a compadre, or a close friend. Zambada-Niebla "is my first-born, the first of five," the drug lord said in Spanish. "I call him 'Mijo' [a contraction of mi and hijo, meaning 'my son']." Asked about 'Mijo's' legal battles, El Mayo said, "I weep for him." As for the top kingpin, El Mayo said he and El Chapo talked on the phone frequently.
There are other possibilities, of course. Perhaps El Chapo's arrest means the authorities are finally turning on Sinaloa, and that El Mayo is next to sit behind bars. Or the top kingpin's arrest may mean the cartel's financial interests take a back seat to fresh bad blood.
The picture may become clearer soon. Evidence of U.S.-Sinaloa cooperation seems to keep surfacing. If Zambada-Niebla takes that settlement, his case may stop being a source of answers. But additional revelations, from whatever places, could have a serious impact on U.S. policy. Gaxiola told WhoWhatWhy,
"If the Mexican people knew the motivation behind what the United States has done, their attitude of not giving a hell for Mexican lives, they would kick them out of the country, and understand what this 'drug war' is all about."
[box] WhoWhatWhy plans to continue doing this kind of groundbreaking original reporting. You can count on us. Can we count on you? What we do is only possible with your support.
Please click here to donate; it's tax deductible. And it packs a punch.[/box]