For years, Bay of Pigs aficionados have debated whether one of the ships used in the ill-fated operation was named after Barbara Bush. Here's a document that (perhaps) answers that question.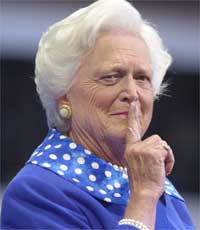 Anyone who has read Family of Secrets, the investigative history of the Bush dynasty by WhoWhatWhy's founder and editor Russ Baker knows that he doesn't shrink from reporting tantalizing material, but also won't go one step beyond what he believes to be true. Anyone who regularly visits this site knows that we pride ourselves on the same approach.
Thus, we're glad to offer a new piece of evidence in the ongoing research into George H.W. Bush's secret work with US intelligence, decades before he was named by President Gerald Ford as CIA director—purportedly as an "outsider."
As Russ reports in Family of Secrets, there's plenty of evidence that Bush was using his offshore oil drilling company as cover for CIA operations, including in the Caribbean, in the 50's and 60's. Because of what appears to have been Bush's covert involvement with the Bay of Pigs invasion operation, many have surmised that boats used in the doomed expedition were named by Bush himself.
After all, Bush's company, headquartered in Houston, was called Zapata Offshore, and the code name for the Bay of Pigs invasion was "Operation Zapata." The two transport ships used in the operation were "The Houston" and the "Barbara J." And Bush's wife, the former first lady, is of course Barbara.
Yet others have pointed out that Barbara is not known to have had a middle name (or middle initial). Some have speculated that, indeed, Barbara Bush may have once had a middle name, and that she could have stopped using it earlier in her life.
We can't claim to have definitively resolved this, but we'd like to offer pretty good evidence that the ship was not named after Barbara Bush—or at least that she doesn't appear to have ever had a middle name or middle initial.
Here is a snapshot of the United States Census for 1930, with the section of a page recording details about the family of Marvin and Pauline Pierce and their children, including Barbara. You'll note that middle initials are recorded for Barbara's older siblings Martha and James, but not for her parents, and not for her. This doesn't absolutely mean that Barbara was not given a middle name, but, absent additional evidence, it certainly seems she did not have one.

[box]WhoWhatWhy plans to continue doing this kind of groundbreaking original reporting. You can count on it. But can we count on you? We cannot do our work without your support.
Please click here to donate; it's tax deductible. And it packs a punch.[/box]
GRAPHIC: http://crooksandliars.com/files/vfs/2010/11/Barbara%20Bush.jpg