Al Qaeda's ambitions to use planes as weapons started much earlier than was previously known, according to explosive testimony given by one of the group's first pilots. Secretly imprisoned by the U.S. for a decade, American citizen Ihab Mohamed Ali revealed how Osama bin Laden's plan to kill the Egyptian president gave birth to the strategy used in the 9/11 attacks. Phil Hirschkorn reports.
Years before al Qaeda aimed hijacked airliners at skyscrapers on 9/11, the terrorist group hoped to turn an airplane into a missile to kill Egypt's president.
That's the testimony of Ihab Mohamed Ali, an ex-al Qaeda operative who appeared as a star prosecution witness in the latest major terrorism trial in Manhattan federal court. A 52-year-old naturalized American from Egypt, Ali worked for al Qaeda for six years in the 1990s as a translator, travel agent, passport forger and pilot.
His own story has been shrouded in secrecy for 15 years—10 of which he spent imprisoned secretly on U.S. soil.
The government lifted the veil over Ali to bolster its prosecution of alleged Osama bin Laden lieutenant Khaled al-Fawwaz, whose defense begins on Feb. 17. Ali's testimony supported accusations that al-Fawwaz trained recruits in Afghanistan, started al Qaeda's East Africa cell, and served as bin Laden's communications conduit in London.
Al-Fawwaz is listed as al Qaeda member #9 on a purported members list unsealed for this trial under his alias, "Hamad al-Kuwaiti." Ali, under the alias "Nawawi," after a medieval Muslim scholar, is #66.
***
That document is one piece of news to emerge from this trial. The other is Ali's description of al Qaeda's planned airborne assassination of former Egyptian President Hosni Mubarak.
Beyond that story, Ali is a missing link between al Qaeda's founding and 9/11. He personifies Osama bin Laden's early interest in exploiting U.S. flight schools and weaponizing airplanes, and of how American citizens can be drawn to jihad.
The public record already shows how the admitted architect of 9/11, Guantanamo detainee Khalid Sheikh Mohammed and his nephew, World Trade Center truck bomber Ramzi Yousef, once sought to plant bombs on a dozen U.S.-bound airliners to explode over the Pacific Ocean.
Their plot, called "Bojinka," for "loud bang" in Serbo-Croatian, was detailed on a laptop Yousef left behind while on the run in the Philippines. One of Yousef's conspirators, pilot Abdul Hakim Murad, also suggested crashing a plane into CIA headquarters. Yousef and Murad were convicted in 1996 and sentenced to life in prison.
A year earlier, the Blind Sheik from Egypt, Omar Abdel Rahman, and a group of men he led were convicted of plotting to bomb bridges, tunnels, and landmark buildings in New York City. This foiled conspiracy included a plan to shoot Mubarak during a 1993 visit to the United Nations.
"You Would Be a Martyr"
That same year, bin Laden had Mubarak in his crosshairs, according to Ihab Ali. Al Qaeda was based in Khartoum, Sudan, at that time, and Ali lived in a four-story building with other members. Bin Laden had a new job for him.
"He wanted me to travel abroad to learn how to fly airplanes," Ali said in court.
Bin Laden envisioned an opportunity to kill Mubarak. He posited that Mubarak would fly to Saudi Arabia to attend the inevitable funeral of ailing King Fahd.
"He said if I had the chance, to ram his plane with mine mid-air," Ali recalled.  "It took me by surprise. I responded, 'Well, wouldn't I be killing myself?'"
Bin Laden replied, "Well, then you would be a martyr."
***
To fulfill the mission, Ali went to Nairobi, Kenya, for flight training.  He considered the pace too slow, so he scouted flight schools in the U.S. He'd emigrated with his family from Alexandria, Egypt, at 11, grew up and went to high school in Orlando, and attended college in Los Angeles.
Ali chose Airman Flight School in Norman, Oklahoma. Over five months, he learned to solo on the Cessna 150 and 172 propeller planes under the pseudonym of Joseph Kenana. He opened a bank account under that name, to which al Qaeda wired him thousands of dollars.
Ali finished his flight training in LA on a Cessna Citation jet and went back to Sudan. To advance the plot against Mubarak, Ali taught his confederates. "I instructed others in how to read flight maps, how to listen to radio communication between the airport control towers and airplanes," Ali testified.
But Bin Laden still needed a plane. An Afghan mujahideen veteran then living in Texas, Essam al-Ridi, obtained a decommissioned military jet similar to the Saber 40 and flew it to Khartoum. The plane fell into disrepair, and al-Ridi returned to fix it.
Air Osama Gets Grounded
Ali was his co-pilot for an unsuccessful test run. "There were no brakes in the airplane, and [it] just kept going to the end of the runway, and it crashed," Ali testified. The jet came to rest in a sand dune, its nose crushed. Neither pilot was hurt.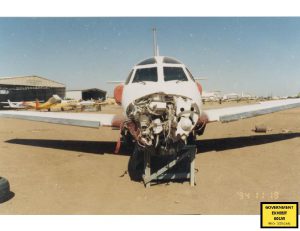 Ali found it would cost more to fix the plane than bin Laden had paid for it. So the Mubarak plot died. Air Osama was grounded. For the time being.
Seven years after Ali's flight training in Oklahoma, in July 2000, Mohammed Atta was exploring how to obtain a pilot's license to crash a jumbo jet into the World Trade Center. The first flight school he visited was Airman, just like Ali. But Atta and the future hijacker-pilot with him, Marwan al-Shehhi, instead trained at a Venice, Florida school. So too did Ziad Jarrah, who would pilot the hijacked jet which crashed in Shanksville, Pennsylvania.
In February 2001, al Qaeda's would-be pilot-hijacker Zacarias Moussaoui went to Airman, took lessons, but failed to earn a license to solo a prop plane. That's one reason Moussaoui aroused suspicion when he showed up at a Minnesota flight school for jet simulator training, prompting his arrest.
***
Ihab Ali's homegrown involvement with al Qaeda was teased in court documents and a previous trial. But his full story has been hidden because the U.S. imprisoned him secretly for a decade.
Every document in his case, with the exception of his cooperation agreement, remains under seal. That Ali became a cooperating government witness could not be confirmed until he took the stand on January 29. Even then, no sketch artist was permitted to draw his face.
Wearing a suit but no tie, his mustache shaved and his hair grayed compared to old photos, Ali testified in perfect, accent-free English. His journey to jihad began in late 1980s, when Ali went to Afghanistan to join the mujahideen fighting Soviet invaders. "I thought it was my religious duty to do that," Ali said.
Donations from his LA mosque paid his way. In 1990, Ali met bin Laden, and signed papers pledging allegiance to al Qaeda. His first assignment was translating English military manuals, including one stolen from the U.S. Army, into Arabic. He earned a monthly salary.
From Al Qaeda's Payroll to the American One
As an al Qaeda operative, Ali associated with the men who bombed the U.S. embassies in Kenya and Tanzania in August 1998, killing 224 people and injuring thousands. He admitted delivering two of those men $10,000 in cash so they could train Islamists in Somalia to fight U.S. troops there on a UN-led peacekeeping mission.
When Ali quit al Qaeda in 1996, he got $2,400 in severance and returned to Orlando to drive a cab.
Three years later, the government subpoenaed him for the grand jury considering the embassy bombings conspiracy indictment. He lied about living in Sudan and knowing bin Laden, and then refused to talk.
That led to his arrest on charges of criminal contempt and perjury. He spent 22 months in jail before agreeing to become a cooperating witness. He only walked free in May 2009, after pleading guilty to al Qaeda's global conspiracy to kill Americans.
"I faced a maximum of life," Ali said. "I received time served." After reuniting with his family, Ali later worked as a transportation dispatcher and a food server.
Even the U.S. has given him a severance payment of sorts. Over the past five years, the government has paid him as much as $90,000 for expenses.