Nearly a quarter of the activists murdered were Indigenous. More than 80 percent of the murders took place in Colombia, Ukraine, Mexico, Brazil, or Honduras.
Listen To This Story
To recognize Earth Week, WhoWhatWhy is running a new piece from our partners at Covering Climate Now each day until Earth Day on April 22. We are committed to covering the climate crisis and other environmental struggles humanity faces each and every week. Read more of our environmental coverage here.
In February of 2022, Colombian human rights activists Teófilo Acuña and Jorge Tafur were assassinated in front of their friends and families after decades of working to protect small, rural communities from mining and land-grabbing. Their killers have not been brought to justice. 
Acuña and Tafur were just two of 401 human rights defenders killed in 2022, according to a new report from Frontline Defenders, an international human rights organization. According to researchers, approximately 48 percent of those killed were protecting land, environmental, and Indigenous peoples' rights, while 22 percent of people killed were Indigenous. The report also found that environmental and Indigenous rights defenders were most targeted and regularly faced arrest, detention, legal action, physical attacks, death threats, and murder.
"There will always be defenders who will step up, there always is and there always will continue to be," said Olive Moore, Frontline Defenders' interim director. "What's more worrying is how much more sophisticated the pushback by governments by authoritarian countries and by business against those defenders are."
Nearly 46 percent of killings occurred in Colombia, followed by assassinations in Ukraine, Mexico, Brazil, and Honduras. Combined, those five countries accounted for more than 80 percent of all human rights defenders' deaths in 2022. 
Latin America remains the deadliest region on the planet for Indigenous peoples working to protect their rights or lands. More than 10,000 conflicts related to land rights and territories were recorded between 2011 and 2021, and a report released last year revealed that during that same time frame, 342 land defenders were killed. Many of those conflicts were driven by former Brazilian President Jair Bolsonaro, who swore he would not "give the Indians another inch of land," tried to dissolve the Ministry of the Environment and Climate Change, and attempted to leave the Paris climate accords. During the Bolsonaro administration, deforestation in the Amazon increased by 56 percent. 
"The challenges they are facing is that they are being thrown off their land and they are losing their livelihoods," Moore said. "There are no alternatives for them."
The endangerment of human rights activists and land defenders has only grown. In 2021, Frontline Defenders reported 351 killings, and a report from the Business & Human Rights Resource Centre showed there were disproportionate attacks against Indigenous land defenders during that same year.
Moore said conflicts around mines, water, and pipelines continue to pit rights defenders against governments and businesses that rely on police, military, or private security groups to back agendas. 
"They have the resources and they have the power and they are remarkably effective at closing down spaces for defenders," Moore said. "Those who are the violators have sufficient resources to up their game, and constantly try to create more threats and take out defenders."
This story by Lyric Aquino was originally published by Grist and is part of Covering Climate Now, a global journalism collaboration strengthening coverage of the climate story.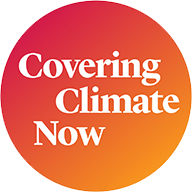 ---