At the height of the manhunt for Dzhokhar Tsarnaev, one police officer came within a few feet of the suspect. And let him go. Not that you'd have learned this from testimony in the courtroom. Joanne Potter looks at the escape of a most wanted man.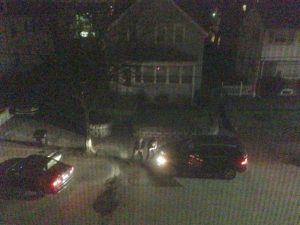 Jurors in the trial of alleged Boston Marathon bomber Dzhokhar Tsarnaev heard dramatic testimony from officers involved in the Watertown shootout Monday. However, they did not hear from the officer who came within a few feet of a fleeing Tsarnaev, then the most wanted man in the country.
Watertown police officer John St. Onge met Tsarnaev "head on" at the corner of Spruce and Lincoln Streets, at a point where the road was too narrow for both cars to pass. That forced the injured Tsarnaev to exit the Mercedes SUV he'd been driving and take off on foot, a document obtained by WhoWhatWhy shows.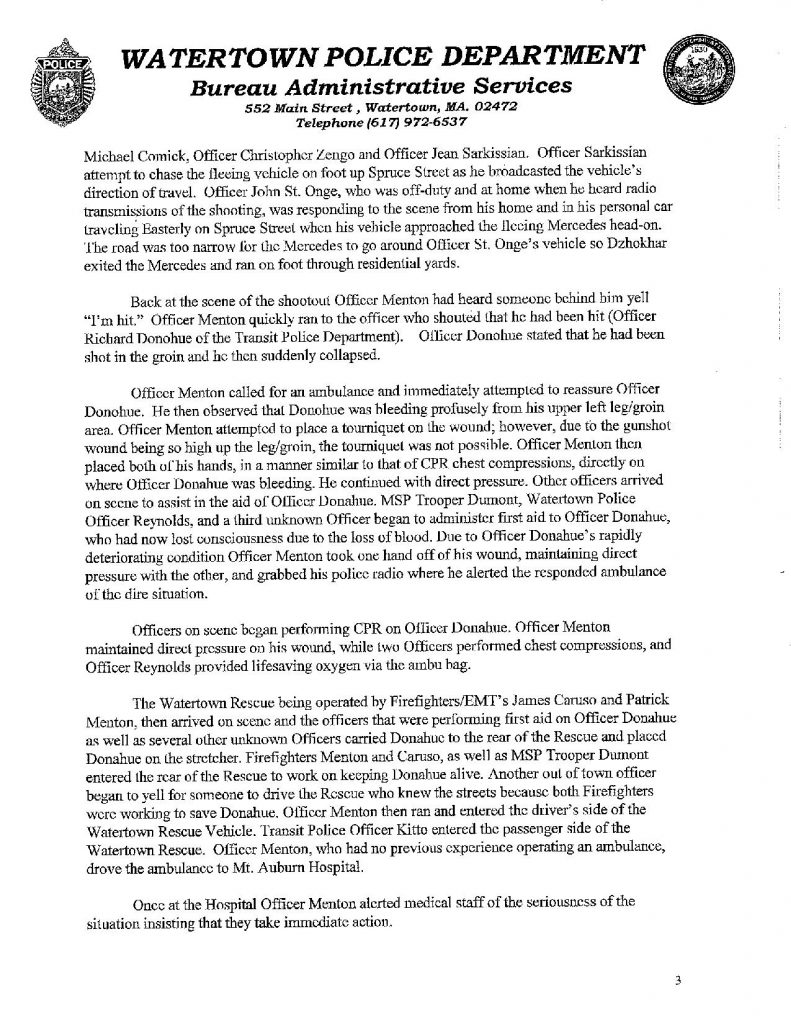 St. Onge had responded from home after hearing the frantic radio transmissions of colleagues caught up in the shootout.
It's unclear why St. Onge did not chase Tsarnaev, the manhunt for whom precipitated the unprecedented lockdown of Boston. Major Francis Hughes, Commander of the Division for Investigative Services at the Massachusetts State Police, told the court Monday that officers independently discovered Tsarnaev's abandoned vehicle:
Trooper Hughes responded to shooting of MIT officer, then to Watertown shooting. Later discovered SUV abandondoned at Spruce and Lincoln St

— Patricia Wen (@globepatty) March 16, 2015
Hughes appeared to suggest it was only when officers "found" the SUV that they realized Tsarnaev, was gone:
Stolen SUV abandoned by #Tsarnaev on Spruce Street in Watertown, .@MassStatePolice Major Hughes explains. The driver was gone.

— Michele McPhee (@MicheleMcPhee) March 16, 2015
Was Hughes simply not aware of St. Onge's close encounter? If he was unaware, from where did he get his information? And why wasn't St. Onge called to explain the exact circumstances himself?
It's details like this which are expected to be revealed in a highly critical "after action" report, the release of which has been delayed until after Tsarnaev's trial. The still-confidential report is expected to cover the chaotic Watertown response, including incidents of friendly fire and communication difficulties.
To be sure, it could just be confusion among the police officers, involved in a multi-agency effort and what surely was one of the biggest incidents of most of the officers'  careers.
But given Hughes' testimony to the court on Monday, it seems problems with communication are still all too apparent—and may have resulted in the Commander for Investigative Services providing woefully inaccurate testimony to a court of law.