Even as Democrats struggle to pass federal voting legislation, activists fight to prevent Republican states from passing bills to restrict voting access.
While Democrats in Washington are unable to unite to expand voting rights, Republicans across the country continue to promote and pass state laws that restrict voters. More than 389 bills in 48 states aim to make voting harder. Georgia, Texas, and Florida may get the lion's share of attention, but Republican lawmakers are hard at work enacting voter suppression laws in many states that fly under the national media radar, such as Kansas, Montana, and Arkansas.
In both Kansas and Arkansas, Republicans continue to pass multiple bills that will limit the number of valid ballots by criminalizing innocuous behavior and creating arbitrary barriers to residents casting their votes. Voting rights activists in both states are speaking out against these bills, calling them unconstitutional and saying they have a disproportionate effect on the elderly, those with disabilities, those in low-income areas, and those with limited transportation.
In Montana, Democrats are suing over bills passed in April, calling them unconstitutional. 
Kansas Bills
In Kansas, you'll have to pay to vote under the new laws —but not if activists have anything to say about it.
After Democratic Gov. Laura Kelly vetoed Kansas House Bills 2183 and 2332, Republicans overrode her and pushed them through anyway. The bills can be categorized into four main sections. The first law would make it illegal to "appear as an election official." The second law also makes it a misdemeanor to collect and submit more than 10 ballots on behalf of someone else. The third law bans out-of-state organizations from distributing voting applications to Kansas residents. And lastly, there would be a new $20 application fee for anyone requesting a ballot. 
"In Kansas voting is our right, it's not a privilege, so putting a financial barrier for people who want to cast their ballot will only suppress the vote of low-income Kansas, and that has constitutional implications," said Sharon Brett, the legal director of the American Civil Liberties Union in Kansas.
Five organizations are suing Kansas election officials over these bills. Loud Light, the Voter Participation Center, VoteAmerica, the League of Women Voters of Kansas, and Kansas Appleseed are arguing that HB 2183 and 2332 violate free speech by silencing essential voting voices.
Loud Light and the Voter Participation Center are nonprofits that promote voter registration in underrepresented communities. VoteAmerica is a nonprofit that provides election information, technology, and educational and outreach programs to encourage voter turnout. The League of Women Voters of Kansas is a grassroots organization that informs and educates the public on governmental and public policy issues, while Kansas Appleseed is a nonpartisan organization that "pursues impact litigation to protect Kansans' rights and wellbeing."
The laws making it illegal to appear as an election official and to collect more than 10 ballots are especially concerning, considering the fact that they do not clarify whether or not someone intends to appear as an election official or is accidentally mistaken for one, an occurrence that Loud Light members said they have encountered. 
"We don't need to go out of our way to search for things to turn into criminal activity when they simply aren't," Brett said. "The ACLU's position on these bills is that they should be rejected for that very reason."
The lawsuits state that the bills cause voter suppression by creating unnecessary barriers. VoteAmerica states that banning mail distribution of ballots from other states will result in lower voter turnout. Since the elderly and those with disabilities might not have access to transportation to polling places, banning ballot collection could disenfranchise them. 
Arkansas Bills
In Arkansas, new laws will require voters to have official identification. A sworn affidavit validating identity won't be enough. They will also bar friends or relatives from joining voters as they stand in line outside the polls by creating 100-foot barriers from the entrances. 
Sen. Kim Hammer (R) said the bills are about "protecting the integrity of the vote" and were not based on former President Donald Trump's loss in November. "These were taken from real examples that happened here in the state," Hammer said on CNN. He referenced an Arkansas race in November resulting in a lawsuit arguing that there were errors in the counting of absentee ballots. Legal challenges to that loss, which came from an incumbent Democrat, have been dismissed.
The signatures on the voter registration will have to exactly match those on absentee ballots, and those absentee ballots must be submitted days earlier than in 2020.
The League of Women Voters Arkansas and Arkansas United filed lawsuits against these bills: Act 249, Act 728, Act 736, and Act 973. The nonprofits claim these provisions make it nearly impossible for voters' voices to be heard, especially those in marginalized communities. 
In order to obtain proper identification, those in rural areas may have to travel an hour or even more. This also disproportionately affects low-income communities or elderly voters without access to a vehicle. 
Elderly voters may also need assistance from friends or relatives when standing in line for long hours. The law prevents acquaintances from bringing food or water to voters and proposes penalties of up to a year jail time or a $2,500 fine for those who assist voters in need. 
Act 736 has unrealistic signature standards. 
"My voter registration signature is from when I was 24 years old. I guarantee you those signatures don't match. Signatures are very unreliable on being examined by amateurs," said Bill Kopsky, executive director at Arkansas Public Policy Panel, a nonpartisan organization that focuses on educating rural communities on issues of education, poverty, and economic justice. 
Act 973 limits voter turnout numbers through mail-in ballots by shortening the deadline to turn in ballots by two days. This is likely not a coincidence, since in 2020 Democrats were more likely to vote by mail due to former President Donald Trump dissuading his voters from doing so. 
"Elections should have a deadline. Election Day. And to have different deadlines for different kinds of ballots, it's just going to confuse voters, especially since a lot of people who vote absentee are elderly. It's just adding a hurdle and barrier that does not need to be there," Kopsky said. 
Hammer said he expects the governor to approve the bills. "I can see no reason why the governor wouldn't sign them, given the cooperative effort there was in getting these bills forward," he said.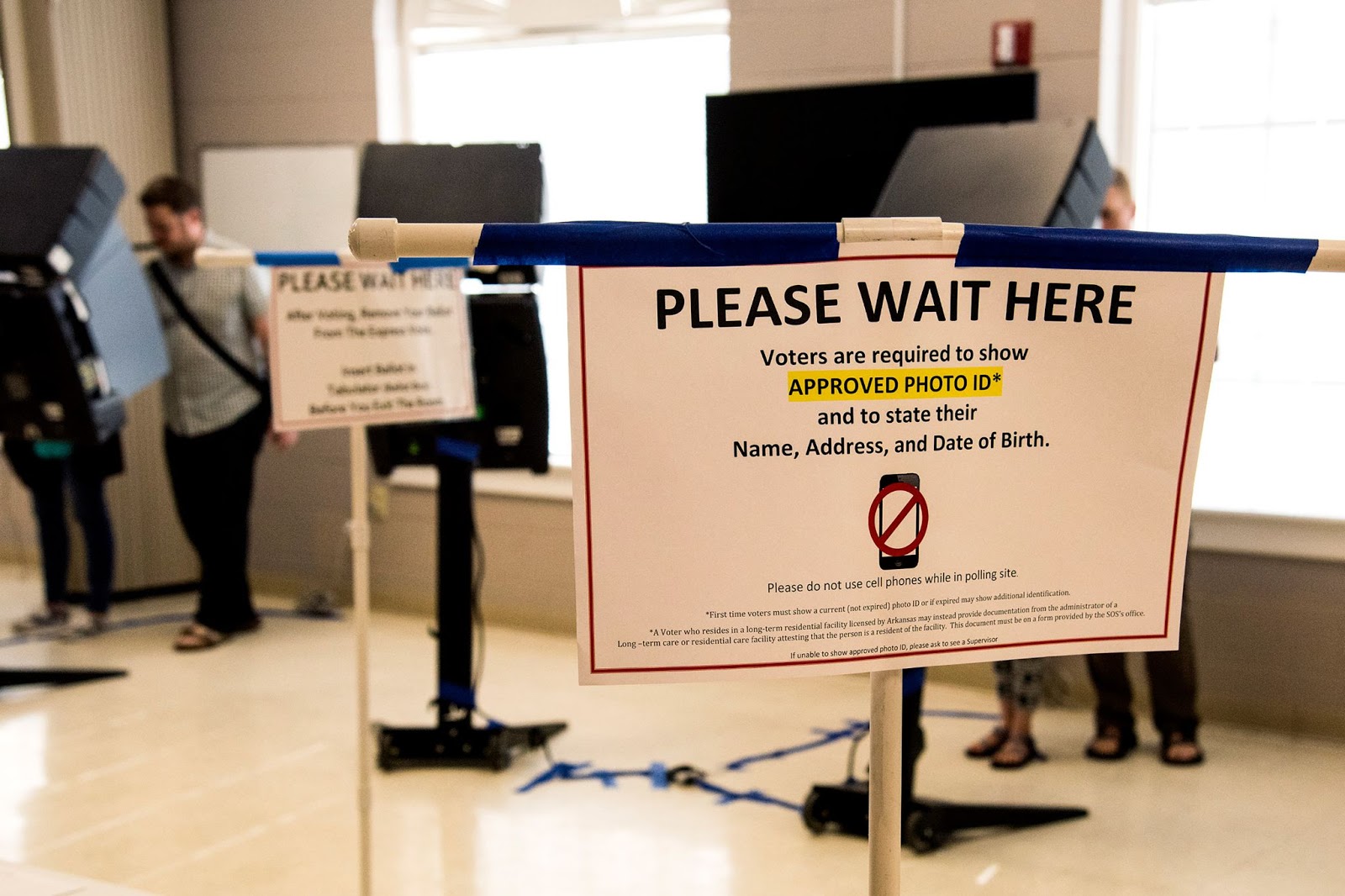 No Evidence of Voter Fraud 
While Republicans say their main goal with these bills is to push back against voter fraud, there has been minimal evidence that fraud was a prevailing issue in these states. Kansas Secretary of State Scott Schwab stated that "Kansas is not experiencing any issues of voter fraud" to KSNT TV network in Topeka in November 2020, after the election. 
Arkansas has had only three voter fraud convictions in the past 19 years. 
"Arkansas doesn't have modern polling equipment, we don't have enough polling sites, we have election commissions changing polling places late and not giving folks notice, I mean, there's a lot to choose [from] with our election system. This package of legislation does not target any of the legitimate voting problems that Arkansas has," Kopsky said. "Where the Republicans are going with this stuff is a very dark place that undermines the very underpinnings of our democracy. And that's a really frightening thought."
Next Steps
In Kansas, the lawsuit's appeal for relief is for the courts to void the voter education restriction, advocacy ban, and the delivery assistance ban for their vagueness. Meanwhile, Arkansas United and the League of Women Voters Arkansas are asking the courts to recognize that the four acts violate free speech and demanding they not be enforced.