In the crucial North Dakota Senate race, Republicans find a winning strategy: disenfranchising Native Americans.
When Democrat Heidi Heitkamp eked out a 3,000-vote win in North Dakota's 2012 Senate race, the support of Native Americans was crucial to her success. This year, with control of the Senate at stake, the state's Republicans made sure this would not happen again.
Their strategy: making it much more difficult for North Dakota's Native Americans to vote.
They will probably get away with it.
On Thursday, US District Court Chief Justice Daniel L. Hovland struck down an emergency motion filed Tuesday by the Spirit Lake Tribe against Secretary of State Al Jaeger. The likely result will be that thousands of people won't be able to vote on Election Day — simply because they live on reservations.
The effort to suppress their votes began in April 2017, when Republican Governor Doug Burgum signed legislation re-establishing the state's previous, more stringent ID law. Even though North Dakota is the only state in the US that doesn't require voter registration, the law reinstated tight ID requirements — which included the stipulation that voters must have an ID with a "current residential street address."
However, the vast majority of North Dakota's Native Americans live on reservations and have PO boxes instead of street addresses.
Their tribal IDs, which allow them to cross the US border and were also a valid means of identification in this year's June primaries, will not be recognized at the polls November 6.
The law makes it much more difficult for Heitkamp to retain her seat — and for Democrats to win control of the Senate. Heitkamp is trailing Kevin Cramer by double digits in recent polls.
A low turnout or voter purge of Native American communities will be the death knell for Heitkamp's reelection efforts.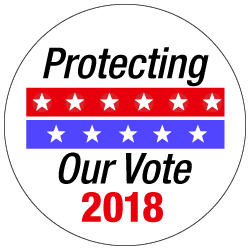 In a press statement, Jaeger claimed that the voter ID law was not a strategic move to curb Heitkamp's supporters, but instead was necessary because "a voter's post office box could be in a precinct that is different from the voter's residential street address."
The law was initially struck down, just in time for the June primaries, by Justice Hovland, who declared it had a "discriminatory and burdensome impact on Native Americans."
However, in September, the Eighth Circuit Court of Appeals removed the lower court's order; later the US Supreme Court declined to overturn the law, leaving the Native American population in limbo.
"The Supreme Court's denial of the Native American Rights Fund's emergency appeal created a huge amount of confusion for thousands of voters whose IDs were valid for the June primaries but are no longer adequate for them to vote on Nov. 6," charged Heather Smith, executive director of the ACLU of North Dakota.
"The goal for the ACLU of North Dakota before the election is education. We want to make sure everyone who doesn't have a residential street address on their ID knows what they should do now in order to vote in November."
The state maintains that all residents can find their addresses via the 911 emergency coordinate system, but the lawsuit claimed that "the system is riddled with errors."
The plaintiffs demanded the law be declared unconstitutional because the Eighth Circuit ruling depended on the "ability to implement the law in a manner that would not disenfranchise eligible voters."
In the lawsuit, the plaintiffs claimed that more than 100 members of the Spirit Lake community don't have new IDs. Furthermore, they argued that members who have IDs that don't match the state's record will have no idea "until they appear to vote," and will be turned away.
"The lawsuit will continue," Jacqueline De León, staff attorney at the Native American Right Fund told WhoWhatWhy. "We are optimistic because the judge was not happy with the law, but he said his hands were tied for now."     
There is a small chance that this voter suppression effort could backfire.
"In the short term it has really helped to mobilize Native American communities," De León said, when asked about how this ruling will affect the election. "The national attention this issue received because of Heitkamp shed a light on a systemic problem. We're hoping to sustain this momentum."
In the long run, however, if this law stays on the books, it will likely achieve its purpose: to further depress the Native American vote.
"People who are sent away from the polling booth, who are denied a vote, feel put down and they will be unlikely to participate in elections again," De León said.
The Native American Rights Fund has cited many examples of practices meant to burden and intimidate Native American voters.
A popular method is to place polling stations 40 to 100 miles from reservations. This effectively cuts off whole communities that lack the resources to make such long trips.
"We also had complaints of police waiting at entrances to reservations on Election Day, stopping people and taking license plates. These practices are pure discrimination, and should be appalling to the average American," De León said.
In light of the court's decision, voter rights groups are now scrambling to help their communities get new IDs and get to the polls.
The Lakota People's Law Project, which is affiliated with the Standing Rock community, announced that it has tripled the typical number of absentee ballots and issued approximately 500 new IDs.
"Our main focus is making sure those people get out and vote," OJ Semans, Co-Executive Director with Four Directions, told WhoWhatWhy. "And we have seen great enthusiasm throughout the state and the country. We are helping to issue new IDs, and help those with limited resources get to the polls."
As of Friday evening, more than 102,000 early votes were already cast; and a record turnout is expected on Election Day.
---