A group of Georgia voters is seeking a temporary restraining order against Secretary of State Brian Kemp, arguing that his partisan performance should preclude him from being involved in any recount involving his own gubernatorial race.
A group of Georgia voters is seeking a restraining order against Republican gubernatorial candidate Brian Kemp. Their goal is to prevent Kemp, who currently serves as Georgia's secretary of state, from declaring the winner of today's election and from being involved in any recounts or runoffs.
"Because Defendant Kemp has already demonstrated extreme actual bias in the performance of his official duties, allowing him to determine the winners of Georgia's 2018 general election would violate Plaintiffs' federal constitutional rights to an unbiased decisionmaker, to political association, and to have their votes counted equally and accurately," the plaintiffs charge in a memorandum of law in support of their motion for a temporary restraining order.
Kemp came under fire this weekend following the release of a controversial statement to the press in which he accused the Democratic Party of Georgia of trying to hack a voter registration system. WhoWhatWhy's exclusive reporting on the issue, including a story published before Kemp's statement was released, indicates that the secretary of state's office put a highly misleading spin on what had truly happened.
WhoWhatWhy's story, which was included in the memorandum as evidence, shows that computer security experts — consulted by the Democrats after the discovery of two vulnerabilities in the voter registration system came to their attention — had warned the secretary of state that hackers could wreak havoc on Election Day. Though none of the experts probed the security flaws — that would be illegal — it is extremely likely that bad actors could have easily gained access to voter information. Then they could have used the information gathered to alter voter registrations en masse, an action that would potentially compromise the entire election.
Instead of quickly and quietly patching the system, Kemp's office engaged in a misinformation campaign in the hopes of being able to take advantage of the situation.
"Rather than address the substance of the concern, Defendant Kemp falsely and without evidence accused his opponent of cyber crimes," the plaintiffs state.
They argue this was just the latest, and possibly the most egregious, example of how Kemp "has sought to use the powers of his office to obtain every possible personal and partisan advantage."
The plaintiffs also point to the purging of hundreds of thousands of voters from the rolls, and tens of thousands of unprocessed voter registrations — the vast majority holding up African American registrations — as other examples of Kemp using the powers of his office to tailor an electorate to his liking.
The group backing the lawsuit, Protect Democracy, is a good-governance nonprofit dedicated to preventing "our democracy from declining into a more authoritarian form of government," according to its website.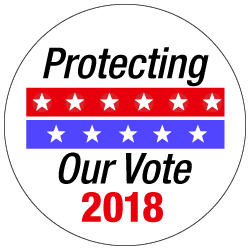 Kemp has broken precedent by remaining in office during the gubernatorial campaign. The plaintiffs note that many other secretaries of state had recused themselves while running for office and that those who had not "have gone out of their way to avoid appearing to use their official powers to benefit their campaigns."
Former president Jimmy Carter, who also once served as Georgia's governor, urged Kemp to step down, saying that a failure to do so would undermine the confidence of Georgia's citizens in the election.
"In Georgia's upcoming gubernatorial election, popular confidence is threatened not only by the undeniable racial discrimination of the past and the serious questions that the federal courts have raised about the security of Georgia's voting machines, but also because you are now overseeing the election in which you are a candidate," Carter wrote.
The restraining order the group filed is a legal tool to seek emergency and rapid relief from a federal court — in this case, by preventing Kemp from presiding over his own election. He would remain secretary of state but would be barred from overseeing a recount or runoff and from exercising any other decision-making authority that could tilt the balance in the election outcomes.
The restraining order concludes, "The Constitution protects Plaintiffs' right to participate in an election untainted by Defendant's self-interest or partisan bias."
---
Related front page panorama photo credit: Adapted by WhoWhatWhy from Brian Kemp (US Senate / Wikimedia).