Just days after WhoWhatWhy exclusively revealed that one county in Georgia is rejecting absentee ballots at a stunning rate, a lawsuit has been filed to make sure that ballots across the state are counted — or that voters are notified immediately if there is a legitimate problem.
A group of five Georgia voters has named Secretary of State Brian Kemp, each member of the state's Board of Elections, and each member of Gwinnett County's board of elections in a lawsuit over how mail-in absentee ballots are handled.
The current system, the lawsuit claims, imposes "various arbitrary requirements, alone and in combination, [that] burden the right to vote, serve no legitimate governmental purpose that cannot be accomplished by more tailored means, and threaten to disenfranchise thousands of honest, eligible voters each year."
Filed days after WhoWhatWhy broke an exclusive story on mail-in ballot rejection rates, the lawsuit asks for clarity in state law, and for supervision and greater transparency of the mail-in ballot review process. The elections watchdog organization funding and organizing the lawsuit, the Coalition for Good Governance, will promptly follow this initial complaint with a motion for preliminary injunction, hoping to convince the courts to take immediate corrective action for the November 6 election.
20181015-Martin-v-Kemp-Filed-Complaint-

.
The lawsuit seeks to fix the problem in four ways:
Voters must be notified in one business day by first class mail, and (if available) telephone and email, that their ballot application or voted ballot has been rejected, with instructions given on how to provide the needed information.
No voter signatures can be rejected without agreement of a bipartisan signature review team.
Ballots and applications already rejected must be reviewed immediately and voters be provided the above-mentioned protections.
Voters whose ballots have been rejected must be given until the Friday after Election Day to resolve any issues and any mail ballot eligibility questions.
.
Importantly, the plaintiffs want to impose consistency across counties in how they process mail-in ballots. As it stands now, state law is vague and allows for variability across counties.
"The likelihood of being allowed to vote by mail and to have your vote counted should not depend upon which county you live in," said Rhonda Martin, the lead plaintiff.
The lawsuit specifically targets Gwinnett County, which has a history of rejecting mail-in ballots at a particularly high rate. This year, the county stands alone, rejecting more ballots than any other, by far.
Gwinnett County is rejecting 8.8 percent of ballots as of Monday night, while Athens-Clarke County, for example, only has a rejection rate of 1.2 percent — which itself is still remarkably high when compared to in-person voting (see the WhoWhatWhy video below for how the process is handled in Athens-Clarke County).
"The penalty for even the smallest clerical error or question about the voters' signature is disenfranchisement, with no meaningful opportunity to cure the discrepancy," the lawsuit says.
These issues are prevalent across the state. Georgia is ranked 42nd in the nation when it comes to rejecting mail-in ballots, according to a study of the 2016 election by the MIT Elections Performance Index. 
Review of the voter's signature, for example, is done by "election staff without signature analysis training and determined on a subjective and arbitrary basis without oversight of supervisors or authorized pollwatchers," the lawsuit claims. Often, elderly or disabled voters are impacted. Gwinnett has rejected mail-in ballots from 66 elderly and 31 disabled voters in this election.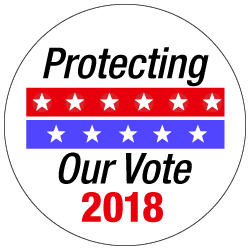 Kemp, a defendant, is Georgia's current secretary of state and the Republican candidate for governor. He is running against Stacey Abrams. Both campaigns, and the Libertarian party, have pushed heavily for mail-in absentee ballots to be used this year, according to the lawsuit, and it has resulted in record numbers of ballots being submitted so far.
Two of the plaintiffs are also candidates in the midterm elections.
Jasmine Clark is running for state House District 108, representing Gwinnett County. Smythe DuVal is running as the Libertarian candidate for secretary of state.
The Importance of Mail-In Ballots
.
Clark has seen firsthand the problems with Georgia's election infrastructure.
When she went to vote in the July primary runoff elections, it turned out that her polling place had the wrong registration information — and they tried to direct her to another voting site. Voting at the wrong polling site would have resulted in her casting a provisional ballot.
Election security advocates like Marilyn Marks, executive director of the Coalition for Good Governance, thinks this could be all too common, considering Georgia's entire voter registration system was left on a public-facing server for at least six months starting in October 2016.
Marks has also decried the poor state of voting-machine security. The voting machines have been proven to be easy to hack. And, as WhoWhatWhy has shown, they are often poorly supervised. Every voting machine has its memory card uploaded to the county's single tabulator, so if just one machine in a county is hacked, the entire county's electronic votes could be compromised.
There is no way to check whether the voting totals are accurate. The voting machines cannot be audited like paper ballots can. There is no way to do a recount if something goes wrong — if the state even notices. Marks's organization has also sued Kemp's office over failing to address these issues.
Related: Group Asks Court to Return Accountability and Transparency to Georgia Elections
An absentee, mail-in ballot creates a paper trail. That is why, in this year's election, this issue is so important. Georgia has the most closely watched gubernatorial race in the country. Recent polling shows Abrams and Kemp essentially tied.
In a political deadheat, every vote counts. If neither candidate gets over 50 percent, there will be a runoff election on December 4.
Even so, Clark has been hesitant to encourage people to vote by mail-in ballot, despite excitement for the practice from the three major parties in the gubernatorial election.
"The things I was worried about are happening literally right before my eyes," Clark said.
In addition to a lack of oversight, Clark says the process of voting absentee is "extremely cumbersome." WhoWhatWhy found one voter in Gwinnett County who had to try four times to vote by mail before his ballot was accepted — and has talked to several voters who still had not been notified even nine days after their ballots had been rejected.
"For people who have not been engaged, asking them to go through three or four steps is a lot," she said.
WhoWhatWhy's reporting has shown that Gwinnett's rejected ballots disproportionately impact minority voters — who are more likely to vote on Clark's ticket. Clark is running in Gwinnett County as a black woman and progressive candidate against a white, male, and conservative candidate.
A Wave of Legal Scrutiny
.
Hours after the Coalition for Good Governance filed its complaint with the United States District Court, another election integrity group put Gwinnett County on notice.
The Lawyers' Committee for Civil Rights has issued a letter to the county about the number of absentee, mail-in ballots rejected. The Lawyers' Committee points out that Gwinnett is responsible for close to 40 percent all rejected ballots in Georgia for the November election, despite its residents casting "only 12 percent of all absentee ballots in Georgia."
WhoWhatWhy first reported these numbers on Friday.
The letter also mirrors several of the complaints brought in the lawsuit, asking for timely notices of ballot rejections and for ballots missing the voter's year of birth on the county's confusing form to still be counted — if all other information is correct.
John Powers, counsel for the Lawyers' Committee, is usually stationed in their DC office. He will be making a trip this week to meet in person with Gwinnett County officials.
Powers stressed that voters should follow up on the status of their absentee ballot — even if that includes going to the county elections office in person to review their ballots. First, Powers said, voters should check if their ballot was accepted. The Lawyers' Committee stands ready to assist voters who have had their absentee ballots rejected incorrectly, he said.
The Lawyers Committee is already in litigation with Gwinnett County over the districting plans for the Gwinnett County Board of Commissioners and Board of Education, a challenge brought under Section 2 of the Voting Rights Act in 2016.
---