The latest campaign cash tally demonstrates a disturbing trend—the 2014 vote drew the biggest haul in history. Yet the number of donors fell, meaning a smaller, richer group of people is giving the most. Curt Hopkins looks at the numbers.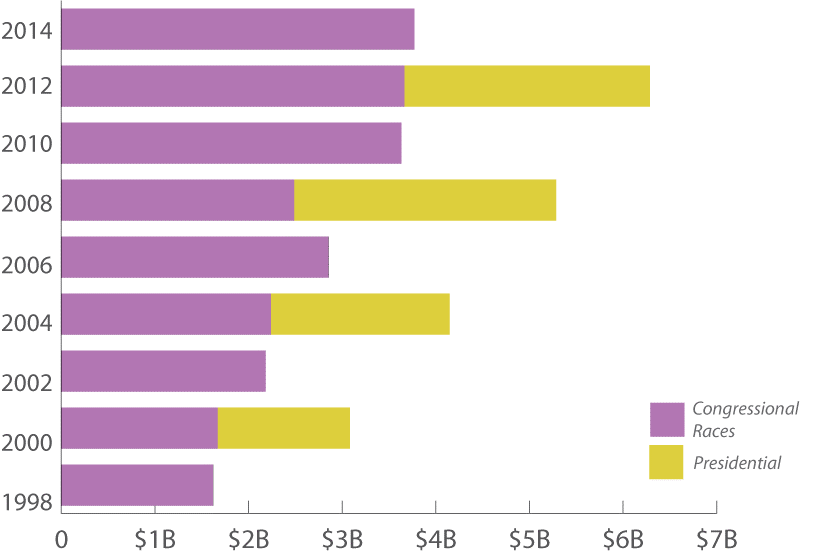 In American elections, the evidence is in: the fat cats are getting fatter but fewer.
That's the takeaway from an analysis of the 2014 midterm election by the Center for Responsive Politics. The number of all donors to political races is falling sharply while the amount they are giving is substantially increasing.
The 2014 election was the nation's most expensive midterm vote at $3.77 billion. Here's the interesting part: the number of donors fell by 11 percent versus the 2010 midterm election. What's the translation? That fewer people and organizations are giving even more money to candidates.
Outside groups— "organizations that can accept donations of any amount and thus are largely fueled by a small pool of extremely wealthy individuals,"—provided a larger amount of the total election cost than ever before, according to the Center for Responsive Politics. The average amount donors gave to outside groups more than quadrupled to $8,011 a head versus the 2010 midterm.
If you look at individuals donating money to candidates in 2014, the gap is even starker. The number of individual donors fell by a fifth from 2010. If twice is a coincidence, then a similar increase in 2016 may prove the pattern.
The upshot? This is a victory for the kind of free speech—money—that the Supreme Court ruling in favor of Citizens United, and other related decisions, defined. It's just that the democratic conversation has fewer participants than ever before.