National day of protest targeted JPMorgan Chase, Citigroup, Bank of America, and Wells Fargo as new UN report warns of catastrophic climate impacts.
Listen To This Story
Banks around the world have been busy laying out plans to reduce financing of the energy sectors most responsible for greenhouse gases. Earlier this month, Citi and Deutsche Bank both tightened their policies on the financing of fossil fuel production. 
Yet at the same time, oil and gas projects that require backing from banks keep getting approved even as a new report from the United Nations Intergovernmental Panel on Climate Change shows that the world is on track to fall short of its most ambitious goal — drastically slowing global warming — and that more aggressive steps must be taken to avert a climate catastrophe. Last week the Biden administration approved ConocoPhillips' plans for drilling in the Arctic — despite the opposition of environmentalists and a pressure campaign that led many banks, including Barclays and Goldman Sachs, ​​to rule out the financing of drilling projects anywhere in the environmentally fragile region.
The financing of fossil fuel production grew from $723 billion in 2016 to $742 billion in 2021, with the world's 60 largest banks financing $4.6 trillion in total in the six years following the 2015 Paris accords. Whether through lending or the underwriting of debt and equity issuances, banks are at the heart of this funding — which is dominated by American banks. 
The disconnect between words and actions has outraged climate activists, who gathered for a day of action on Tuesday, March 21. The protest focused on the four largest financiers of fossil fuel projects in the world: JPMorgan Chase, Citigroup, Bank of America, and Wells Fargo. Advocates gathered at over 100 events in half the states in the country — cutting up their credit cards in New York City, organizing flash mobs in Sacramento, and taking part in a rocking-chair vigil in Washington, DC, with speeches from such figures as veteran environmentalist author Bill McKibben. 
As part of the campaign, more than 17,000 bank customers have signed the Banking On Our Future pledge to close their accounts and cut up their credit cards if the banks continue to fund fossil fuels — sending them to bank CEOs and delivering them at branches around the country.
"The banks are at the heart of the climate fight right now," said McKibben in announcing the pledge. "Despite every warning from scientists they keep forking over cash to keep Big Oil expanding — for many people, the money they store in the bank produces more carbon than everything else they do in their daily lives. So we're standing up: if banks won't cut carbon, we'll cut our credit cards."
The activities of the biggest banks in the world — including JPMorgan Chase, Citigroup, Bank of America, and Wells Fargo — were highlighted in a recent report by commodities research provider BloombergNEF. The group developed Energy Supply Banking Ratios for each firm — showing the ratio of clean-energy lending and underwriting relative to those for fossil fuels. That ratio needs to hit 4 to 1 by 2030 if the planet is to avoid the worst consequences of climate change as laid out in the Paris accords, according to BloombergNEF. 
Yet at the end of 2021, that ratio stood at 0.8 to 1 — meaning that clean energy financing still lags behind fossil fuel financing at those banks. JPMorgan's ratio was 0.7 in 2021 while Wells Fargo's ratio that year was even lower, at 0.4.
And when it comes to their stated commitments to tackling climate change, banks have not followed through on their pledges. For example, JPMorgan Chase is a key member of the Net-Zero Banking Alliance, a consortium of the largest banks in the world that have committed to reduce emissions from their lending and investment portfolios to net zero by 2050. On its site, the bank states that it is committed to "supporting our clients and financing opportunities that accelerate the transition to a low-carbon economy." Yet JPMorgan remains by far the biggest financier of fossil fuel projects in the world, is a major investor in ConocoPhillips and has vigorously opposed the SEC's new climate disclosure requirements. 
Among the lending institutions with ambitious climate change goals is Canada's Toronto-Dominion Bank, which has set a target to mobilize $363 billion for environmental, decarbonization and social projects by 2030. Yet it's also been a major lender to ConocoPhillips, which is set to start drilling soon along the Kokolik River in northern Alaska. Over 30 years the $8 billion Willow project would produce carbon emissions approximately equal to what 1.7 million gas-powered cars would generate over the same period, according to the Associated Press.
TD Bank was the loan arranger for $1.6 billion in loans from banks such as JPMorgan and Bank of America to ConocoPhillips. The loans reflect a recent trend in bank financing of such activities — from direct lending to oil and gas projects, which brings lots of public attention and criticism of the banks behind such financing, to general corporate lending. Along with more complex financing activity like bond and equity underwriting, such lending tends to evade scrutiny since it's not explicitly tied to a particular controversial project. 
Researchers from groups like BloombergNEF and 350.org, however, are starting to expose the financing of those companies that keep fossil fuel projects operating. This involves a wide range of activities — from trading and transport to coal-fired power plant operations to equipment manufacturing — each of which is financed separately by banks and financial institutions. 
Beyond the March 21 protests, McKibben hopes to "cement the link between cash and carbon in people's minds," he told Capital & Main. "Among many other things, we will be looking for backup from progressive state and city treasurers going forward."
Third Act, the primary organizer of the protests, is planning several steps to follow up, including voter registration efforts in Wisconsin, supporting legislation like SB 252 in California to divest the state's pension funds from oil and gas companies, pressuring state pension funds to push climate resolutions at the banks' annual shareholder meetings and launching a street art action during the People's Earth Week event (April 15 to 25), according to the group's president, Vanessa Arcara.
"It's a critical moment to push the banks to stop the flow of money to new fossil fuel expansion, to stop greenwashing their emissions targets, and to end the burden of dirty energy on frontline communities," says Ben Cushing, campaign director of the Sierra Club's Fossil-Free Finance campaign.
This story by Marcus Baram was originally published by Capital & Main and is part of Covering Climate Now, a global journalism collaboration strengthening coverage of the climate story.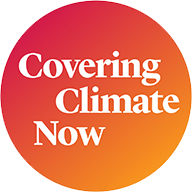 ---