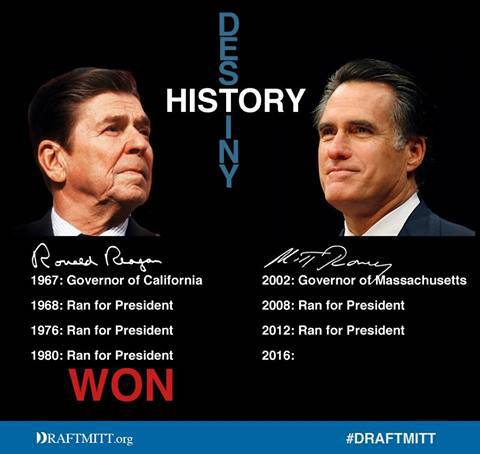 For the fourth consecutive year, Mitt Romney is hosting a summit of  GOP political figures, money men, and right-leaning theorists. Some of these bigwigs include Chris Christie, Marco Rubio, Carly Fiorina, John Kasich, and Lindsey Graham. While many Romney voters feel the country made a big mistake in 2012 by re-electing Barack Obama and not listening to "foreign-policy prophet" Romney, the former Massachusetts governor broke hearts by saying running in 2016 "just didn't feel right."
Yet Romney has made sure that he is keeping himself in the spotlight. From a boxing match, numerous Fox News appearances, to speeches about the bad shape the U.S. is currently in.
All the press coming out of Camp Romney has led Brent Budowsky at The Hill to speculate that Romney is planning a 'nomination coup':
Readers of my columns know that within hours of Romney removing himself as a contender for the 2016 nomination, I warned that his withdrawal could well be part of a brilliantly clever plan for him to stay above the fray, let Republican candidates beat each other up and be raked over the coals by the media during the primary season, and then emerge as a consensus compromise nominee of the party.
OK. My interest is has been piqued:
"It just so happens that if political events were to take certain turns, and the 2012 GOP nominee for president makes a surprise bid for the 2016 nomination, or more likely if a divided and gridlocked GOP turns to Romney as a compromise candidate and statesman, the participants in the Romney summit could raise a billion dollars overnight to support another Romney presidential candidacy, and the political organizers attending the event could organize a full-blown presidential campaign within days, if not hours!"
So is Romney really planning a 'coup' in 2016? The answer is: 'definitely maybe'.
Source: Romney hosting GOP summit, planning nomination coup? | TheHill