Local police taught to fear Muslims; a death not fit for a dog; countdown to (false?) tax freedom?
I Spy A Muslim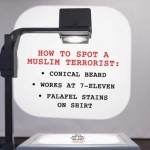 With the rising demand for counterterrorism training of local police forces, self-proclaimed "experts" have come out of the woodwork. The result: Fear based anti-Islam propaganda paid for by the federal government. Read more here.
Image credit: Washington Monthly
Death Row Dogs
A drug so painful veterinarians aren't allowed to use it on animals will be used to execute a man in Texas. Whether you believe in capital punishment or not, read more here.
Image credit: Atlantic Monthly
Freedom from Taxes?
No one likes paying taxes. The Tax Foundation, a right-leaning organization, says you may not need to with their trademarked "Tax Freedom Day."  In order to qualify, Americans will have to have "earned enough money to pay this year's tax obligations at the federal, state, and local levels."  Not only is the Tax Foundation's holiday misleading Americans about their federal tax burden but also neglects (surprise!) to take into account the benefits of paying taxes.  Read this and come back here to comment.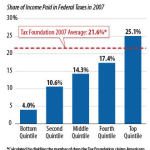 Image credit: Center on Budget and Policy Priorities, cbpp.org