After 50 years of deceit and coverup, Dallas is getting ready for a big event on the 50th anniversary of JFK's assassination. But it seems that the one thing they want most is that those who question the official story stay out of the limelight.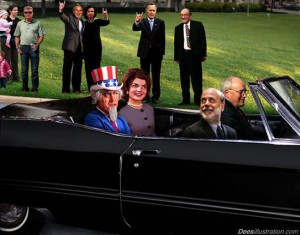 After 50 years of deceit and coverup, Dallas is getting ready for a big event on the 50th anniversary of JFK's assassination. But one thing the establishment there wants most is that those who question the official story get pushed out of the limelight.
Here's a letter from John Judge, a research conference organizer, responding to an earlier one from a Dallas city official. Keep in mind that being in Dealey Plaza at 12:30, the place and time of the shooting, gets news coverage. Being in Dealey Plaza afterwards marginalizes the critics.
---
[excerpt]
Date: Sat, 5 Oct 2013 22:28:59 -0400
Subject: COPA 2013 Update and Grassy Knoll Survey
Friends,
I am writing you as current and past registrants to COPA conferences in Dallas and COPA contacts with a survey and an update on the conference. As you know, we have been trying to assert our First Amendment right to hold our annual Moment of Silence on the Grassy Knoll on November 22 at 12:30 pm, as researchers have done for the last 49 years. In 2011 the Sixth Floor Museum, the Mayor of Dallas and a Dallas public relations firm, along with members of the Dallas elite and power structure, began efforts to block off Dealey Plaza from the public on November 22 and to illegally prevent "conspiracy theory" from being spoken there. Their motive is clearly to control the message that the world press will come to see that day in Dealey Plaza, favoring public relations to the truth.
We spent the better part of two years opposing and challenging these efforts by meeting with the Mayor, writing to the "50th" planning committee he created to plan his ticketed event, and contacting city administrators working on the planning and blocking our permit for our traditional event. See more details in the attached press release.
We have met with complete silence until just recently, when the Mayor proposed to let us gather at an alternate location not visible to the crowd or the press and to allow us access to the Grassy Knoll once their event ended and people were allowed to disperse. We insisted that all those who applied for a ticket to the Mayor's event be notified that our event would follow and proposed better alternatives that would allow us to preserve our rights at the place and time when it could have the most effect. The letter that follows, sent to COPA this week, represents a final offer from the City of Dallas, rejecting any compromises proposed:
Mr. Judge,
In response to your recent email (September 16th), as I have previously stated, we will be holding a JFK commemoration event on Friday, November 22nd in Dealey Plaza.  Shortly after the program is completed, we will make every effort to have the site available for your group.  We estimate the time that the event will conclude and begin to clear to be approximately 2:15p.m. We are holding a location approximately two blocks from Dealey Plaza that will be available for your group to gather, watch the program on the provided monitor, and stage the move to Dealey Plaza around 2:30p.m.
The Mayor has agreed to post information regarding your event on the city's website to assure the public is aware.  We will not be able to accommodate your other requests— to move the event to American Airlines Center; to change the start time; or to move the barrier fence to the north side of Elm St.
We look forward to working with you cooperatively to announce your event on the city's website; to locate your group nearby Dealey Plaza, and to assist in moving them expeditiously to Dealey Plaza as soon at the event clears.
Please feel free to call me in order to work out the details.
Sincerely,
Mary K. Suhm
City of Dallas
For more information on COPA's conference in Dallas, go here. 
GRAPHIC: http://piratenews.org/jfk-uncle-scam-dealey-plaza.jpg