Reading Time:
< 1
minute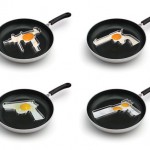 A couple of gun items—both not new but relevant—that seem worth noting. In one, Bloomberg reported several days after the Tucson shootings how sales of Glock semi-automatic pistols doubled in Arizona right after the tragic events. In the other, the Dallas Morning News reported on how reporters in Texas are getting gun permits as way of gaining faster access to the state capitol. You read both of those right. What does this say about the state of the American mind today? Should news organizations tackle that subject, or is it too hot to handle?
(image from:  blogs.colette.fr)
Our Comment Policy
Keep it civilized, keep it relevant, keep it clear, keep it short. Please do not post links or promotional material. We reserve the right to edit and to delete comments where necessary.