Reading Time:
< 1
minute
As world leaders convene today in Paris for a "pivotal" conference on climate change, we thought we would take the occasion to post several photos that one of our readers, Mary Lou Dauray, took while flying over Greenland.
Mary Lou writes: "Sometimes one is lucky to be able to catch a glimpse of nature in its raw beauty and changing face.  Two years ago, while flying over Greenland, I glanced out the plane's window and saw, through a brief opening in the cloud cover, azure-colored lakes on top of the Greenland glaciers.  I grabbed my camera and snapped a few photos.  At the time I did not think much about the pictures, but now I know I captured examples of melting ice—a consequence of man's contribution to our warming planet."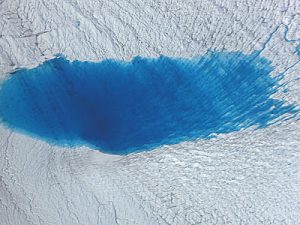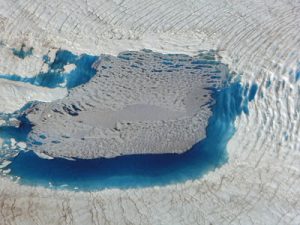 Our Comment Policy
Keep it civilized, keep it relevant, keep it clear, keep it short. Please do not post links or promotional material. We reserve the right to edit and to delete comments where necessary.