Reading Time:
< 1
minute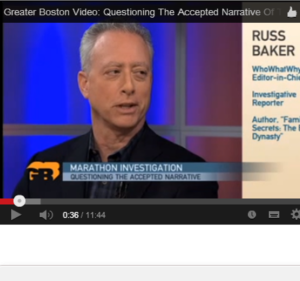 TV journalist Emily Rooney recently interviewed WhoWhatWhy's Russ Baker about "Danny," the mysterious carjacking victim in the Boston Marathon case. It's a fascinating point-by-point on some of the big discrepancies Baker uncovered during his exclusive investigation of Danny's story. Here are links to Part One and Part Two of his original investigation.
[box] WhoWhatWhy plans to continue doing this kind of groundbreaking original reporting. You can count on us. Can we count on you? What we do is only possible with your support.
Please click here to donate; it's tax deductible. And it packs a punch.[/box]
Our Comment Policy
Keep it civilized, keep it relevant, keep it clear, keep it short. Please do not post links or promotional material. We reserve the right to edit and to delete comments where necessary.