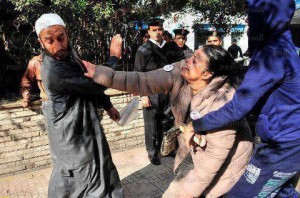 Our Arabic is a bit rusty, but we think what happened here is this: The man, a fundamentalist, didn't like how this woman, a fellow Tunisian, was dressed, and called her a whore. She wasn't inclined to put up with that, and gave him a lesson he isn't likely to forget.
Times, they are a-changin'….
GRAPHICS: https://sphotos-b.xx.fbcdn.net/hphotos-ash4/379218_10151471370737457_1801908468_n.jpg
Our Comment Policy
Keep it civilized, keep it relevant, keep it clear, keep it short. Please do not post links or promotional material. We reserve the right to edit and to delete comments where necessary.