Reading Time:
< 1
minute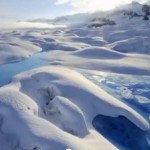 Friends don't let friends continue to believe there's no climate change when they could simply show them Chasing Ice. This is not only the most powerful visual evidence of global catastrophe imaginable, it's also one of the most disarmingly beautiful and riveting films you may ever see. Features the work of the celebrated photographer James Balog, who himself was once a climate skeptic, and has now spent years documented humanity's folly.
Opens around the US in November.
Here's a preview. (Also watch the second trailer, with stylish end title vocals from Scarlett Johansson.)
As funding support from our readers enables us, WhoWhatWhy pledges to provide original investigative reporting on this issue—because what's more relevant than the survival of life on this planet?
# #
[box]WhoWhatWhy plans to continue doing this kind of groundbreaking original reporting. You can count on it. But can we count on you? We cannot do our work without your support.
Please click here to donate; it's tax deductible. And it packs a punch.[/box]
Our Comment Policy
Keep it civilized, keep it relevant, keep it clear, keep it short. Please do not post links or promotional material. We reserve the right to edit and to delete comments where necessary.