Reading Time:
< 1
minute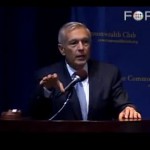 In this stunning but little-known speech from 2007, Gen. Wesley Clark claims America underwent a "policy coup" at the time of the 9/11 attacks. In this video, he reveals that, right after 9/11, he was privy to information contained in a classified memo: US plans to attack and remove governments in seven countries over five years: Iraq, Syria, Lebanon, Libya, Somalia, Sudan and Iran.
He was told: "We learned that we can use our military without being challenged …. We've got about five years to clean up the Soviet client regimes before another superpower comes along and challenges us."
"This was a policy coup…these people took control of policy in the United States…."
Our Comment Policy
Keep it civilized, keep it relevant, keep it clear, keep it short. Please do not post links or promotional material. We reserve the right to edit and to delete comments where necessary.