WhoWhatWhy editor Russ Baker interviewed by "Greater Boston" host Emily Rooney on PBS station WGBH, June 13, 2012. Topics include: new revelations about the Watergate affair; government refusal to release JFK assassination records in a timely manner; why John Edwards was prosecuted; whether the government told us the whole story on the Bin Laden raid; and the merits of PBS news coverage.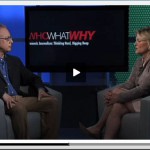 Speak Truth To Power
We are 100% reader funded. Your tax-deductible contribution enables our next investigation. Make an impact now.
Our Comment Policy
Keep it civilized, keep it relevant, keep it clear, keep it short. Please do not post links or promotional material. We reserve the right to edit and to delete comments where necessary.