Our Story
Reading Time:
11
minutes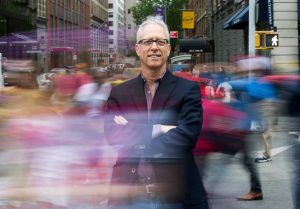 My name is Russ Baker. For more than two decades I have been an investigative journalist, doing what I believed journalists were supposed to do — seek the truth and publish nothing less. Over the years, however, I have learned how the media gatekeepers, both "mainstream" and "alternative," will not allow the biggest, most disturbing revelations to see the light of day.
I started WhoWhatWhy because I was tired of the cynicism, self-interest, and cowardice that I witnessed in the news media. I started WhoWhatWhy to show how good — and how consequential — journalism can be when the only mandate is to dig relentlessly and reveal, without exception, what we uncover.
What We Do
WhoWhatWhy embodies a form of investigative reporting that is rigorous, relentless, and scientific — we call it forensic journalism.
Forensic journalism requires skepticism towards power and credentialed expertise; a determination to unearth the facts interested parties want to keep hidden; and an unflinching commitment to follow the trail wherever it leads. We are truth seeking — not quote seeking.
We take on controversial topics others will not touch and dig deep to uncover and name the institutions and persons shaping our world. Our organization is neither partisan nor ideological and only provides accounts based on extensive research and thorough sourcing.
In addition to producing rigorous investigative reporting, we seek to further the long-term survival and betterment of the news industry as a whole.
We pair senior reporters, who have decades of experience, with dedicated young journalists new to the field. We facilitate the transfer of values, methods, and culture as our talented and varied investigators shape an improved and adaptive form of journalism to fit our times.
Provide Us Your Ideas
We strongly encourage our readers to join us in our mission. If you know of a news, academic, or literary source that relates to one of our stories, tell us about it. If there is a story of interest that hasn't received coverage or there are documented facts we are missing, let us know! Consider yourself the media watchdog for the media watchdog.
Donate to Us
We are a nonprofit organization. We need readers, supporters, and citizens passionate about and committed to strong investigative journalism. Please consider a donation to help us produce the next story.
The People
.
The Board and Staff
WhoWhatWhy is made up of a combination of full-time journalists, expert advisors, and other specialists.
Chief Executive Officer and Editor-in-Chief Russ Baker
Russ Baker is an award-winning investigative reporter with a track record for making sense of complex and little-understood matters — and explaining it all to elites and ordinary people alike, using entertaining, accessible writing to inform and involve.
Over the course of more than two decades in journalism, Baker has broken scores of major stories. Topics included: early reporting on inaccuracies in the articles of the New York Times's Judith Miller that had built support for the invasion of Iraq; the media campaign to destroy UN chief Kofi Annan and undermine confidence in multilateral solutions; revelations by George Bush's biographer that, as far back as 1999, then-presidential candidate Bush already spoke of wanting to invade Iraq; the real reason Bush was grounded during his National Guard days — as recounted by the widow of the pilot who replaced him; an article published throughout the world that highlighted the West's lack of resolve to seriously pursue the genocidal fugitive Bosnian Serb leader Radovan Karadzic, responsible for the largest number of European civilian deaths since World War II; several investigations of allegations by former members concerning the practices of Scientology; corruption in the leadership of the nation's largest police union; a well-connected humanitarian relief organization operating as a cover for unauthorized US covert intervention abroad; detailed evidence that a powerful congressman, critical of Bill Clinton and Al Gore over financial irregularities and personal improprieties, had his own track record of far more serious transgressions; a look at the practices and values of top Democratic operatives and the clients they represent when out of power in Washington; the murky international interests that fueled both George W. Bush's and Hillary Clinton's presidential campaigns; the efficacy of various proposed solutions to the failed war on drugs; the poor-quality televised news program for teens (with lots of advertising) that has quietly seeped into many of America's public schools; an early exploration of deceptive practices by the credit card industry; and a study of ecosystem destruction in Irian Jaya, one of the world's last substantial rain forests.
Baker has written for the New Yorker, Vanity Fair, The Nation, the New York Times, the Washington Post, the Village Voice, Esquire, and dozens of other major domestic and foreign publications. He has also served as a contributing editor to the Columbia Journalism Review. Baker received a 2005 Deadline Club award for his exclusive reporting on George W. Bush's military record. He is the author of Family of Secrets: The Bush Dynasty, the Powerful Forces That Put It in the White House, and What Their Influence Means for America (Bloomsbury Press, 2009); it was released in paperback as Family of Secrets: The Bush Dynasty, America's Invisible Government and the Secret History of the Last Fifty Years. For more information on Russ's work, see his sites, www.familyofsecrets.com and www.russbaker.com.
Board of Directors and Their Affiliations
Russ Baker
Award-winning investigative reporter
Contributor: the New Yorker, Vanity Fair, The Nation, the New York Times, the Washington Post, the Village Voice, Esquire, and dozens of other major domestic and foreign publications
Contributing editor: Columbia Journalism Review
Deadline Club awardee
Author: Family of Secrets: The Bush Dynasty, the Powerful Forces That Put It in the White House, and What Their Influence Means for America (Bloomsbury Press, 2009); in paperback as Family of Secrets: The Bush Dynasty, America's Invisible Government and the Secret History of the Last Fifty Years
Joel Bluestein
Owner of Dreamland Recording Studio

Partner at IceStone, LLC

Consultant and Investor at Robocast

Officer and former CEO of Bluestein Family Foundation

Singer with David Hykes and The Harmonic Choir

Former partner at ESB.Co (Empire State Company)

Former member of Threshold Foundation Arts and Media Committee

Former owner of Beanfields Snacks

Former partner and consultant at Expansion Capital Partners
Jonathan Z. Larsen
Former Time magazine editor and correspondent (Saigon bureau chief)
Editor, New Times (1974-1979)
Editor, the Village Voice (1989-1994)
Nieman Fellow, Harvard University
Contributor: New York; Manhattan, Inc.; New England Monthly; and the Columbia Journalism Review
Clarion Awardee
Board member: Cambridge College and Sterling College
Virginia McGuire
Founder of Austin Stone, LLC
Former Deputy Executive Director of the State Housing Finance Agency in Texas
Former Staff to the House Banking and Finance Committee working with Congressional
Members to study loan guarantees
Served on the Board or Advisory Committees for organizations including Fannie Mae,
Dallas Affordable Housing Coalition, the Congressional Federal Credit Union, Volunteers
of America, Global Camps Africa and Rural Rental Housing Association of TX
George Mason University alumnus
Series 7 Securities License Holder
Richard Schrader
New York Legislative Director for the Natural Resources Defense Council
Former New York City Commissioner of Consumer Affairs
Former Public Affairs Director of the New York State Trial Lawyers Association
Graduate: Fordham University, Boston University
Richard Foos 
Executive Chairman & Co-Founder of Shout! Factory
Former owner of Rhino Records
Chairman Emeritus: Little Kids Rock
Board Member: Grammy Music Education Coalition, Youth Policy Institute, Type Media Center, Pico Union Project, College Match, Big EQ Campaign
Lynne White
Longtime local New York television news anchor
Winner of three Emmy Awards
Teaches, blogs, and co-hosts a podcast
Margaret Engel (Emeritus)
President: Alicia Patterson Foundation
Former Managing Editor: Newseum (Washington, DC)
Graduate: University of Missouri School of Journalism
Nieman Fellow, Harvard University
Board member: Fund for Investigative Journalism
Member: Investigative Reporters and Editors
Staff reporter: the Washington Post, the Des Moines Register, and the Lorain (OH) Journal
Steve Kelem (Emeritus)

Silicon Valley entrepreneur, co-founder of a start-up to make a next-generation programmable silicon chip.
32 years of experience in computer architecture, logic design, and software design and development.
Holds 32 patents in integrated circuit design and computer-aided design methods.
Has worked in Computer Security, Programming Languages, CAD languages. Role in making DARPAnet, a predecessor to the internet, easier to use.
PhD, MS, and BS in Computer Science from the University of California, Los Angeles.
Founder of California's top-ranked charter school. Special interest in election integrity and the investigation of electronic voting machine fraud.
.
Editorial Advisory Council and Their Affiliations
(for identification purposes only)
Mark Dowie (San Francisco) teaches science at The University of California Graduate School of Journalism. He is the former Editor-at-Large of InterNation, a transnational feature syndicate based in New York, and a former Publisher and Editor of Mother Jones magazine. During his 35 years in journalism, Dowie has written over 200 investigative reports for magazines, newspapers, and other publications. Before and after working for Mother Jones, he also either worked or wrote regularly for the Cleveland Press, the San Francisco Examiner, California Magazine, and American Health. He is the author of five books and the recipient of 18 journalism awards, including four National Magazine Awards.
Robert Dreyfuss (Washington, DC) is the author of Devil's Game: How the United States Helped Unleash Fundamentalist Islam, an investigative history of US policy toward political Islam. For fifteen years, he has worked as an independent journalist who specializes in magazine features, profiles, and investigative stories in the areas of politics and national security. Based in Alexandria, VA, he covers national security for Rolling Stone's National Affairs section. He is also a contributing editor at The Nation, a contributing writer at Mother Jones, and a senior correspondent for the American Prospect. His website is www.robertdreyfuss.com.
Daniel Ellsberg (Berkeley) is a pioneering whistleblower. A former Defense and State Department official, his unauthorized release to the Senate and later the media of a top-secret study of US decision-making in Vietnam exposed massive deceptions by the government and contributed to the end of the war. Misconduct in a government prosecution of Ellsberg led to the convictions of White House aides and figured in the impeachment proceedings against President Nixon. Since the end of the war he has been a lecturer, writer, and activist. He is the author of Secrets: A Memoir of Vietnam and the Pentagon Papers.
Margaret Engel (Washington, DC) served as the managing editor of the Newseum, the interactive museum of news in Washington, DC. She is the president of the Alicia Patterson Foundation, the nation's oldest journalism writing fellowship, a board member of the Fund for Investigative Journalism, and a longtime member of Investigative Reporters and Editors. In addition, she has been part of the reporting staffs of the Washington Post, the Des Moines Register, and the Lorain (OH) Journal. She's a graduate of the University of Missouri's School of Journalism and was a Nieman Fellow at Harvard University.
Todd Gitlin (New York) is a professor of Journalism and Sociology at the Columbia University Graduate School of Journalism. A contributor to Mother Jones, The Nation, and other publications, he is one of America's leading cultural critics. Among his many books are The Whole World is Watching, Inside Prime Time, and Media Unlimited.
Mark Hertsgaard (San Francisco) is the author most recently of The Eagle's Shadow: Why America Fascinates and Infuriates the World (2002). Previous books include Earth Odyssey: Around the World In Search of Our Environmental Future (1999) and On Bended Knee: The Press and the Reagan Presidency (1988). He has contributed to leading publications the world over, including the New Yorker, Vanity Fair, Time, Atlantic, the New York Times, the Washington Post, Salon, and the Guardian. He is the environment correspondent for The Nation, the political correspondent for Link TV, and a commentator for the national radio program Marketplace.
Hanson Hosein (Seattle) is director of the Communication Leadership graduate program at the University of Washington. He's the president of HRH Media Group, and the host of current affairs show Four Peaks, where his interviews have included founders of firms such as Starbucks and Amazon. Hanson advises Weber Shandwick's Global Technology Practice Chair, Artifact Technologies, Tableau Software, and the Pacific Science Center. He's also communications counsel to Prosperity of the Commons International, a human development agency. Hanson's book, Storyteller Uprising: Trust and Persuasion in the Digital Age, is a study of 21st century content creation and online syndication strategies. Hanson is a pioneer of digital content creation. He directed the award-winning documentary films Rising from Ruins and Independent America: The Two-Lane Search for Mom & Pop, about small businesses and communities resisting chains and big box stores. As a former NBC News war correspondent, backpack journalist, and investigative producer, he's the recipient of Overseas Press Club and Emmy awards. Hanson has a degree in journalism from Columbia University and in law from McGill University and the University of Paris.
Frances Moore Lappé (Boston) is author of Diet for a Small Planet and 14 other books including Democracy's Edge. She is a co-founder of the Institute for Food and Development Policy (also known as Food First), and the American News Service (1995-2000).
Robert W. McChesney (Illinois) is research professor in the Institute of Communications Research (ICR) at the University of Illinois at Urbana-Champaign. He is the president and co-founder of Free Press, a national media reform organization. His work concentrates on the history and political economy of communication, and on threats from media monopolies. McChesney has written or edited eleven books, including the multiple-award-winning Rich Media, Poor Democracy: Communication Politics in Dubious Times. In 2001, Adbusters named him one of the "Nine Pioneers of Mental Environmentalism."
Morton Mintz (Washington, DC), a former chair of the Fund for Investigative Journalism, spent 30 years at the Washington Post. He is a senior advisor to the journalism website Niemanwatchdog.org, served as a Nieman Fellow at Harvard University, and is the author and co-author of numerous books. He has received the Worth Bingham, Heywood Broun, and George Polk Memorial awards; the Columbia [University] Journalism Award, the Playboy Foundation's Hugh M. Hefner First Amendment Award for Lifetime Achievement, and, twice, the Washington-Baltimore Newspaper Guild Award for Public Service.
James C. Moore (Austin, TX) is an Emmy-winning former television news correspondent and the co-author of the bestselling, Bush's Brain: How Karl Rove Made George W. Bush Presidential. His second book, Bush's War for Reelection, included his groundbreaking 10-year investigation into the president's National Guard record. He has been writing and reporting from Texas for the past 25 years on the rise of Rove and Bush and has traveled extensively on every presidential campaign since 1976. He is also the author of The Architect: Karl Rove and the Master Plan for Absolute Power. His political columns and insights have been published in leading newspapers and periodicals around the globe. Moore is also an award-winning documentary film producer. His current book project, When Horses Could Fly: A Memoir of the American Dream, is a narrative examining the hopes and dreams of southerners in the aftermath of World War II.
Alvin H. Perlmutter (New York) is the executive director of the Independent Production Fund. His television programs have aired on PBS, commercial networks and cable, and been broadcast globally. Perlmutter previously served as NBC News Vice President, where he was responsible for all network documentaries and news magazine programs. Perlmutter has received numerous awards including six Emmys for The Great American Dream Machine, Adam Smith's Money World, and Joseph Campbell and the Power of Myth (with Bill Moyers).
Sydney Schanberg (1934-2016) won the Pulitzer Prize for his New York Times reporting on the "Killing Fields" of Cambodia. He won the George Polk Award twice. Schanberg also worked for Newsday and the Village Voice.
David Talbot (San Francisco, CA) is one of the pioneers of online journalism. A former senior editor at Mother Jones magazine and features editor for the San Francisco Examiner, he was founder and editor-in-chief of Salon, one of the earliest and most important web magazines. His current company, Talbot Players, is a creative shop involved with the development of books, graphic novels, films, and more. He is author of Brothers: The Hidden History of the Kennedy Years and The Devil's Chessboard: Allen Dulles, the CIA, and the Rise of America's Secret Government.
Steve Weinberg (Columbia, MO) is a professor at the University of Missouri Journalism School, a former newspaper and magazine staff writer, and a full-time freelance writer since 1978. In addition to his reporting, writing, and teaching, Weinberg served as executive director of Investigative Reporters & Editors (IRE), a 5000-member organization, from 1983-1990. He currently serves as an editor of IRE magazine. Weinberg is the author of six nonfiction books, several of them seminal works on investigative journalism.
Patricia J. Williams (New York) is the James L. Dohr Professor of Law at Columbia University. She served as a deputy city attorney in Los Angeles and as staff lawyer at Western Center on Law and Poverty. Williams was a fellow at the School of Criticism and Theory, Dartmouth College, and at the Center for Advanced Study in the Behavioral Sciences. She published widely in the areas of race, gender, and law, and on other issues of legal theory and legal writing. Books include The Alchemy of Race and Rights; The Rooster's Egg; and Seeing a Color-Blind Future: The Paradox of Race. In addition, Williams has been a columnist at The Nation, a MacArthur Fellow, and a member of the Board of Trustees at Wellesley College.
Paul Miller (aka DJ Spooky), a graduate of Bowdoin College, is a leading postmodern artist, musician, and best-selling author who lives and works in New York City. His art fuses disparate cultures and styles to evoke and subvert political realities, often uncovering unexpected links between emerging trends and entrenched attitudes in the process. He has hosted exhibits at museums and biennials around the world, performed at venues from the Tate Modern to the Guggenheim Museum, and collaborated with artists from Chuck D to Yoko Ono. Most recently, Miller won a $100,000 Hewlett Foundation grant to create an 11-movement multimedia production for string quartet, vocalist, and an original electronic instrument. His writing, thoughtful and daring, has been published in respected platforms including the Village Voice, Artforum, and Paper Magazine.
Donors
A partial list of donors may be found here.