Reading Time: 5 minutes Power, corruption, deception — and why it works.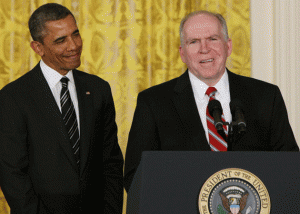 Reading Time: 9 minutes What can we learn about the future from the past? A lot, if we look closely at Obama's CIA director John Brennan, his Master's thesis, and his beliefs and track record on human and media rights.
Reading Time: < 1 minute Russ Baker interviewed by Pat Thurston of the major West Coast station KGO. They discuss disturbing aspects of CIA director-designee John Brennan; inconsistencies in what we have been told about the Abbottabad Raid that, we are told, bagged Osama bin Laden; the peculiar breaching of Obama's passport records; the JFK assassination, propaganda, and more.