A fracking well explodes, killing a worker, and a fire burns for days. Read Chevron's nifty solution for the neighbors.
What do you do when you don't trust the state or federal government to protect your community from a powerful industry that you believe threatens your health, your quality of life, and your financial future? One option: Make what the industry does a crime. Here, we look at one small community that is taking a stand—and hoping a symbolic step becomes a catalyst for bigger things.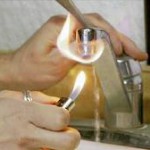 Is hydro-fracking a nuclear meltdown for the water supply? This environmental journalist says so.