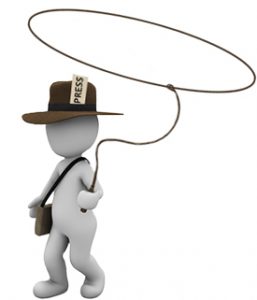 As the country — really, the world — looks on, developments regarding the US presidential election recount efforts remain fluid. In three key states, judges are ruling on whether and how the process should be allowed to proceed, and county officials are gearing up for scrutiny.
In this space,
WhoWhatWhy
will offer a roundup of the latest reports. Here is a look at relevant stories from around the Web related to our ongoing "Election Audit" coverage.
***
MICHIGAN
Too Many Votes Cast in Some Precincts
Tuesday, 12/13, 1:31 p.m.
State officials are planning to examine about 20% of Detroit precincts where ballot boxes opened during the recount had
fewer ballots than poll workers had recorded
on Election Day.
According to records for Wayne County prepared at the request of The Detroit News, 37% of the city's precincts registered more votes than they should have.
"There's always going to be small problems to some degree, but we didn't expect the degree of problem we saw in Detroit. This isn't normal," Krista Haroutunian, chairwoman of the Wayne County Board of Canvassers, told The News.
The state is not calling the audit an investigation, "but based on what we find, it could lead to more," said Secretary of State spokesman Fred Woodhams.
WISCONSIN
Recount Officially Completed, Trump Gains
Monday, Dec. 12, 7:09 p.m.
The

counting is over

in the Cheese State, and after a re-examination of 3 million votes, the presidential election results changed all of .06%.

[caption id="attachment_26994" align="alignright" width="300"]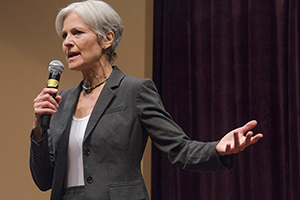 Jill Stein, 2016 Green Party candidate for president. Photo credit: Penn State / Flickr (CC BY-NC-ND 2.0) .[/caption]

With the completion, both Wisconsin and Pennsylvania on Monday certified Republican Donald Trump as the winner in their respective races, helping him over the top in the Electoral College stakes.

Trump originally won the state over Democrat Hillary Clinton by nearly 23,000 votes. By the time the recount was over Monday afternoon, Trump had actually gained 131 votes.

Green Party candidate Jill Stein paid for the $3.5 million Wisconsin recount with donations from her followers. Her attempts for similar statewide recounts in Pennsylvania and Michigan were blocked by the courts.

Stein

told the Associated Press she was disappointed not all Wisconsin counties did hand recounts, although most did. She said the goal of the recount was never to change the outcome but to validate the vote and restore confidence in the system.
PENNSYLVANIA
Judge Rejects Recount Bid
Monday, 12/12, 10 a.m.
U.S. District Judge
Paul Diamond in Philadelphia said
there was no evidence suggesting voting-machine hacking had taken place in the Keystone State, striking down Green Party nominee Jill Stein's recount initiative.
In a 31-page ruling, Diamond said that "suspicion of a 'hacked' Pennsylvania election borders on the irrational," and insisted that the deadline to certify the state's electoral votes could not be met if the recount went forward.
Stein could appeal the court's decision. Her campaign did not immediately comment.
While there is no evidence of large-scale voting-machine hacking, U.S. intelligence agencies have concluded that Russia targeted Clinton in a series of cyberattacks on Democratic Party groups. President-elect Donald Trump has questioned those reports.
WISCONSIN
'Communist' Dane County Lagging Behind
Saturday, 12/10, PM
State officials say they are on track to meet the deadlines, according to postings on the Wisconsin Election Commission web site, and Hillary Clinton has gained a mere 25 votes on President-elect Donald Trump after 10 days of counting. But one county, Dane — home to the liberal city of Madison and the University of Wisconsin campus based there —
is reportedly counting ballots by hand and has still not reported its recount results
.
The shortage of recounted votes from Dane County has led at least one Republican congressman from Wisconsin to accuse what he called the "Communist" county of slowing down its recount effort deliberately, in an attempt to miss the deadline.
"We only have one county that's hand counting the votes, that's Dane County, which is the home of Madison," Sean Duffy said in a Fox News interview last week. "It's the progressive-liberal-Communist community of Madison."
In reality,
according to a study by
PolitiFact
, 47 of Wisconsin's 72 counties have conducted hand recounts, with another 13 using a combination of hand recounts and optical scanners.
MICHIGAN
State's Supreme Court Rules 3-2 Against Appeal
Friday, 12/9, 9:30 p.m.
T
he Michigan Supreme Court on Friday
denied Green Party candidate Jill Stein's appeal
to restart a partially completed presidential election recount.
In a 3-2 ruling, the state's highest court said the Michigan Court of Appeals correctly ruled that Stein was ineligible to pursue a recount.
Republican-nominated justices Stephen Markman, Brian Zahra and David Viviano denied the appeal.
Zahra and Viviano wrote a concurring opinion that further explained why the Court of Appeals was correct to rule that Stein is not an "aggrieved" candidate who could request an appeal.  
The two justices nominated by Democrats dissented.
Justice Richard Bernstein argued he thought the Court of Appeals had erred.
"Even a candidate who is unlikely to win an election has significant legal and financial interest in ensuring the total vote count is accurate and may be aggrieved by any error in the canvass of the votes," Bernstein wrote. "Had the Legislature intended to only allow the most popular candidates to request a recount, it could have easily made that clear in the statute."
At a Friday rally in the Grand Rapids area, Trump brushed aside the news and the recount effort as a nuisance.
"I heard a half hour ago, we totally won it. Not that we care about that," he told the crowd at the Deltaplex, adding that the recount attempt was a ploy by Stein to raise money.
WISCONSIN
Day 9 of Recount Yields Little Change
Friday, 12/9, 6:04 p.m.
Green Party candidate Jill Stein's push for a statewide recount shows that Democrat
Hillary Clinton has gained 49 votes
over Republican President-elect Donald Trump.
According to the
Wisconsin Election Commission,
60 of the state's 72 counties have finished their respective recounts, with 1,322 overall votes changed since it started on Dec. 2.
Approximately 88.5% of the state's votes have been counted.
The
agency
netted Trump 560 extra votes, while Clinton gained 609 votes. Trump won the state by 22,000 votes over Clinton.
MICHIGAN
Judges Recuse Themselves From Recount Ruling
Friday, 12/9, 3:43 p.m.
In a victory for former Green Party nominee Jill Stein amid a series of setbacks, two judges on the state's high court have
excused themselves from ruling
on the ongoing recount fight.
Chief Justice Robert Young and Justice Joan Larsen have agreed to step aside after Stein requested they "disqualify" themselves due to their appearance on lists of candidates President-elect Donald Trump is considering nominating to the United States Supreme Court.
Stein is seeking to challenge a
Michigan Court of Appeals opinion
on Tuesday evening claiming she had no standing to demand a recount.
During the campaign, Trump made repeated promises to nominate conservative judges to the Supreme Court, a move seen as rallying powerful allies within the GOP to his cause as the election season wore on.
MICHIGAN
Stein Owed Refund
Friday, Dec. 9, 3:05 p.m.
Former Green Party nominee Jill Stein is due a refund from the state after the recount she requested was halted by a federal judge three days into the counting of ballots. Last week, Stein submitted a check to state officials for $973,250 — $125 for each of the 7,786 precincts — to cover the cost of the recount. Most never began before U.S. District Judge Mark Goldsmith ruled she had failed to show she was an aggrieved candidate, her request lacked evidence, putting an end to the recount. The amount due Stein has not yet been determined, but the office of Secretary of State Ruth Johnson has confirmed a portion of her payment will be returned. "That's fair, that we pay the fee for the ones that were counted," said Stein's attorney, Mark Brewer. "The law provides that for the precincts that were unrecountable, that she should get a refund." Stein campaign spokesman David Cobb said any money left over after the recounts and legal battles are done will go toward efforts to uphold election integrity, as determined by donors. The fate of the recount fight is now in the hands of the Michigan Supreme Court, which has yet to issue a decision on whether it will hear Stein's argument.
PENNSYLVANIA
Statewide Recount Bid to be Heard Today
Thursday, Dec. 8,  6:14 p.m.
The fate of the Green Party's efforts to force a statewide recount in the Keystone State will be determined today at the James A. Byrne United States Courthouse, 601 Market Street, Philadelphia.
Judge Paul S. Diamond, a George W. Bush appointee, will preside over the public hearing, beginning at 1:30 p.m. in courtroom 6-B.
Jill Stein's complaint can be
viewed here
.
"The purpose is to persuade the Court that the Pennsylvania election system violates the U.S. Constitution," reads the party's public Facebook page.
Lawyers for Stein and the Green Party will be given one hour to make their case.
The party describes the current conditions for casting one's vote in Pennsylvania as "absurd," and concedes that "it will be an uphill battle. But it is important for the Court in a case like this to know that voters showed up and that they care about their democracy.
WISCONSIN
Attorney General: No Foul Play
Wed., 12/8, 5:45 a.m.
[caption id="attachment_26906" align="alignleft" width="300"]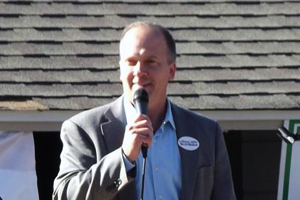 Wisconsin Attorney General Brad Schimel. Photo credit: WisPolitics.com / Flickr (CC BY-SA 2.0).[/caption] State attorney general Brad Schimel said so far, there's been no foul play discovered in any of the counties.

"There's no evidence that there's any electronic interference or any widescale fraud that has occurred, and we're getting reports from the clerks statewide that they expect to complete their recount responsibilities on time," Schimel declared.

Most of the changes to the state's vote totals have so far been attributed to human error or mismarked ballots.

Schimel said that it's fine that there are concerns about how the count is going.

"The various campaigns that are involved in this have legitimate concerns, because if the counts aren't done on time, there can be significant impacts on what our electors may or may not do. It's important but we don't see any reason to be concerned right now."

The state has until December 12th to finish the recount.

MICHIGAN
State's Green Party Calls Emergency Rally
Wed., 12/8, 11:45 p.m.
The Michigan Green Party
plans to rally
today near the Michigan State Supreme Court in an effort to persuade the high court to let the recount continue, and to call for election reform in the state.
The gathering is scheduled to begin at 2 p.m. at
925 W Ottawa St. in Lansing.
Wednesday,
U.S. District Judge Mark Goldsmith called a halt to the ongoing recount effort, concluding former Green Pary nominee Jill Stein, who led the initiative, had not shown the election system's vulnerability to fraud.
MICHIGAN
Federal Judge's Order Effectively Halts Recount
Wed., 12/7, 7:51 p.m.
A federal judge Wednesday halted a recount of the Nov. 8 presidential election that began three days ago yet failed to reveal fraud or significantly alter results. U.S. District Judge Mark Goldsmith lifted a temporary restraining order preventing state officials from stopping a recount prompted by Green Party presidential candidate Jill Stein. Goldsmith, a Barack Obama appointee, said Stein failed to show she was an aggrieved candidate. He concluded Stein's request to test the election system's vulnerability to fraud lacked evidence. The Michigan Green Party has not yet provided an official response to the decision.
MICHIGAN
Board Awaits Circuit Judge, OKs Recount Halt
Wed., 12/7, 4:42 p.m.
The state Board of Canvassers has agreed to give the order to stop a recount of presidential ballots if a U.S. District Judge rules that the recount should stop.
The board recessed initially until 1 p.m.
to wait for a ruling from U.S. District Court Judge Mark Goldsmith
, who had already ordered the recount to go forward by noon Monday. At 1:30, the board recessed until 4 p.m. while they continued to wait for a ruling from Goldsmith, who said he will issue a written opinion on the recount.
When they reconvened at 4 p.m. — still without a ruling from Goldsmith — Colleen Pero, one of the Republicans on the Board of Canvassers said that they had already given the Secretary of State authority to run the recount and they should give them authority to stop it so that an estimated 2,600 county workers don't head to their counting stations Thursday morning.
By Thursday, 34 counties will be recounting the ballots cast for president.
MICHIGAN
Judge's Ruling on Continuing Recount Delayed
Wednesday, Dec. 7, 10:45 a.m.
The Michigan elections board will
wait to decide
whether to end the state's presidential recount until it sees what a federal judge does.
The Board of State Canvassers met Wednesday morning at 9:30, a day after the Michigan Court of Appeals ordered it to dismiss Green Party candidate Jill Stein's petition. The board recessed shortly before the federal judge was to hold a hearing in Detroit on stopping the recount, which began Monday.
Stein lawyer Mark Brewer says the ruling wasn't given immediate effect, so the board is "under no mandate to do anything." He says stopping the recount would increase voter suspicion about election integrity.
PENNSYLVANIA
State GOP's Filing: Inauguration Day in Jeopardy
Tuesday, Dec. 6,
[caption id="attachment_26870" align="alignleft" width="300"]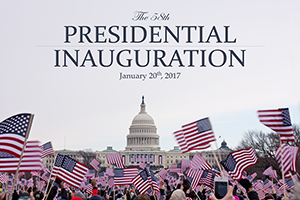 Inauguration 2017. Photo credit: US House of Representatives.[/caption] Donald Trump's inauguration could be delayed by Green Party candidate Jill Stein's recount effort in Pennsylvania, Republican officials said in a request to allow the president-elect and his running mate Mike Pence to intervene in the case.

Pennsylvania's electors should also be permitted to join the case to ensure they don't miss a Dec. 13 deadline for certification by Governor Tom Wolf — a requirement before they can cast their votes for president and vice president on Dec. 19, Pennsylvania's Republican Party said in a filing in Philadelphia federal court.

Trump's inauguration as the 45th president is set for Jan. 20.

"The interests of the Republican Party of Pennsylvania and Donald J. Trump for President Inc. will be impacted if they are unable to participate in this litigation," attorney Lawrence Tabas said in the filing late Monday.
MICHIGAN
How to Sabotage a Recount
Tuesday, 12/6, AM
It seems that anyone
not
wanting votes from certain unfriendly precincts to be included in a recount has a solution: tamper with the receptacles, and get them labeled as such.
According to Barb Bynum, the clerk of Michigan's Ingham County (which includes the state capital, Lansing, a Democratic stronghold), any ballot container or container bag that shows signs of tampering or potential tampering — for example broken seals or a large tear — would be grounds for deeming it unrecountable.
This, like other glitches in the system, would likely penalize Democrats and represent another setback for Hillary Clinton in her uphill battle to reverse Trump's Electoral College margins in several close states.  
FLORIDA
Attorney to Request Emergency Hearing on Florida Recount
Tuesday, 12/6, AM
The attorney representing three Floridians seeking to contest the Sunshine State's vote told
WhoWhatWhy
that he will file an amended version of the lawsuit. It will include a request for an emergency hearing on the suit.
"We will also be asking Mr. Trump to join our suit to confirm that the election is not rigged," attorney Clint Curtis told
WhoWhatWhy
.
MICHIGAN
State's GOP Filing Appeal with US 6th Circuit Court
Monday, 12/5, 8:05 p.m.
In their ongoing bid to stop the recount, the Michigan Republican Party filed a Notice of Appeal with the Eastern District Court of Michigan, according to the party's website. The appeal rests on the idea that federal courts should stay out of state disputes, and that Green Party candidate Jill Stein waited too long to file her request. "This is a Michigan issue, and should be handled by the Michigan court system," Michigan Republican Party Chairman Ronna Romney McDaniel said on the party's site. "Michigan courts should decide Michigan election law." The Michigan Court of Appeals has scheduled oral arguments for Tuesday, Dec. 6, at 4 p.m.
PENNSYLVANIA
Details Emerge in Stein Team's Federal Suit
Monday, 12/5, PM
Ilann Maazel, a New York-based attorney for former Green Party candidate Jill Stein,

addressed the media late Monday morning

outside the federal courthouse in Philadelphia, providing specifics on Stein's federal suit.

[caption id="attachment_26856" align="alignright" width="300"]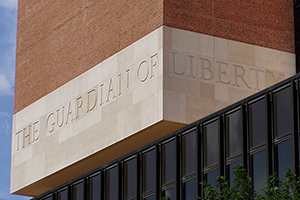 James A. Byrne Courthouse in Philadelphia, Pennsylvania. Photo credit: Jeffrey M. Vinocur / Wikimedia.[/caption]

The campaign is demanding a forensic analysis of the state's direct-recording electronic (DRE) voting machines. Additionally, it wants a hand recount of the paper ballots saved from a portion of the voting machines in the state.

State officials have been insisting the DRE machines are secure and aren't individually connected to the internet. Maazel contended "it's not difficult actually to hack a machine that is not connected to the internet."

"All of these machines have cartridges that came from a central computer system that is connected to the internet," Maazel continued. "So of course those machines can be hacked."

The full federal lawsuit filed on behalf of Jill Stein and voter Randall Reitz can be

viewed here

.

Officials in Philadelphia denied the Stein campaign's request for a forensic analysis of the machines in the city, and the campaign has appealed that decision in the Philadelphia Court of Common Pleas.
PENNSYLVANIA
Stein Team Officially Files in Federal Court
Monday, 12/5, 2 p.m.
While most major news outlets were prematurely reporting the death of the recount effort in the Keystone State, Green Party nominee Jill Stein followed through on her promise and sued Pennsylvania election officials
in federal court
.
Stein is demanding a statewide recount of paper ballots.
"We have no choice but to seek federal intervention," Stein attorney Jonathan Abady said Monday. "We are here to verify the accuracy of the vote."
Green supporters were forced to drop their suit in state court when a $1.1 million bond was ordered for it to be considered. Many media outlets concluded that  Stein's team had given up. She took to social media to insist otherwise.
"
One hundred voters had filed a suit to ensure that they could proceed with a recount, statewide," Stein said Saturday. "So this board of elections in Pennsylvania just said they were going to require them to put up $1 million — average citizens just standing up for the democracy we deserve. That 100 citizens have to jump through these hoops in order to file for their right to go to court, statewide, and then they're told they have to pay $1 million. It's really pretty mind boggling."
At a news conference Monday across the street from Trump Tower in Manhattan, Stein again made clear her party is not profiting from this initiative, promising that every dollar she raises for the recount is going to a dedicated account for that purpose only. Stein has raised $7.2 million for the recount effort, according to her website.
PENNSYLVANIA
Officials Allegedly Price-Gouging Voters Seeking Affidavits
Sunday, 12/4
According to the independent website Palmer Report, election workers in
Bushkill Township Center, Northampton County, were
caught gouging voters
attempting to fill out affidavits in support of the recount effort.
The site confirmed the identity of Beverly DeSignor, a resident of Bushkill, Pennsylvania, and published her first-hand account off witnessing an untoward increase in the fee to file for the visitor after her.
"The sudden change in protocol on the part of county officials, from one group of citizens to the next, appears to represent an escalating attempt on the part of the officials to make it harder for the public to carry out their right to a recount," Palmer Report wrote. "Prices don't simply change from 25 cents to $150 per person within a span of minutes."
The site acknowledged that DeSignor has heard from Jill Stein's campaign regarding the incident, but no additional details were provided.
MICHIGAN
Judge Skeptical of Ordering Immediate Recount
Sunday, 12/4, 12:53 p.m.
A federal judge was asking skeptical questions Sunday about Green Party candidate Jill Stein's request to order the immediate start of a presidential recount in Michigan. U.S. District Judge Mark Goldsmith asked Stein attorney Mark Brewer to explain what the harm is in waiting until Wednesday, as planned, especially after Brewer conceded that the recount could still likely be completed by Dec. 13 if started Wednesday, though it would take more money and resources. To get a court order, Stein must show she will suffer "irreparable harm" if the recount doesn't start immediately. Lawyers for the Michigan Republican Party argued that there can be no irreparable harm, if the recount can still get done with a Wednesday start.
Jill Stein Takes to Facebook Live
Saturday, 12/3, 11:51 p.m.
Former Green Party candidate Jill Stein spoke to the American people directly Saturday night, broadcasting live on Facebook and offering the status of her team's initiative in three key states.

"The process allows for many ways that we can ensure that we can verify this vote, Stein said. "That is the process that we have proceeded with in each of these three states.

[caption id="attachment_26801" align="alignleft" width="300"]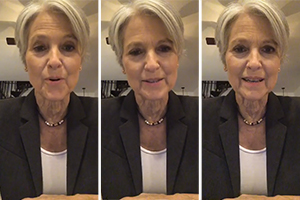 Jill Stein speaking on Facebook Live. Photo credit: Jill Stein / Facebook.[/caption]

"It's very interesting that Donald Trump and his allies have moved to block our way to assure that this is a valid and reliable election result. … During the campaign, as you may know, Donald Trump raised this issue in a very big way, saying that the election was rigged. Well, many people resonated with that concern. Now we are proceeding to clarify, one way or the other."

Stein reiterated her position that the main goal is to force hand recounts in these states rather than a machine recount.

"If you just simply take the ballots and put them back into the same optical scanners, you run the same risk of getting the same errors again," Stein said. "We want a hand count.

"

There were 17 or so districts that were just going to do machine counts, but now the vast majority of them have moved over and now they're all doing hand counts. So a big shout out to the boards of election for standing up to do the right thing."

In the case of Michigan, Stein said her legal team has filed a lawsuit to try to push back on Attorney General Bill Schuette's initiative to get the state's Supreme Court to halt the hand recount there, altogether.

"The attorney general (for the state of Michigan), filed a lawsuit against his own departments of election to try to stop the recount from going through," Stein said. "The board of election had already approved the recount by hand, which was supposed to have started by Friday (Dec. 2).  This ally of Donald Trump, the Attorney General Bill Schuette, filed to stop this grassroots campaign for democracy. It's actually really quite astounding that they did that."

Stein acknowledged that her supporters attempting to force a statewide recount in Pennsylvania were required by a state court to pay approximately a $1 million bond, and have had to abandon their suit.

"(These are) average citizens just standing up for the democracy we deserve," Stein said. "That 100 citizens have to jump through these hoops in order to file for their right to go to court, statewide, and then they're told they have to pay $1 million. It's really pretty mind boggling.

"So, we will be announcing on Monday steps we're going to take in order to keep this case moving forward."

Stein clarified that select recount efforts at the precinct level are still proceeding.

"However, in Pennsylvania, these are all electronic machines with no paper trail," Stein said. "We are going to need to look at these machines, to go and look under the hood and ensure that they have not been tampered with, they don't have programming errors, and that they have counted the vote correctly."
PENNSYLVANIA
Stein Team Vows to Bring Recount Bid to Federal Court
Sunday, 12/4, 3:53 a.m.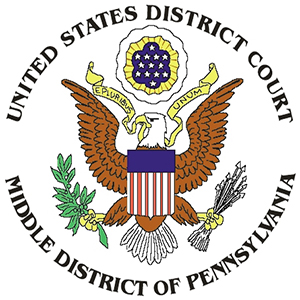 An attorney for Green Party candidate Jill Stein
said late Saturday evening
that the campaign would bring its effort to launch a Pennsylvania recount to federal court.
Earlier in the day, the recount effort appeared to be scuttled by a $1 million bond requirement handed down by the state's Commonwealth Court. That court had scheduled a 10 a.m. hearing in the case that's now been canceled.
"Make no mistake - the Stein campaign will continue to fight for a statewide recount in Pennsylvania," said Jonathan Abady, who's leading Stein's recount efforts, in a written statement. "We are committed to this fight to protect the civil and voting rights of all Americans."
Abady said the campaign would file for emergency relief in federal court on Monday, "on constitutional grounds."
Individual recount efforts continue at the precinct level throughout the state.
PENNSYLVANIA
Greens Drop Statewide Recount Suit
Saturday, 7:30 p.m.
Multiple news outlets are now reporting that Jill Stein's effort for a statewide recount are over after her supporters dropped a court case on the initiative Saturday night.
However, her team will continue to force select recounts and analyze election software in targeted precincts across the Keystone State.
According to the filing,  Green Party-backed voters who filed the case described themselves as  "regular citizens of ordinary means," and cited the obstacle of submitting the $1 million bond ordered by the court by Monday's 5 p.m. deadline.
MICHIGAN
Stein Supporters Sue to Speed up Recount
Saturday, 12/3, 9:12 a.m.
Supporters of former Green Party candidate Jill Stein filed suit in federal court
late Friday
to allow the recount to begin immediately.
Under state law, the recount cannot start until two business days after the court ruling allowing it to begin. That ruling was delayed by a Trump campaign objection to the recount, which had to be heard on Friday morning. The four-member Board of State Canvassers who heard the Trump complaint were deadlocked, splitting along party lines.
Stein claims the
delay is unreasonable and violates equal protection and due process rights guaranteed under the Constitution.
Stalling until Wednesday would be "effectively denying the right to vote" if the recount is not completed in time to meet the federal deadline of December 13.
The Stein group's case
has been assigned to US District Judge Mark Goldsmith, who was appointed by President Barack Obama.
FLORIDA
Recount Suit Filed at Deadline
Saturday, 12/3, AM
Late Friday, the attorney for the nonprofit, Protect Our Elections, announced that he has officially contested the certification of Donald Trump as winner of the Florida election, creating at least some possibility that a Florida recount may happen.

Clint Curtis announced via his official Facebook page that

he has filed the election complaint

on behalf of the group.

[caption id="attachment_26805" align="alignleft" width="300"]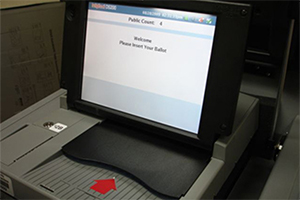 DS-200 optical scanner. Photo credit: Verified Voting Foundation, Inc.[/caption]

The

infamous DS-200

optical scan machine is used in many parts of the state.  Also, affidavits are being gathered from voters who claim they were illegally turned away from the polls. County election officials are reporting that thousands of absentee ballots were requested but

never sent out

in Broward County alone.

The suit names Donald Trump, his running mate Mike Pence, Florida Governor Rick Scott and Florida Attorney General Pam Bondi as defendants, among many others. It lists over a hundred examples of irregularities during the voting process this year.

View the official complaint

here, in PDF format

.
WISCONSIN
Machines With Tampered Seals Alleged
Saturday, 12/3
Jill Stein's official website has posted pictures suggesting some voting machines in St. Croix County had broken seals. Provided by an elections observer identified only as "Wendy,"
the images
have gained notable traction on sites such as
PalmerReport
and
DailyKos
.
No detail is provided on when and where the images were actually taken. Further, as
Snopes detailed
Saturday afternoon, the machines don't appear to match those listed by the Wisconsin Elections Commission website (
PDF
).
"Wendy's" photos show machines made by ES&S iVotronics, while the WEC site shows all St. Croix County sites using machines made by Dominion/Command Central-Edge.
Until more context emerges on when those images were taken, where, and who provided them, the allegation should be viewed with considerable suspicion.
WISCONSIN, PENNSYLVANIA, MICHIGAN
Trump Supporters Turn Up Pressure for Recount Obstruction
Friday, 12/2, 6:00 p.m.
In a surprise to precisely no one, President-elect
Donald Trump's supporters went to court in all three states
Friday, determined to prevent, halt or stall ongoing election recount efforts.
With less than two weeks before the states would have to complete the tasks to meet a federal deadline to certify their election results, the tactic of stalling leaves the efforts in jeopardy.
In Wisconsin,
U.S. District Judge James Peterson rejected a request to immediately halt the recount, insisting there was no harm in letting it to continue while the court considers the lawsuit, which will be heard on Dec. 9.
PENNSYLVANIA
Philadelphia Launches Voluntary Recount
Friday, 12/2, 6:00 p.m.
Philadelphia is not waiting to see if Donald Trump gets his way and halts the Pennsylvania recount efforts. The city began conducting a voluntary recount after finding considerable discrepancies in voting totals there.
A revision in totals the past two days have resulted in
Trump's statewide margin over Hillary Clinton reduced
from over 71,000 votes to approximately 49,000.
Out of 6 million votes cast, the recounted tallies put Trump's lead at 0.8 percent. State law would have required an automatic recount if the lead was within 0.5 percent. Trump's margin of victory appears to be shrinking as more counties record their final tallies.
MICHIGAN
State's AG Sues to Halt Recount Effort
Friday, Dec. 2, 9:54 a.m.
The Donald Trump campaign's objection hearing before the Board of Canvassers on Friday morning was sent to recess right from the opening bell when news broke that Michigan's attorney general, Republican Bill Schuette, is

filing a lawsuit asking the state's Supreme Court

to halt the recount, altogether.

[caption id="attachment_26763" align="alignright" width="300"]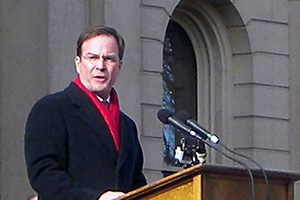 Michigan Attorney General Bill Schuette. Photo credit: Aaronjbaylis / Wikimedia (CC BY-SA 3.0).[/caption]

"Michigan voters rejected (Jill) Stein's candidacy by massive margins but her refusal to accept that state-verified result poses an expensive and risky threat to hard-working taxpayers and abuses the intent of Michigan law," Schuette said in a release.

"We have asked the court to end the recount which Stein is pursuing in violation of Michigan laws that protect the integrity of our elections. It is inexcusable for Stein to put Michigan voters at risk of paying millions and potentially losing their voice in the Electoral College in the process."

Secretary of State Ruth Johnson estimated the recount cost at $5 million earlier this week,

considerably more than the $973,250 check Stein

submitted to the state Bureau of Elections. Still, Stein has since responded by promising to work with the state to cover the difference.

Schuette is expected to run for governor in 2018.

Trump's attorneys were set to argue on the grounds that 1) Stein is a fourth-place finisher, thus not entitled to petition for a recount, 2) there isn't time to complete a recount by the Dec. 13 deadline, and 3) her petition is technically deficient because it was not properly signed and sworn.

Mark Brewer, a Stein attorney and former chairman of the Michigan Democratic Party, countered that Stein does not have to prove she was aggrieved, and has every right to petition for a recount.

"I would remind everybody that the original source of the claim that this election was rigged was Mr. Trump," and a manual recount could also dispel his allegations,

Brewer told the Detroit Free Press

.
WISCONSIN
Gov. Walker Considers Change to Recount Law
Friday, Dec. 2, 9:25 a.m.
Citing Jill Stein's fourth-place finish in his state, Gov. Scott Walker said Friday he would look into limiting the ability of candidates to ask for recounts. "I think a lot of people no matter where they sit on the political spectrum kind of scratch their head on why someone would ask for a recount when they came in fourth," Walker, a Republican, told reporters in Madison. "I think we should call it for what it is and really it's just a fundraising scheme for the Green Party. It's perfectly legal. It's their right to do that. They're paying for it. The taxpayer's not paying for it. The only real concern I have is that for a lot of these clerks, local clerks, they're already busy."
MINNESOTA
Republican's Recount Request Begins Monday
Thursday, 12/1, 10 p.m.
A Republican has
initiated a recount
, set for Monday, for Minnesota's 8th District race.
GOP challenger Stewart Mills lost to U.S. Rep. Rick Nolan in the Nov. 8 election by 2,009 votes among the nearly 357,000 cast. The Mills campaign has to pay for it, because the 0.58% margin is just short of the 0.50% required.
"This will be not quite 13 years for me in this position and this will be our fifth recount,"
said
St. Louis County auditor Donald Dicklich, citing the 2010 gubernatorial recount that confirmed Mark Dayton's election over Tom Emmer and the 2008 US Senate recount that reversed Norm Coleman's election over Al Franken, giving Franken the seat.
MICHIGAN
Trump campaign files recount objection
Thursday, Dec. 1, 5:23 p.m.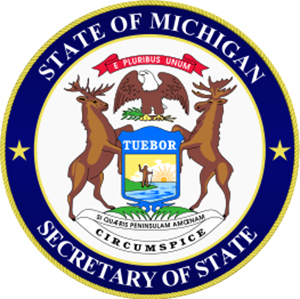 The
Detroit Free Press
is reporting
that the campaign for Donald Trump has effectively shut down recount efforts in the state, at least until next week, after filing a recount objection.
The Trump campaign called the recount effort "lawless and insulting," and insisted "
Stein does not and could not possibly allege a good faith belief that she may have won the state of Michigan."
Apparently, the Trump team wants people to believe the effort is all about a Stein victory.
Meanwhile, a Stein attorney reminded officials the law is clear: any candidate has a right to request a recount.
The state's Board of Canvassers will convene Friday morning to rule on the issue, but state law requires a two-day delay afterward. The delay
means that crucial work scheduled for this weekend will not happen.
With a Dec. 13 deadline for completing the hand recount of 4.8 million votes, the time available to finish in time is razor-thin.
PENNSYLVANIA
With Philadelphia complete, Trump's lead down to 46,000
Thursday, Dec. 1, 1:43 p.m.
On election night, CNN had Pennsylvania in the Donald Trump column by a margin of over 67,000 votes. Almost three weeks later, with the City of Philadelphia finally finished counting votes, including absentee and provisional ballots, the margin was
down to 46,000
. Nearly 5 million people voted in the state.
While that creates a difference of about 0.8%, the state requires a margin of less than 0.5% — or 30,000 votes — to force an automatic recount. Attorneys for Green Party presidential candidate Jill Stein will appear in court on Monday to argue for a statewide recount.
Nearly 46,000 Keystone State Democrats switched their registration to Republican early this year, in what was termed the "
ditch and switch
" movement for Trump.
It is interesting to note that Stein received 49,776 votes in Pennsylvania.
MICHIGAN
Trump Campaign Staffer Convicted of Election Fraud
11/30, 1:54 p.m.
In Michigan, a Donald Trump campaign staffer was

convicted on all 10 counts

of felony election fraud stemming from a judicial race in 2012. Brandon Hall, 27,

forged signatures on petitions in an effort to get candidate Chris Houghtaling on the ballot.

[caption id="attachment_26747" align="alignright" width="300"]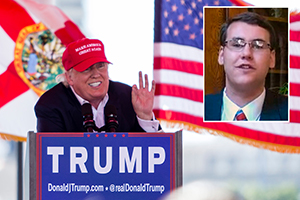 Donald Trump and Brandon Hall (inset) Photo credit: Dario Steckley / Flickr (CC BY-NC-SA 2.0) and hallforhouse / YouTube.[/caption]

The ruling could not come at a less opportune time for Trump, with his people and the GOP arguing against the merits of former Green Party candidate Jill Stein's ongoing recount efforts.

In June, Hall's legal team argued that the charges should be misdemeanors, and the case reached the state's supreme court.

That didn't go so well

.

Trump's Michigan campaign team hired him anyway.

"Donald Trump has made claim after claim calling the integrity of the election into question, but his Michigan campaign had no problem hiring a staff member facing election law charges," Lonnie Scott, executive director of Progress Michigan, told the

Grand Haven Tribune

on Wednesday.

"The fact that the Trump campaign and the Michigan Republican Party embraced Brandon Hall is just one more reason to recount and audit the vote in Michigan."

Here is

Hall's blog

, dormant since Oct. 28. Seems he's been busy.
ALSO IN MICHIGAN
Wed 11/30, 2:30 p.m.

Stein followed through and filed her request for a hand recount, citing blank votes. The undertaking will begin Friday, examining 4.8 million votes that originally yielded a 10,000-vote victory for Trump.
Thur. 12/1, 12:10 a.m

With the recount there set to begin Friday, one state official sees the cost as being largely on the shoulders of Michigan taxpayers. Secretary of State Ruth Johnson estimates the bill across 6,300 precincts at $5 million, considerably more than the $973,250 check Stein submitted to the state Bureau of Elections. Stein's attorney responded that her client will work with the state to cover the additional cost.
Wed. 11/30,7 p.m.

One veteran election attorney, well-versed in recounts, details what must happen to get the effort done by Dec. 13. The state will need "all hands on deck. … It's got to be a very efficiently run process because you've got 83 counties and … 4.8 million votes," Melvin Hollowell told Michigan Radio. Can it be completed in time? "It all depends on whether there is a lot of challenges or not."
WISCONSIN
Wed. 11/30, 5:05 p.m.

[caption id="attachment_26748" align="alignleft" width="300"]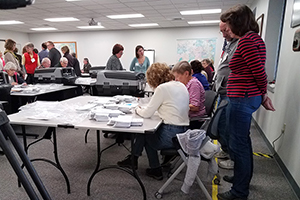 Counting absentee ballots at Waukesha Administration Center, Waukesha, WI. Photo credit: Michael Bacos for WhoWhatWhy[/caption]

A district county judge rejected former Green Party candidate Jill Stein's lawsuit demanding a hand recount.

Dane County Circuit Judge Valerie Bailey-Rihn ruled

that Wisconsin's 72 county clerks can decide for themselves how they want to conduct their recount procedure. Stein will not appeal the decision, and the recount will begin today.  "It's (the counties') decision," Bailey-Rihn said. "It's their discretion. I may disagree with it, but I must follow the law."
Wed. 11/30, 4 p.m.
The
Journal-Sentinel
, the state's biggest newspaper, also slammed Stein's "vanity project" in a Wednesday editorial,
calling the recount
"a colossal waste of money and energy when there is not a shred of credible evidence of fraud or error."
Thur., 12/1, 9:53 a.m.
State Republicans have filed a
federal elections complaint against both Stein and Democrat Hillary Clinton, who supported the recount suit. "Clinton stands as the only actor that would benefit from a recount taking place in Wisconsin or elsewhere,"
the complaint reads
. "As outlined below, the Clinton campaign's direct involvement in the recount process, which was announced well before the recount itself was paid for and finalized, demonstrates a clear link between the actions of the Stein campaign and the strategic goals of Hillary for America."
PENNSYLVANIA
[caption id="attachment_26759" align="alignright" width="300"]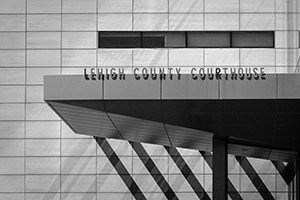 Lehigh County Courthouse, Allentown, Pennsylvania. Photo credit: Brad Clinesmith / Flickr (CC BY-SA 2.0).[/caption]
Thur., 12/1, 12:01 a.m.
State Republicans aim to block recount efforts in some precincts, curiously arguing that those seeking recounts were in the
wrong place at the right time
.
Wed., 11/30, 9:31 p.m.
A recount of votes
already took place in Lehigh County
on Wednesday. There, a group of observers, mobilized by Stein's campaign, gathered in the Board of Elections office in the basement of the County administration building to observe. When it was over, the totals matched those reported on election night almost exactly. The results uncovered three absentee ballots and a military ballot that had been uncounted the first time around. Clinton won the county by 6,800 votes, while Trump took the state by more than 67,000 votes.
ELSEWHERE
Stein's running mate, Ajamu Baraka, questioned publicly whether it's the wise course for the former Green Party nominee to pursue the recount. "I'm not in favor of the recount,"
Baraka told CNN
. "It would be seen as carrying the water for the Democrats."
In Nevada, five counties
are set to conduct recounts
.
Independent presidential candidate Roque De La Fuente paid about $14,000 for the effort. The process has to begin within five days, and must be completed within five additional days. If the results show a difference of at least 1 percent for De La Fuente or Clinton, a full state recount will be launched. Clinton won Nevada by more than 26,000 votes.
Compiled by Jeff Clyburn for WhoWhatWhy