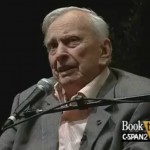 If you haven't been paying attention to Gore Vidal—and even if you have…. Here's Gore, a towering figure who went where others dared not, with a portion of one typically bracing presentation (from the Key West Literary Seminar, 2009)… You will be missed, Gore.
Speak Truth To Power
We are 100% reader funded. Your tax-deductible contribution enables our next investigation. Make an impact now.
Our Comment Policy
Keep it civilized, keep it relevant, keep it clear, keep it short. Please do not post links or promotional material. We reserve the right to edit and to delete comments where necessary.